I am officially a stalker. A recipe stalker, that is.
When I saw this recipe posted on Smitten Kitchen two months ago, I immediately started drooling and bookmarked it in my ever-growing, rarely shrinking, "Stuff To Make" folder. Usually when a recipe goes into that folder it stays there, as I tend to forget it even exists.
But this recipe, no, this recipe kept calling to me.
I would revisit it every few days, each time renewing my craving for that delicious combination of chocolate, pistachio, and marzipan.
A cake is not just an every-day occurrence. Especially for two people, and I worried that such a large cake would dry out and it's flavor would fade before we'd be able to finish it (looking back, I realize we could have easily finished off that cake in a matter of days). And thus, I waited. And waited. Always looking for an excuse to make it.
Finally, that day came.
Thanks to our lovely friends Tiffany and Josh, who agreed to join us for dinner last Saturday night, I knew that I wouldn't be able to forgive myself if I made, say plain old cupcakes for dessert. No, I had to made this cake.
Taylor started calling it the 6-hour cake even before I was finished. And I admit, it did take a good bit of time. It is not a simple cake. But is anything good ever truly simple? (well, sometimes. But not when it comes to any cake bearing the name 'petit-four'). I baked the cakes themselves in the morning, wrapped them twice in plastic wrap, and popped them in the freezer to harden. This makes the decorating process much easier, and I would advise you not to skip it.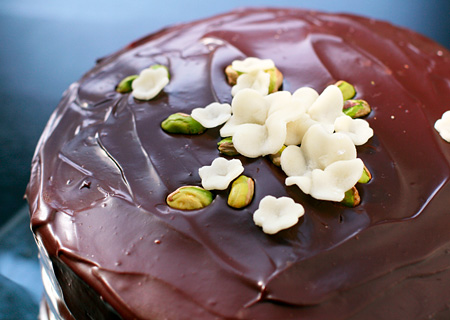 As dinner time and the arrival of our friends rapidly approached, I found myself still battling with ganache and marzipan and apricot preserves (sticky stuff, that is). And as I realized that I still had not showered and it was, indeed, nearly 5:00, that I better give up on the intricate marzipan roses and break out the flower cookie cutter. No loss there, the decor looked like a chocolate meadow of pretty posies complete with green pistachio nut leaves.
You must realize by the length of this post that this was no ordinary cake. No, this is the best cake I have ever eaten, let alone made. The subtle flavors of pistachio stand strong against the heavenly layers of marzipan and rich chocolate ganache sandwiched between, and the ever so thin layer of apricot preserves gives it just a bit of tart and tang to perfectly compliment the richness of the rest of it.
Easily make it dairy free by substituting soy milk/creamer for the milk/cream, and margarine for the butter. Your ganache will not suffer in the least should you use soy creamer, and surely don't throw away any leftover ganache you might have. I'll be posing my use for the leftover decadence shorly. :)
My next goal: translate this recipe into the ultimate cupcake, and I have a feeling it might be a contender in the search for the perfect wedding cupcake flavors (along with the ever-loved almond and rich chocolate). And you, dear readers, will surely be the first to know if, no, when, that test occurs.
Pistachio Marzipan Petit-Four Cake
Ingredients:
for the cake
3/4 cup skinned pistachio nuts
1 2/3 cups sugar
2 cups cake flour
1 tablespoon baking powder
1/2 teaspoon salt
8 ounces unsalted butter, at room temperature
1/2 cup milk or soymilk
2 teaspoons vanilla extract
5 eggs, lightly beaten
for the marzipan
8 ounces almond paste
1 1/2 cups confectioners' sugar
1/4 cup light corn syrup
for the Dark Ganache glaze
1 pound extra-bittersweet chocolate
1 1/4 cups heavy cream or soy creamer
3/4 cup apricot preserves
Marzipan for decoration
Directions:
Make the cake
1. Preheat the oven to 350°F (175°C). Butter three 8-inch round cake pans. Line the bottom of each pan with a round of parchment or waxed paper and butter the paper.
2. Spread out the pistachios in a baking pan and toast in the oven for 7 to 10 minutes, or until lightly colored. Transfer to a dish and let cool completely. Finely chop the pistachios and set 1/4 cup aside for decoration.
3. Put the remaining 1/2 cup pistachios in a food processor. Add the sugar and pulse just enough to grind them finely.
4. Pour into a large mixing bowl and add the flour, baking powder, and salt. Blend with the mixer on low for 30 seconds. Add the butter, milk, and vanilla and, with the mixer on low, beat until completely incorporated.
5. Raise the speed to medium and beat until light and fluffy, 2 to 3 minutes. Add the beaten eggs in 2 or 3 additions, scraping down the sides of the bowl well and mixing only long enough to blend after each addition. Divide the batter among the 3 prepared pans.
6. Bake for about 25 minutes, or until a cake tester or wooden toothpick inserted in the center comes out clean. Allow the layers to cool in the pans for 10 minutes. Turn out onto wire racks, carefully peel off the paper liners, and let cool completely.
Make the marzipan
1. Crumble the almond paste into a large mixing bowl. Use an electric mixer on low speed to soften the almond paste. Add the confectioners' sugar and corn syrup and beat until smooth. Wrap well in plastic so it doesn't dry out, and allow to rest at room temperature for 1 to 2 hours before rolling out.
Make the Dark Ganache glaze
1. Chop the chocolate coarsely and put it in a heatproof bowl. Bring the cream to a bare simmer. Pour the hot cream over the chocolate and let stand for 5 minutes. Whisk until smooth and use the glaze soon after making so that it doesn't set.
Assemble the cake
1. Roll out a third of the marzipan on a work surface dusted with a little confectioners' sugar to about 1/8-inch thickness.
2. Set one of the cake pans upside down on the marzipan and trim around it with a small knife to make an 8-inch round. Repeat two more times with the remaining marzipan. Save all your scraps to make roses for decoration, if you like.
3. Place one cake layer on a cake board, flat side up. Spread 1/4 cup of the preserves evenly over the top, leaving a 1/4-inch margin all around. Place one marzipan round on top of the preserves and spread 1/3 cup of the Dark Ganache Glaze over the marzipan so that it completely covers the surface. Repeat with the second cake layer, adding more preserves, another round of marzipan, and more ganache glaze. Top the cake with the third layer. Spread the last of the apricot preserves over the top of the cake and cover it with the last round of marzipan.
4. Place the cake on a wire cooling rack that is nesting in a baking pan. Pour the remaining ganache glaze over the cake, in several additions, spreading to coat the top and sides. Allow the ganache to set. Garnish the cake with the reserved chopped toasted pistachio nuts and a single marzipan rose or several smaller roses.
Did you make this recipe?
Let us know what you think!
Leave a Comment below or share a photo and tag me on Instagram with the hashtag #loveandoliveoil.