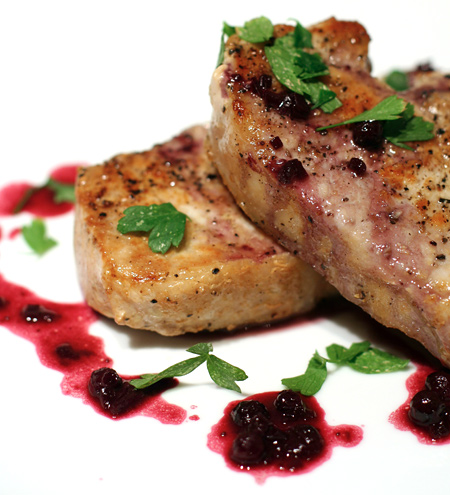 Yes, I did just put pork and blueberry in the same sentence. The same recipe in fact. And you know what? It was quite tasty! As someone who didn't grow up eating the other white meat, I have to say I've never been a big fan of pork. Growing up, it's just not something my family ever ate. Maybe it's the fact that my mother is Jewish, so obviously she wasn't raised on a regular diet of pork products (and it's not like pork was important enough for my dad to actually get up and cook it). Because of that, pork has always tasted "funny" to me. Bacon? Yes please. Pork tenderloin? I'll eat it, but I won't love it. Ham? I'll take turkey. Taylor, on the other hand, could eat (and has eaten) sandwiches piled high with 3-4 different kinds of pork with gusto… on a daily basis… and be perfectly content (and might I say, in heaven).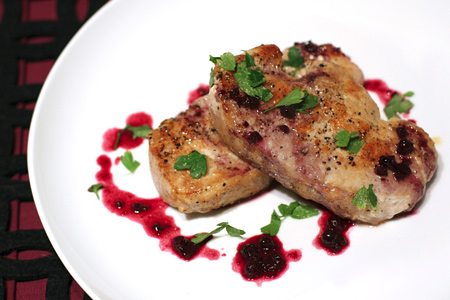 I typically find pork chops to be the only cut of pork that I actually enjoy, especially if it's smothered in sweet and tangy blueberry sauce. Maybe that's because the blueberry sauce is strong enough to put a damper on the porkiness of the pork… but I have to say we'll definitely be making this one again.
And don't forget! Tomorrow is the last day to enter to win the Bake it Pretty Cupcake Frosting Kit! I'll be closing entries at midnight tomorrow, so be sure to get your entry (and bonus entry!) in before then.
Pork Chops with Savory Blueberry Sauce
Ingredients:
4 boneless pork chops
1 shallot, finely diced
1/2 cup red wine
1/4 cup water
1/2 cup blueberries
1/2 lemon (zest and juice)
2 tablespoons butter
Fresh parsley, roughly chopped
Directions:
Preheat the oven to 425°F.
Salt and pepper both sides of each pork chop. Heat a tablespoon of oil over medium-high heat in an oven-proof skillet big enough to hold all four pork chops. Brown the pork chops, about 1-2 minutes on each side. Remove the pan from heat and pop it into the oven. Remove when the pork is just cooked through, about 10-12 minutes.
While the pork chops are in the oven, prepare the sauce. Heat a tablespoon of oil in a small saucepan over medium high heat. Sauté the shallots until soft and golden. Add the wine and water and let boil down for 1-2 minutes. Add the blueberries. When the skins begin to burst, add the lemon zest and juice. Let the sauce continue to boil and thicken until the pork chops are ready.
Once the pork chops are ready, remove the pan from the oven and place the pork chops on a cutting board and let them rest while finishing the sauce.
Turn the heat off under the saucepan and stir in the butter until it is completely melted. If using unsalted butter, add a pinch of salt. Serve the pork chops either whole or sliced, topped with the blueberry sauce and fresh parsley. Since the pork chops were finished in the oven, they should still be nice and juicy.
Did you make this recipe?
Let us know what you think!
Leave a Comment below or share a photo and tag me on Instagram with the hashtag #loveandoliveoil.