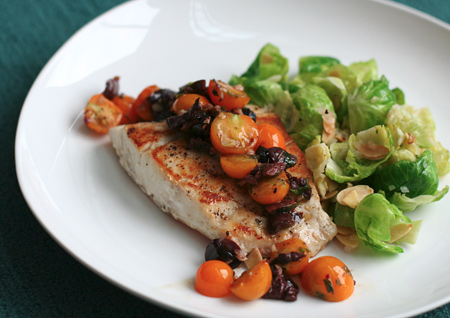 You probably see a lot of the same 'flavor profiles' over and over on this blog. In fact, most food blogs are probably the same way. It makes sense, people naturally gravitate towards certain flavors, and shy away from others. For us, throw kalamata olives and fresh cherry tomatoes, plus a bit of red pepper flakes (heck, anything with red pepper flakes) and we're all over it. But one mention of the word DILL and we run for the exits. Sorry, dill-lovers, it's just not our thing.
On to the fish. We get ours frozen, because a) we're cheap. b) we're skeptical of 'fresh' seafood that's obviously been carted a long way to get to us here in Tennessee (something smells fishy, literally!). and c) did I mention we're cheap? Spending $10-$15/lb for something isn't high on our priority list, unless it's, you know, chocolate or something. So frozen fish it is! So long as we remember to thaw it. We have trouble with that, remembering to take the fish out of the freezer and put it into the fridge the night before. In fact, this meal was a rollover from last week, when not only did we forget to take the fish out every night, but we also forgot to stop by the farmers' market to get the cherry tomatoes (well, we'd remember at 5:30 when we were getting ready to cook, but the market closes at 5, gosh darnit!) And so it goes. We finally got it made, and it was well worth the wait.
We used a very pretty red snapper for this recipe, a fish we're not too familiar with (then again, we're not familiar with much at all when it comes to fish), and it was delicious. Firm and flaky, and paired with the uber-flavorful topping, we gobbled it up. But you could use just about any fish. The topping alone could make even the sketchiest mercury-laced farmed fish taste divine. Did I just say that? Oops.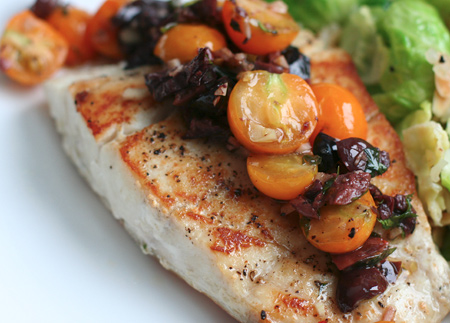 And did I mention it was quick? Like, holy cow we started cooking 18 minutes ago and now it's done? Seriously. That quick. Surprised us too. Even with two people in the kitchen, we're pretty used to meals taking at least 30 minutes or more.
We served the fish with our all-time favorite brussels sprouts. Shocking how 'complete' this meal was (we often end up missing something, like, um, a vegetable?). And definitely one we'll be making again.
And is it just me or was this post extraordinarily cynical? Taylor must be rubbing off on me more and more…
Spicy Sauteed Fish with Olives and Cherry Tomatoes
Ingredients:
3 tablespoons olive oil
2 pounds tilapia, red snapper, or orange roughy fillets
1/2 cup chopped fresh parsley
1/2 teaspoon dried crushed red pepper
4 cups cherry tomatoes, halved
1 cup Kalamata olives or other brine-cured black olives, chopped
6 garlic cloves, minced
Directions:
Heat olive oil in heavy large skillet over medium-high heat. Sprinkle fish with salt and pepper. Add half of fish to skillet and sauté until just opaque in center, about 3 minutes per side. Transfer fish to platter. Repeat with remaining fish. Add parsley and crushed red pepper to same skillet; sauté 1 minute. Add tomatoes, olives, and garlic; sauté until tomatoes are soft and juicy, about 2 minutes. Season sauce with salt and pepper; spoon over fish.
Did you make this recipe?
Let us know what you think!
Leave a Comment below or share a photo and tag me on Instagram with the hashtag #loveandoliveoil.