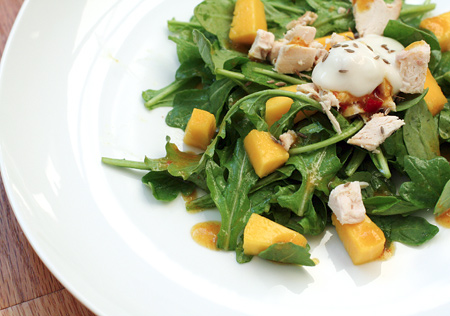 This might just be our hottest weekend yet. Even more of a reason to avoid turning on the oven at all costs. This recipe allows you to do just that. And, you know, add another carcass to your frozen chicken mortuary in the process (despite the heat, we're going to make a giant vat of broth with all of them this afternoon.. At least, that's the plan.)
This salad was refreshing. The sweet mango, savory chicken, pungent greens, all tossed with a sweet and spicy curried mango chutney dressing… it's unexpected and delicious. The dressing is a snap to whisk together, and other than chopping a mango and shredding some chicken, there's practically no 'cooking' required. Because, contrary to what you might think, we're not the kind of people that make homemade pizza from scratch every night. Sometimes you just want a meal that will be done in 15 minutes, one that almost cooks itself, with little to no mess to clean up. And that, dear readers, is why this recipe is so wonderful.
Roast Chicken and Mango Salad with Yogurt
Makes 4-6 servings. Adapted from Bon Appetit.
Ingredients:
3 tablespoons extra-virgin olive oil
2 tablespoons mango chutney, large pieces finely chopped
1 tablespoon fresh lemon juice
1 tablespoon curry powder
1 1/2 teaspoons (or more) water
1 5-ounce package arugula
1 3 1/2-pound purchased roast chicken, boned, meat coarsely shredded into bite-size pieces (about 5 cups)
1 large mango, peeled, pitted, sliced or 2 large peaches, halved, pitted, sliced
Plain nonfat yogurt
1 teaspoon nigella seeds* or cumin seeds
Directions:
Whisk first 4 ingredients and 1 1/2 teaspoons water in small bowl to blend. Add more water by teaspoonfuls if dressing is too thick. Season to taste with salt and pepper. Place arugula in large bowl. Add half of dressing and toss to coat.
Divide arugula among plates. Scatter chicken and mango over each serving. Drizzle with remaining dressing. Top each serving with dollop of yogurt; sprinkle with nigella seeds.
Did you make this recipe?
Let us know what you think!
Leave a Comment below or share a photo and tag me on Instagram with the hashtag #loveandoliveoil.