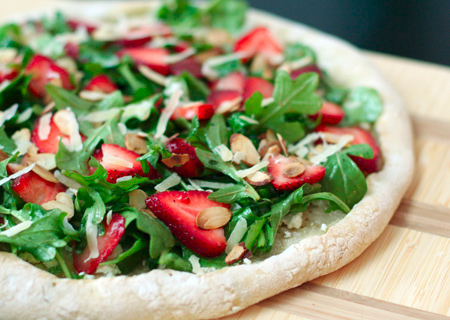 I was going to post this earlier this week but thought if I did two pizza posts in a row it'd look like that was all we eat. Though honestly, it's a stretch to call this a pizza. More like a flatbread with strawberry salad on top. Either way, it's delicious and refreshing, and a perfect way to make the most of the beautiful strawberries that are now in season.
Sometimes I wonder where these recipes come up with their serving sizes. Sure, it's from Cooking Light, but 6? I'm a light eater and I ate half this pizza with ease. I'll be generous and say 3-4 servings if you have a side dish of some sort (but what? you've already got your salad!), but just know that if you're hungry, you're going to be left wanting more with more than 2 people eating this. Just a heads up. :)
Strawberry, Arugula, and Goat Cheese Pizza
Makes 3-4 servings. Recipe adapted from Cooking Light.
Ingredients:
Crust:
3/4 cup warm water
1 1/2 teaspoons dry yeast (from 1 envelope)
1 tablespoon extra-virgin olive oil
1 teaspoon salt
1 3/4 cups (about) unbleached all purpose flour
1 teaspoon whole fennel seeds
1 teaspoon dried thyme
Topping:
1/3 cup (3 ounces) crumbled goat cheese
1 cup sliced strawberries
1 cup trimmed watercress, arugula, or other leafy green
1/2 teaspoon extra-virgin olive oil
1/2 teaspoon fresh lemon juice
Dash of salt
Dash of freshly ground black pepper
1/4 cup (1 ounce) shaved fresh Parmigiano-Reggiano cheese
3 tablespoons toasted almonds or pistachios, chopped
Directions:
For crust:
Pour 3/4 cup water into large bowl. Sprinkle yeast over; stir to blend. Let stand 10 minutes to dissolve yeast. Add oil, salt, and herbs, then 1 1/2 cups flour. Stir until well blended (dough will be sticky). Turn dough out onto generously floured surface and knead until smooth and elastic, adding just enough flour to prevent dough from sticking, about 5 minutes (dough will be soft). Shape dough into ball; place in large oiled bowl and turn to coat. Cover bowl with kitchen towel. Let dough rise at cool room temperature until almost doubled, about 2 hours. Punch dough down; form into ball. Return to bowl; cover with towel and let rise until doubled, about 3 hours.
Preheat oven to 425 degrees F. Punch down dough. Form into ball; place on floured work surface. Cover with kitchen towel; let rest 30 minutes. Sprinkle rimless baking sheet with cornmeal. Roll out dough on floured surface to 13-inch round. Transfer to baking sheet.
Bake crust for 10-12 minutes or until just set. Remove from oven and sprinkle with crumbled goat cheese. Combine strawberries, greens, olive oil, juice, salt, and black pepper; toss gently to coat. Arrange strawberry mixture evenly over goat crust. Sprinkle pizza with Parmigiano-Reggiano and nuts. Cut into wedges. Serve immediately.
Did you make this recipe?
Let us know what you think!
Leave a Comment below or share a photo and tag me on Instagram with the hashtag #loveandoliveoil.