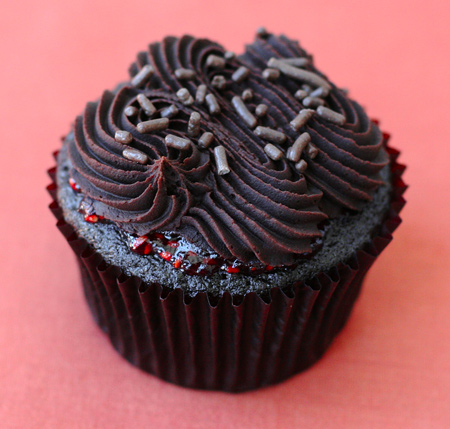 Who ever said there was no such thing as too much chocolate never had these cupcakes. Loosely based on the towering chocolate cake I made for Taylor's birthday, these cupcakes sure are rich. Like, better have a whole glass of water or milk or something on hand when you eat it or you're in big trouble. I thought it was too much. Taylor ate 2 in one sitting. That should tell you something.
The ganache frosting is really thick. I liked it because it wasn't as sweet as buttercream, but the chocolate was almost too rich and overpowering. If only I could arrive at some happy medium… the fluffiness of buttercream with the sinful chocolaty-ness of the ganache. Thank goodness I didn't decide to pipe on huge swirls like I sometimes to, I think I would have passed out in the process of eating it.
But, if you're the type that likes your men rich and your cupcakes richer, well, bake away! These are the cupcakes of your dreams.
Chocolate Raspberry Truffle Cupcakes
Ingredients:
1 cup coconut milk
1/3 cup canola oil
1 teaspoon vanilla extract
3/4 cup sugar
1 cup all-purpose flour
1/3 cup cocoa powder
3/4 teaspoon baking soda
1/2 teaspoon baking powder
1/4 teaspoon salt
Raspberry preserves
Whipped Ganache Frosting:
8 ounces good semisweet or dark chocolate
1 cup heavy cream/soy creamer
1/2 teaspoon vanilla
Directions:
Preheat oven to 350 degrees F. Line muffin pan with paper liners.
Whisk together the coconut milk, sugar, oil, and vanilla extract and beat till foamy. In a separate bowl, sift together the flour, cocoa powder, baking soda, baking powder, and salt. Add to wet ingredients and beat until no lumps remain (or very few remain).
Pour into liners, filling each with 1/4 cup of batter. Bake 18-22 minutes, until a toothpick inserted into the center comes out clean. Transfer to a cooling rack and let cool completely.
For whipped ganache, finely chop chocolate and place in a heat proof bowl of a stand mixer. Bring heavy cream to a simmer. Slowly pour hot cream over chopped chocolate, and allow to sit for 1 minute. Stir until chocolate is smooth and creamy. Add vanilla, and allow ganache to cool to room temperature. If it's hot out, you may need to chill it for a couple minutes, but DON'T forget about it! You want the ganache to be the consistency of room temperature peanut butter. Any thicker and you won't be able to whip it. With stand mixer (or handheld electric mixer), whisk on high for 2 to 3 minutes until lighter brown. It should be the consistency of buttercream. If it's too thick, add more cream 1 tablespoon at a time and whip until it is the proper consistency.
To assemble, spread a thin layer of raspberry preserves on the cupcakes, and spread or pipe on ganache. Enjoy with a BIG glass of water or milk, you'll need it!
Did you make this recipe?
Let us know what you think!
Leave a Comment below or share a photo and tag me on Instagram with the hashtag #loveandoliveoil.