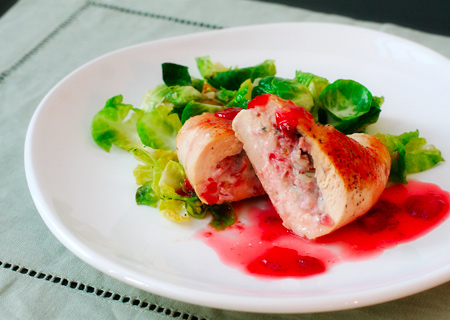 This month's Cooking Light had an entire section on strawberries. And I dog-eared just about every page within that section. I don't know, something about strawberry mixed with just about anything is something I can't resist.
Like this recipe. Unbelievably delicious. It's a dish you think you should feel guilty about. Nothing about it tastes like a "healthy" recipe – it's rich and sweet and decadent. And we ate every last bite with an incredible amount of gusto, practically licking the last bits of strawberry sauce off the plate when we were done.
Yes, sir-ee… this one we'll be making again. and again. and again…
Gorgonzola-Stuffed Chicken Breasts with Strawberry Gastrique
Makes 4 servings. Recipe from Cooking Light.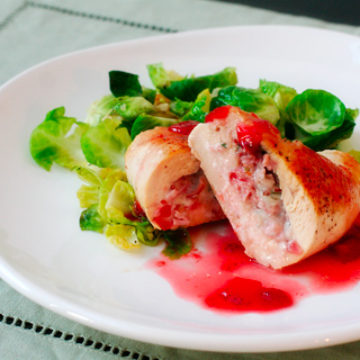 Ingredients:
Sauce:
1 cup chopped strawberries
1/2 cup sugar
1/2 cup sherry vinegar
1/3 cup fat-free, less-sodium chicken broth
1/4 teaspoon ground coriander
Chicken:
1/4 cup (1 ounce) crumbled Gorgonzola cheese
2 teaspoons fresh thyme leaves
2 ounces prosciutto, chopped
4 (6-ounce) skinless, boneless chicken breast halves
Cooking spray
1/8 teaspoon salt
1/8 teaspoon freshly ground black pepper
Directions:
To prepare sauce, place strawberries in a small, heavy saucepan; partially mash with a fork. Stir in sugar, vinegar, broth, and coriander; bring to a boil. Reduce heat, and simmer until reduced to 2/3 cup (about 30 minutes), stirring occasionally. Strain mixture through a sieve over a bowl; discard solids.
To prepare chicken, combine cheese, thyme, and prosciutto in a bowl. Cut a horizontal slit through thickest portion of each chicken breast half to form a pocket; spoon 3 tablespoons cheese mixture into each pocket.
Heat a large nonstick skillet over medium heat. Coat pan with cooking spray. Sprinkle both sides of chicken evenly with salt and pepper. Add chicken to pan; cook 5 minutes or until browned. Turn chicken over; cook 4 minutes or until done. Serve with sauce.
Did you make this recipe?
Let us know what you think!
Leave a Comment below or share a photo and tag me on Instagram with the hashtag #loveandoliveoil.