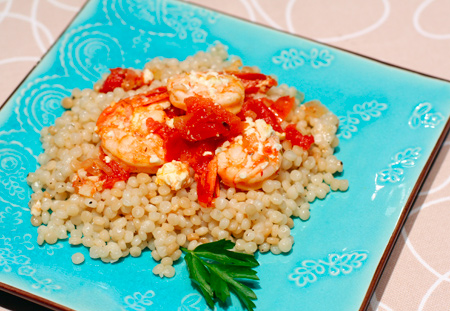 I think we sometimes get too caught up on the stove. Sauteing I mean. Just about everything we eat is cooked in a pan on the stove. Which is why this baked shrimp dish was so refreshing. Yes, there are some parts of it done on the stove, but the magic happens in the oven.
Taylor especially loves this method of cooking because while dinner is finishing up "hands-free" in the oven, he can scrub like a pro and have the entire kitchen spotless before it comes out. Yes, he's that good. I always joke that my presence in the kitchen messes him up, literally. When he cooks by himself? The kitchen is always sparkling clean by the time (or before) dinner is served. When we cook together? Well, there's always a few more dishes to be done and they don't quite get done as efficiently. Oops. I don't know how he does it – he can have two pots on the stove, something in the oven, and be doing the prep dishes while he manages not to burn anything. I've got selective focus. Make me do dishes while I cook and you'll end up with something overdone and chewy or burnt to a crisp. Mmmm.
We served this dish on a bed of our new favorite starchy side dish – israeli cous cous. My favorite is to cook it with a bit of olive oil, cumin, and cinnamon. Practically candy. Little round balls of pasta-like candy. Orzo would work just fine too.
Baked Shrimp with Feta
Makes 4 servings. Recipe from Cooking Light.
Ingredients:
1 tablespoon fresh lemon juice
1 1/2 pounds large shrimp, peeled and deveined
1 teaspoon olive oil
1/2 cup onion, chopped
1 garlic clove, minced
2 tablespoons bottled clam juice
1 tablespoon white wine
1/2 teaspoon dried oregano
1/4 teaspoon freshly ground black pepper
1 (14.5-ounce) can diced tomatoes, drained
1/2 cup (2 ounces) crumbled feta cheese
2 tablespoons chopped fresh flat-leaf parsley
Directions:
Preheat oven to 450°. Combine lemon juice and shrimp in a large bowl; toss well.
Heat a large nonstick skillet over medium-high heat. dd oil to pan, swirling to coat. Add onion to pan; sauté 1 minute. Add garlic; sauté 1 minute. Add clam juice, wine, oregano, pepper, and tomatoes; bring to a boil. Reduce heat, and simmer 5 minutes. Stir in shrimp mixture.
Place mixture in an 11 x 7–inch baking dish coated with cooking spray. Sprinkle cheese evenly over mixture. Bake for 12 minutes or until shrimp are done and cheese melts. Sprinkle with parsley; serve immediately.
Did you make this recipe?
Let us know what you think!
Leave a Comment below or share a photo and tag me on Instagram with the hashtag #loveandoliveoil.