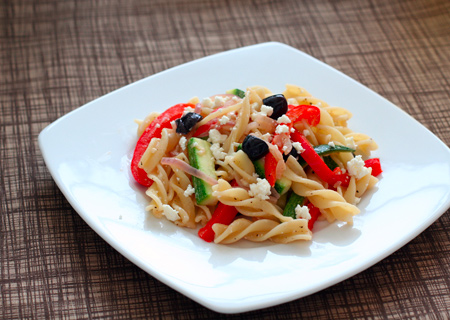 I love quick, refreshing meals. Ones that you feel took virtually no time to prepare, yet are still just as satisfying as the 4-hour-long fancy schmancy dinner. It almost feels like cheating.
This dish is just that. A cheaters' dinner. A summertime tease. It's got all the fresh and exciting flavors of summer, but something you can eat while the air is still brisk. We've had a few 70+ degree days here in Nashville the past couple of weeks. It's funny how one warm day can change your entire mindset. I'm in summer mode now, and no 30-degree nights with our heat running can change that.
Fusilli With Peppers, Zucchini, and Feta
Makes 4-6 servings. Recipe from Delish.
Ingredients:
2 tablespoons olive oil
1 lb baby bell peppers, seeded and quartered lengthwise (or regular bell peppers, sliced into 1/2″ thick slices)
1 large red onion, halved and cut into thin strips
16 oz. long fusilli pasta
2 zucchini, cut into 2-inch sticks, 1/4-inch thick
1/2 cup kalamata olives, pitted and halved
6 ounces feta cheese, crumbled
1/2 teaspoon freshly ground pepper
Directions:
Bring a large pot of salted water to a boil.
Meanwhile, heat olive oil over medium heat in a 5-quart Dutch oven; add peppers and onion and stir to combine. Cover pot; cook 10 minutes, stirring often.
Add pasta to boiling water; cook according to package directions. While pasta cooks, add zucchini and olives to onion mixture and cook uncovered, 10 minutes, tossing frequently, until vegetables are tender.
Drain pasta, reserving 1/2 cup of the cooking water. Add pasta to vegetables and add feta cheese, black pepper, and reserved cooking water; toss. Transfer to a pasta serving bowl.
Did you make this recipe?
Let us know what you think!
Leave a Comment below or share a photo and tag me on Instagram with the hashtag #loveandoliveoil.