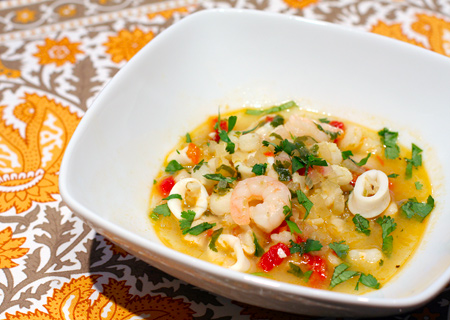 Something different for dinner. This soup had an amazing flavor, we were left wondering where it came from. Extremely simple ingredients produce an incredibly complex broth, paired with a bag of mixed frozen seafood (shrimp, scallops, and calamari), this is definitely something we'll make again (and we don't say that often).
Not only is it delicious, it's easy too. Easy enough that I can cook it all myself while Taylor coats himself (and the bedroom) in paint. Not only cook it, but manage to clean it up at the same time, usually a feat only Taylor can accomplish (sorry, but I'm not as adept at multi-tasking as he is. When I cook, I COOK. And that's it.) You have to love recipes that require very little slicing and dicing, but rather, just opening a can and dumping it in the pot. Awesome.
Mexican Seafood Posole
Makes 4 servings. Recipe from Epicurious.
Ingredients:
1 tablespoon olive oil
1 cup chopped onion
3 garlic cloves, minced
3 cups (or more) bottled clam juice
1 (15-ounce) can white hominy, drained, rinsed
1 cup salsa verde (tomatillo salsa), medium or mild
2 tablespoons finely chopped sun-dried tomatoes in oil
1 tablespoon finely grated lime peel
1 pound mixed seafood (shrimp, scallops, calamari rings)
4 tablespoons chopped cilantro, divided
Directions:
Heat oil in large deep skillet over medium-high heat. Add onion; sauté until tender, about 5 minutes. Add garlic; stir about 30 seconds. Add 3 cups clam juice and next 4 ingredients to skillet; simmer 5 minutes. DO AHEAD Can be made 4 hours ahead. Cool slightly. Refrigerate uncovered until cold, then cover and chill. Bring to simmer before continuing.
Add seafood and 3 tablespoons cilantro to simmering broth, adding more clam juice to thin if necessary. Simmer until seafood is just opaque in center, about 3 minutes. Season with salt and pepper. Divide among bowls; sprinkle with remaining cilantro.
Did you make this recipe?
Let us know what you think!
Leave a Comment below or share a photo and tag me on Instagram with the hashtag #loveandoliveoil.