Valentine's day is always a special time of year for us here at Love and Olive Oil. Not just because we love being in love, but also because February 16th is the anniversary of our very first post. Yes, two years ago to this day, we said "hello, world!" and let you all in to our daily deliciousness.
A lot of things have changed since then – we've cooked in three different kitchens in two different cities, given up dairy, learned a bit about photographing food, done battle with cooked sugar, puff pastry, and roasted chicken, eaten dozens of cupcakes, and oh, yeah, got engaged (can't forget that)… a lot happens in two years.
Just recently this little blog of ours has seen some major increases in visitors. So welcome, to those of you just discovering us, and welcome back, to those who've been following us for years (Hi mom!). It's all of you that keeps us going. You'd be surprised how much of what we make and how we make it is influenced by all of you (no, Taylor, we've already posted about that pasta, let's find something new).
So, you see, we always have a lot more to celebrate on Valentine's day than just our relationship. And what better way to celebrate a food blog's birthday than with, well, food (duh?).
If it was up to Taylor, we'd eat nothing but chocolate cake. Very tall chocolate cake. Every day. For the rest. of. our. lives. But me, as good as that chocolate cake was, I need a bit more variety (not with regards to you, Taylor dear. Just the cake).
Which is why this dessert was so perfect. Different. Not too rich. Not too tedious. This dessert is just right.
I didn't have tartlet pans, and didn't really want to buy them. I did have an 11-inch tart pan, and it turns out this recipe translates perfectly into one large, perfectly crisp and caramel-y, fragrant and fruity tart.
Didn't have Port wine either. And didn't want to get it, because I knew Taylor (as I don't really care for wine) would feel obligated to finish off the bottle before it went bad (minus the scant 2 tablespoons I needed for the recipe) all by his lonesome. Poor guy. ;) That, or we just didn't want to brave the Pinot-crazed lovers at the liquor store. So we used brandy instead. Amaretto would be good too. Heck, use whatever booze you've got. It is Valentine's day, after all.
Caramelized-Banana Tart with Bittersweet Chocolate Sauce
Makes six tartlets or one 11-inch tart. Recipe from Epicurious.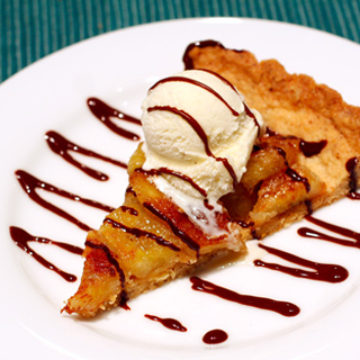 Ingredients:
Crust
1/2 cup (1 stick) unsalted butter, room temperature
1/2 cup powdered sugar
1/2 cup hazelnuts, lightly toasted, ground
1 teaspoon finely grated orange peel
1/2 teaspoon vanilla extract
1/2 teaspoon salt
1 cup all purpose flour
Filling
4 tablespoons (1/2 stick) unsalted butter, divided
6 medium-size slightly under-ripe bananas, peeled, each cut on diagonal into 1/2-inch-thick slices, divided
1/2 cup sugar, divided
6 tablespoons warm water, divided
Sauce
2/3 cup whipping cream
1/3 cup whole milk
(or substitute 1 cup soy creamer for dairy free variation)
2 tablespoons unsalted butter
4 ounces bittersweet or semisweet chocolate, chopped
2 tablespoons tawny Port, Brandy, or other liquor
vanilla ice cream
Directions:
For crust:
Using electric mixer, beat first 6 ingredients in medium bowl to blend. Add flour; beat until moist clumps form. Gather dough into ball; flatten into disk. Wrap in plastic; chill 30 minutes.
Preheat oven to 350°F. Divide dough into 6 equal pieces. Press 1 piece evenly onto bottom and up sides of each of six 4 1/2-inch-diameter tartlet pans with removable bottoms. Bake crusts until deep golden brown and cooked through, about 25 minutes. Cool crusts completely in pans on rack. (Can be prepared 1 day ahead. Cover and store at room temperature.)
For filling:
Melt 2 tablespoons butter in large nonstick skillet over medium-high heat until beginning to brown. Add half of bananas to skillet in single layer; cook until bananas brown on bottom, about 45 seconds. Using thin spatula, turn slices over; sprinkle 1/4 cup sugar evenly over bananas. Cook until sugar dissolves and turns golden, occasionally swirling pan, about 3 minutes. Turn banana slices over; add 3 tablespoons warm water and continue cooking until caramel thickens slightly, swirling pan, about 2 minutes. Arrange banana slices in each of 3 tartlet crusts; spoon any caramel from skillet over. Clean skillet, then repeat procedure with remaining butter, bananas, sugar, and water. (Can be prepared 2 hours ahead. Let stand uncovered at room temperature. Warm in 350°F oven 10 minutes before continuing recipe.)
For sauce:
Bring whipping cream, whole milk, and unsalted butter to simmer in small heavy saucepan. Remove saucepan from heat and add chopped chocolate. Whisk mixture until smooth. Stir in tawny Port. (Sauce can be made 2 days ahead. Cover and chill. Warm over medium-low heat.)
Top each tartlet with scoop of vanilla ice cream. Drizzle each tartlet with Bittersweet Chocolate-Port Sauce and serve.
Did you make this recipe?
Let us know what you think!
Leave a Comment below or share a photo and tag me on Instagram with the hashtag #loveandoliveoil.