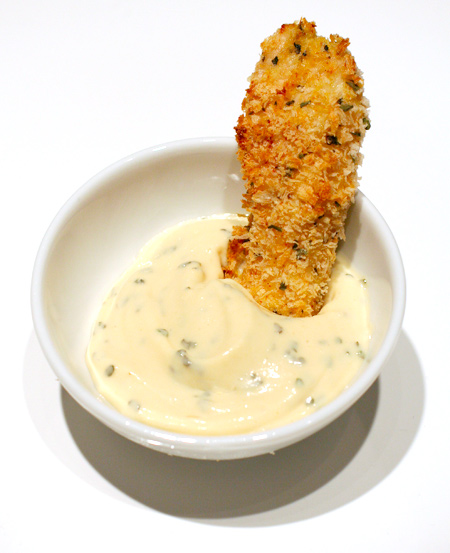 Call it a random desire to make chicken strips, paired with my gut's disgust of fried foods, and you get an easy baked variation on a childhood favorite. Crunchy. Flavorful. Delicious. So good, in fact, that chicken just might be making a more regular appearance in our kitchen, but only as panko-crusted tenders.
If you can't find or don't want to spend the extra $3 a pound on pre-cut chicken tenders, simply take a whole chicken breast, put it between two layers of plastic wrap, and pound it until it is an even thickness (maybe 1/2″ or so). Then, slice into strips. Voila. It'll save you a few dollars too – go buy yourself some chocolate or something. :)
This recipe is a guesstimate, as I didn't really 'measure' anything as I worked. I grabbed a few random spices out of our spice drawer, tossed them with some panko breadcrumbs, and repeated a few of the same spices in the aioli. Use any spices you choose, really. Unless you go caking these in dill weed, I can't see them tasting badly. They would also be delicious served with a honey-mustard dipping sauce, or without any sauce at all (they're that good).
Best of all, no oil is needed to make these, just a light coating of cooking spray to keep them from sticking.
Baked Panko Chicken Tenders with Basil Aioli
Makes 3-4 servings (ish).
Ingredients:
1 1/2 lbs boneless skinless chicken breasts or breast tenders
1 1/2 cups panko breadcrumbs
2 teaspoons dried basil
2 teaspoons garlic powder
1 teaspoon smoked paprika
1/2 teaspoon cayenne
1/2 teaspoon kosher salt
1/2 teaspoon freshly ground black pepper
2 eggs
1/2 cup flour
Cooking spray
For aioli:
1/2 cup mayonnaise
2 teaspoons red wine vinegar
1 teaspoon garlic powder
1/2 teaspoon dried basil
salt and pepper, to taste
Directions:
Preheat oven to 350?F. Prepare a baking sheet by covering it with foil and lightly spraying with cooking spray. Set aside.
In a small bowl or shallow dish, season the flour with salt and black pepper, and lightly beat the eggs in another shallow dish. In a third shallow dish, combine panko breadcrumbs with basil, garlic, paprika, cayenne, salt, and pepper.
If using chicken breasts, prepare by putting one breast in between two layers of plastic wrap. Pound to an even thickness of approximately 1/2″. Remove plastic and slice into strips.
Dredge tenders in the flour to coat, shaking off any excess flour. Dip the floured chicken tenders into the egg and then coat the chicken tenders with the breadcrumb mixture. Arrange on baking sheet. Repeat with remaining strips.
Bake chicken tenders for 12-15 minutes, or until golden brown, flipping once part way through the cook time.
To prepare aioli, combine all ingredients in a small bowl and whisk to combine. Season to taste with salt and pepper.
Did you make this recipe?
Let us know what you think!
Leave a Comment below or share a photo and tag me on Instagram with the hashtag #loveandoliveoil.