Interesting dish, this one. I think the one thing we'll definitely take away from it was the polenta crust (though why use polenta instead of cornmeal, I'm not sure – cornmeal it seems would produce a similar result). The pan sauce was interesting as well. Will we make it again? Probably. Will we modify it some? Probably too.
Sometimes I don't have a lot to say about a dish, but that doesn't mean it wasn't worthy of sharing with you. This one included. In other words, less chat, more food. Read on!
Polenta-Crusted Chicken with Balsamic Caper Pan Sauce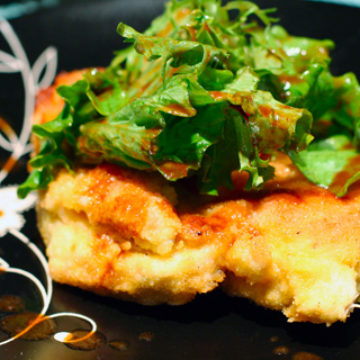 Ingredients:
2 large eggs
1/2 cup polenta (preferably quick-cooking)
1/2 cup all-purpose flour
1 1/2 pounds skinless boneless chicken breasts, pounded to 1/4 inch thick between sheets of plastic wrap
1/2 cup vegetable oil
1/3 cup plus 2 tablespoons olive oil, divided
2 tablespoons tomato paste
1/2 cup balsamic vinegar
1/4 cup water
3 tablespoon capers, rinsed
1 teaspoon sugar
1 tablespoon unsalted butter
1 pound escarole or other greens, torn into bite-size pieces
Directions:
Lightly beat eggs with 1/2 teaspoon each of salt and pepper in a shallow bowl. Whisk together polenta, flour, and 1/2 teaspoon each of salt and pepper in another shallow bowl.
Dip chicken in egg, letting excess drip off, then dredge in polenta mixture.
Heat vegetable oil and 1/3 cup olive oil in a 12-inch nonstick skillet over medium heat until oil shimmers. Cook chicken in batches, turning once, until golden and just cooked through, 5 to 6 minutes per batch. Transfer to a platter and keep warm, loosely covered.
Pour off oil and wipe skillet, then heat remaining 2 tablespoon olive oil over medium heat until it shimmers. Add tomato paste and cook, stirring, 1 minute. Stir in vinegar, water, capers, sugar, and 1/2 teaspoon salt and briskly simmer until slightly thickened, about 2 minutes. Remove from heat and swirl in butter.
Toss escarole with about half of sauce and pile on top of chicken. Serve remaining sauce on the side.
Did you make this recipe?
Let us know what you think!
Leave a Comment below or share a photo and tag me on Instagram with the hashtag #loveandoliveoil.