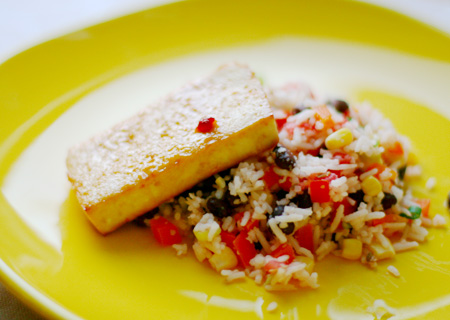 Last day of our Feed Us challenge. We actually received a few more tempting recipes, ones that came in after we got back from the grocery store. Stay tuned, we might be doing more of those next week. :)
This was a delicious recipe, submitted by Thaxton. We're always looking for new tofu recipes, and this one is a keeper. Taylor's easy, feed him anything with Chipotle and he'll be happy (he eats the stuff out of a can, weirdo). At first glance, the flavors seem a bit odd – chipotle, orange, and maple syrup? But surprisingly, it works, and it works well.
The rice side dish (hooray for an actual side dish rather than eating a sidedish as the main meal), was also a delicious and beautiful companion to the tofu. Don't skip out and get a red or green bell pepper, you NEED the orange one to experience the full rainbow of rice that is this dish. Seriously. I'm not joking here. The rice (which we could have halved and still had leftovers) is also delicious the next day.
Orange-Chipotle Glazed Tofu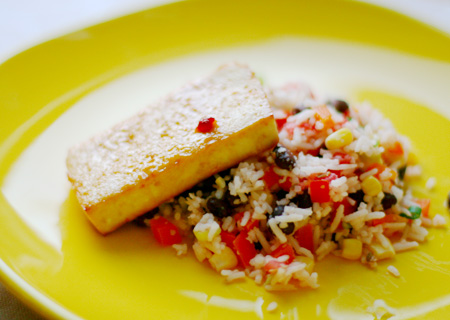 Ingredients:
Tofu:
1 cup fresh orange juice
1/4 cup maple syrup
2 Tbs. rice vinegar or cider vinegar
2 tsp. minced seeded chipotle chile in adobo sauce, drained, plus 2 tsp. adobo sauce
1/4 tsp. salt
2 14-oz. packages extra-firm tofu, drained and patted dry
1 Tbs. vegetable oil
Rice:
1 cup long-grain white rice
1 tsp. whole cumin seeds
1 clove garlic, crushed and peeled
1/2 tsp. salt
1 small orange bell pepper, finely chopped (1 cup)
1 15-oz. can black beans, rinsed and drained
1 large tomato, chopped (11/2 cups)
1 cup fresh or frozen corn kernels
2/3 cup chopped green onions (1 bunch)
1/4 cup lime juice
3 Tbs. olive oil
1/2 cup sunflower seeds, optional
1/2 avocado, diced, optional
Directions:
Whisk together orange juice, maple syrup, vinegar, chipotle chile, adobo sauce, and salt in small bowl. Cover, and chill.
Cut each piece of tofu crosswise into 8 slices, each about 1/2-inch thick. Place tofu in large shallow glass dish. Add 1/2 cup orange juice mixture and oil to tofu, and turn to coat. Cover, and refrigerate at least 30 minutes or up to 8 hours, turning from time to time. Reserve remaining orange juice mixture, covered, in refrigerator.
Preheat broiler. Line large baking sheet with foil, and coat with cooking spray. Place tofu on prepared baking sheet. Combine marinade and reserved orange juice mixture in small saucepan. Bring to a simmer. Cook over medium heat 12 to 15 minutes, or until syrupy. Keep warm.
Broil tofu 6 to 8 minutes per side, or until golden, basting occasionally with orange juice mixture. Serve with remaining sauce.
Combine rice, cumin, and 2 cups water in saucepan. Add garlic and salt, cover, and bring to a simmer. Reduce heat to medium-low, and cook 15 minutes, or until rice is tender and most of water is absorbed. Remove from heat, sprinkle bell pepper on top, cover, and cool rice in pan.
Transfer rice to large bowl, and remove garlic clove. Stir in beans, tomato, corn, green onions, lime juice, and oil. Season with salt and pepper. Fold in sunflower seeds and avocado, if desired. Serve at room temperature.
Did you make this recipe?
Let us know what you think!
Leave a Comment below or share a photo and tag me on Instagram with the hashtag #loveandoliveoil.