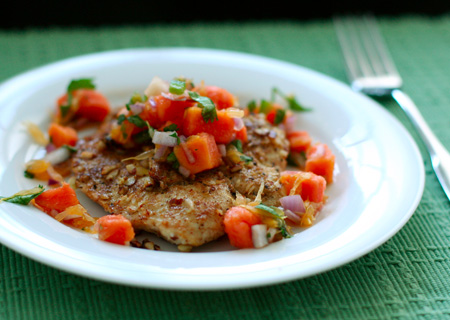 Thanks to Mom for sending us this recipe!
Unfortunately for us, we couldn't find turkey cutlets. Or any cut of turkey other than an entire turkey breast. Do you think they realize that turkey is, in fact, good to eat the rest of the year, and not just in November? Anyways, we were forced to use chicken cutlets instead. I think turkey is definitely preferable if you can find it, but the chicken (and you know how we feel about chicken) was actually quite tasty. The almond crust makes for a great way to cook cutlets.
Papaya mystifies me. Not only are they massive (we only needed half a fruit to fulfill the 1 cup required for the recipe – we froze the rest, smoothies maybe?) but I find it lacking in flavor. Almost like a mushy, bland melon. I know, mom, you could eat papaya day in and day out, and maybe I'm just missing the papaya-loving tastebud. That's not to say I didn't enjoy this recipe, I did! I'd just make it with mango next time. :)
Almond-Crusted Turkey Cutlets with Papaya-Orange Salsa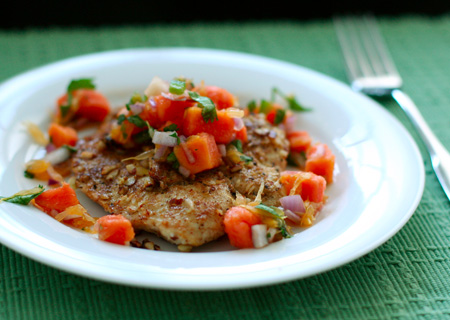 Ingredients:
2 large oranges
1 cup diced papaya
2 tablespoons fresh cilantro, chopped
1 whole jalapeño, 1 tablespoon minced seeded
1 tablespoon red onion, diced
1 teaspoon cumin, ground, divided
3/4 teaspoon salt, divided
1/2 cup sliced almonds, coarsely chopped
1 1/2 lbs turkey cutlets
1/4 teaspoon chile pepper, ancho or pasilla, freshly ground
2 teaspoon olive oil
Directions:
Peel and section oranges over a bowl; squeeze membranes to extract juice. Place orange sections and 1/4 cup juice in a medium bowl; reserve remaining juice for another use. Discard membranes. Break orange sections into small pieces with 2 forks. Add papaya, cilantro, jalapeño, onion, 1/4 teaspoon cumin, and 1/4 teaspoon salt; toss gently, and set aside.
Place almonds in a shallow dish. Sprinkle turkey cutlets with remaining 3/4 teaspoon cumin, remaining 1/2 teaspoon salt, and black pepper. Press both sides of each cutlet into the almonds to coat.
Heat oil in a large nonstick skillet coated with cooking spray over medium-low heat. Add cutlets, and cook 6 minutes on each side or until turkey is done. Serve with salsa.
Did you make this recipe?
Let us know what you think!
Leave a Comment below or share a photo and tag me on Instagram with the hashtag #loveandoliveoil.