This was a good one. Crispy coconut shrimp with a creamy peanut dipping sauce, perched next to a fresh and flavorful salad with baby spinach, avocado, and orange.
Yup. We'll be making this meal again.
Except… we'd use Taylor's peanut sauce recipe. Alton's had far too much peanut butter and almost tasted more like my pie filling than a spicy dipping sauce. But even that didn't stop these shrimp from shining. Delicious, and for such a "pseudo-gourmet" meal, was actually quite easy.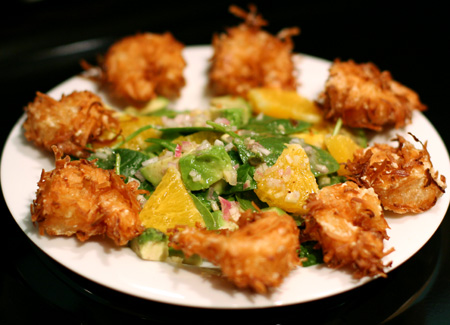 Coconut Shrimp

Makes 4-6 servings. Recipe from Alton Brown.

Ingredients
24 large (15 to 20 count) shrimp, peeled, deviened, and butterflied
1/2 cup cornstarch
1/4 teaspoon kosher salt
1/4 teaspoon fresh ground white pepper
1/4 teaspoon cayenne pepper
4 egg whites
2 1/2 cups sweetened shredded coconut, or 2 1/2 cups shredded fresh coconut
Canola or peanut oil, for frying
Taylor's Kick Butt Peanut Sauce

Directions
Pat the shrimp dry with a paper towel. In a small bowl combine cornstarch, salt, pepper, and cayenne. In a separate bowl, whisk the egg whites until foamy. In another bowl, place the coconut. Coat the shrimp with the cornstarch and shake off any excess. Dip into the egg white and then press into the coconut to get full coverage. Try to keep 1 hand dry, this will keep things a little cleaner.

In a large pan, heat the oil to 350 degrees F and gently submerge the shrimp, 6 at a time. Fry for about 3 minutes or until golden brown. Remove them to a rack to drain. Serve with Peanut Sauce.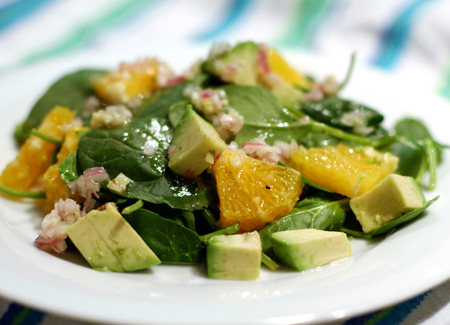 Asian Spinach Salad with Orange and Avocado

Makes 4 servings. Recipe from Bon Appetit.

Ingredients
2 tablespoons finely chopped shallots
2 tablespoons seasoned rice vinegar
1 tablespoon vegetable oil
2 teaspoons minced peeled fresh ginger
1/4 teaspoon (generous) Asian sesame oil
1 navel orange
1 6-ounce bag baby spinach leaves
1 Pinkerton or Fuerte avocado, halved, pitted, peeled, cut into 1/2-inch wedges

Directions
Whisk first 5 ingredients in large bowl. Season to taste with salt and pepper. Set dressing aside.

Cut off peel and white pith from orange. Cut orange into 1/3-inch rounds; cut rounds crosswise in half. Add spinach to dressing; toss to coat. Add avocado and orange; toss gently.