We found these pre-made phyllo cups at the store a few weeks ago, and kept forgetting to use them. They were flavored, in spinach and sundried tomato, perfect for this recipe. Quite tasty, and cute to boot! We only used half the cups… any ideas for what could fill them next?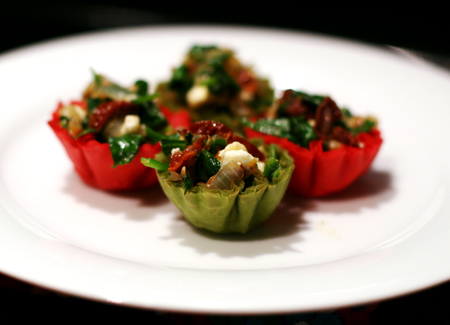 Greek Spinach Salad in Mini Phyllo Cups

Makes 2-4 servings.

Ingredients
2 tablespoons extra-virgin olive oil
3 cloves garlic, chopped
1/2 small yellow onion, chopped
1/4 cup sun-dried tomatoes in oil, drained, 4 to 5 pieces, chopped
1/2 bag fresh spinach, coarsely chopped
1/2 cup feta cheese, crumbled
Mini Phyllo Cups, for serving

Directions
Heat oil in skillet over medium high heat. Add onions and season with salt and pepper. Saute 3 minutes or until onions begin to brown, then add garlic and cook until fragrant. Add the sun-dried tomatoes and spinach and cook another 3 minutes, until spinach is wilted. Add feta and taste to adjust seasonings.

To serve, place phyllo cups on a serving platter and fill with spoonfuls of spinach mixture. Pop and enjoy!