This was a side to our main meal, but due to a little mishap with the salt (ALWAYS taste before adding more salt!), the salad ended up being the best (and only edible) part of the meal. Who'da thunk?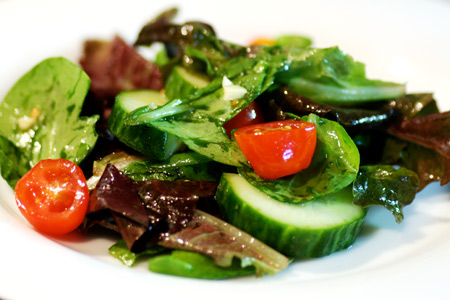 Mixed Salad with Ginger Lime Cilantro Dressing
Ingredients
Mixed greens
Cherry tomatoes, halved
Cucumber, sliced and halved

Dressing:
1 lime, juiced
2 Tbs peanut oil
1 tsp sesame oil
1 tsp sugar
1 tsp soy sauce
1/2 tsp fire oil (optional)
1 clove garlic, minced
1 tsp ginger, minced
1/4 cup cilantro, finely chopped

Directions
Combine all dressing ingredients in bowl. Whisk well until combined. Drizzle over greens and salad.