First of all, ignore this entire recipe except for the peanut sauce. It just might be the best peanut sauce recipe ever.
The veggies were an utter failure. I wouldn't even be posting this recipe if the peanut sauce hadn't been so darn good. We don't have a grill, so maybe they would have been better cooked that way (feel free to try it and let us know how it tastes), but we sautéed the veggies, and the zucchini got way over done (ie: mush) and the kale was still bitter and chewy. Next time, we'll use the sauce and add some tofu and maybe some properly cooked zucchini and/or bok choy.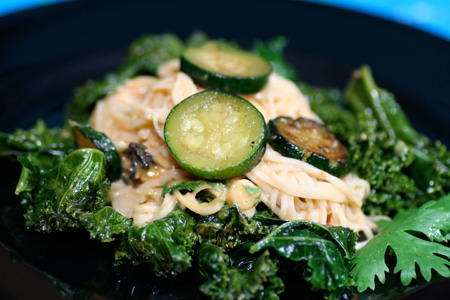 Noodles with Peanut Sauce, Kale, and Zucchini
Makes 6 servings. Recipe from Bon Appetit.
Ingredients
1 cup super-chunky peanut butter
1/3 cup (or more) water
1/4 cup packed golden brown sugar
2 tablespoons plus 2 teaspoons unseasoned rice vinegar
2 tablespoons soy sauce
2 tablespoons toasted sesame seeds
2 tablespoons chopped peeled fresh ginger
3 garlic cloves, peeled
2 teaspoons hot chili sauce
1 12-oz package dried chow mein udon noodles
4 large zucchini, cut crosswise into 1/4 inch thick slices
8 ounces green curly kale, thick stems removed
olive oil (for brushing)
1 bunch green onions, thinly sliced
1 cup chopped fresh cilantro

Directions
Blend peanut butter, 1/3 cup water, brown sugar, rice vinegar, soy sauce, sesame seeds, ginger, garlic, and chili sauce in blender until smooth, adding more water by tablespoonfuls if too thick. Can be made 1 day ahead; cover and chill.

Cook udon noodles according to package directions. Drain, Run under cold water to cool. Drain again.

Prepare barbecue (medium-high heat). Brush zucchini and kale with oil, sprinkle with salt and pepper. Grill zucchini until tender and slightly charred, about 3 minutes per side. Grill kale until brown around edges, about 1 minute per side.

Toss udon noodles, green onions, and cilantro with peanut sauce in large bowl. Divide noodle mixture among 6 bowls. Top noodle mixture with zucchini and kale and serve.