A quick and delicious pasta. And unlike many carbonara recipes, this one is not too rich. It's light and delicious and full of flavor.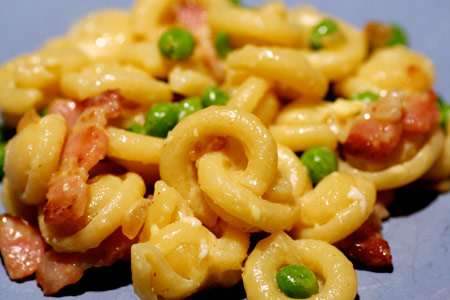 Pasta Alla Carbonara
Makes 4 servings. Recipe from Epicurious.
Ingredients
5 oz bacon or pancetta
1 medium onion, finely chopped
1/4 cup dry white wine
1 lb pasta (any kind would work)
3 large eggs
1 1/2 oz Parmigiano-Reggiano, finely grated (3/4 cup)
3/4 oz Pecorino Romano, finely grated (1/3 cup)
1 teaspoon coarsely ground black pepper
1/4 teaspoon salt
1 cup frozen peas, thawed and lightly steamed

Directions
Cut bacon or pancetta into 1/3-inch dice, then cook in a deep 12-inch heavy skillet over moderate heat, stirring, until fat begins to render, 1 to 2 minutes. Add onion and cook, stirring occasionally, until onion is golden, about 10 minutes. Add wine and boil until reduced by half, 1 to 2 minutes.

Cook pasta in a 6- to 8-quart pot of boiling salted water until al dente.

While pasta is cooking, whisk together eggs, Parmigiano-Reggiano , Pecorino Romano (1/3 cup), 1 teaspoon coarsely ground black pepper, and 1/4 teaspoon salt in a small bowl.

Drain spaghetti in a colander and add to onion mixture, then toss with tongs over moderate heat until coated. Remove from heat and add egg mixture and peas, tossing to combine. Serve immediately.

Cooks' note:
The eggs in this recipe will not be fully cooked, which may be of concern if there is a problem with salmonella in your area.