As good as the Mocha Buttercream Cake is, I can't enjoy it, as it is chock full of dairy in all its creamy and buttery forms. So, in addition to the massive three layer cake we made this week, I baked myself this beautiful bundt, which can be made completely dairy free. The glaze wasn't part of the original recipe, I added that myself, and used a soy creamer with ghirardelli dark chocolate chips. Again, dairy free. And wouldn't you know, this was one of the best cakes I have ever eaten. Moist, chocolaty, and almost brownie-like. Mmmmm. Just be sure you grease and flour the bundt pan REALLY well, or you'll end up with a crumby mess stuck to the pan. Not that it would be any less delicious still stuck to the pan… :)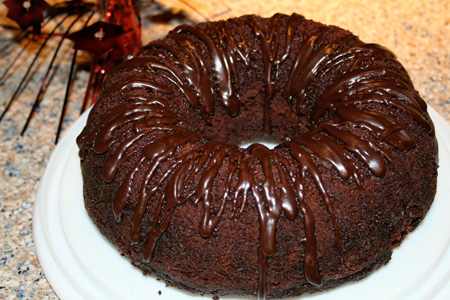 Featherlight Chocolate Cake

Makes 10-12 servings. Recipe from Food Network.
Ingredients
1 1/2 sticks unsalted butter or margarine
1 3/4 cups sugar
2 eggs
1 teaspoon pure vanilla extract
2 1/4 cups sifted cake flour
1/2 cup good-quality cocoa powder
1 1/4 teaspoons baking soda
3/4 teaspoon salt
1 1/4 cups ice water
5oz semisweet/dark chocolate
1/2 cup heavy cream or soy creamer
1 teaspoon vanilla

Directions
Preheat to 350 degrees F. Butter and flour a bundt pan or tube pan.

Cream the butter until light and fluffy. Mix in the sugar. One at a time, mix in the eggs, then the vanilla, occasionally scraping down the mixing bowl.

In another bowl, sift together the flour, cocoa powder, baking soda, and 3/4 teaspoon salt. Add 1/3 of the flour mixture; then 1/3 of the ice water. Repeat, mixing after each addition. Transfer the batter to the pan and bake until springy and dry, about 40 to 45 minutes.

Let cool in the pan on a rack, then carefully turn the cake out.

For glaze, combine cream and semisweet chocolate in small saucepan. Heat over low heat or in double boiler until chocolate is melted. Add more cream if glaze is too thick. Stir in vanilla. Drizzle over top of cake and serve.