These are a staple for us. Granted, they are a bit time consuming and the spring-roll sheets are tricky to work with (Taylor handles them like a master!), but it's a healthy, refreshing dish perfect as an appetizer or as a stand alone meal. We like to serve them with rice noodles or other asian noodles.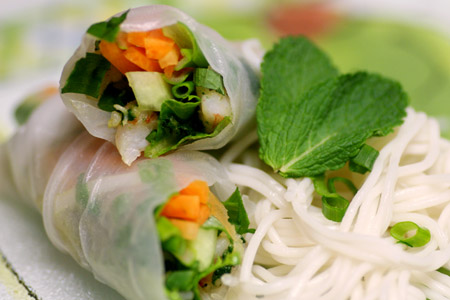 Delicious, refreshing, and satisfying only begin to describe these. They are well worth the effort and will definitely impress! You can easily substitute tofu for the shrimp to make them vegetarian and just as yummy!
Vietnamese-Style Spring Rolls with Shrimp

Ingredients
2 teaspoons olive oil
2 teaspoons minced fresh ginger
16 uncooked medium shrimp, peeled, deveined, halved lengthwise
1/4 cup chopped fresh cilantro
4 cups hot water
8 6-inch-diameter Vietnamese spring-roll sheets (you can find these at Asian food markets)
4 small Bibb lettuce leaves, halved
1/2 cup thin strips green onions
1/2 cup thin strips seeded peeled cucumber
1/2 cup thin strips carrots
4 teaspoons minced fresh mint leaves

Directions
Heat oil in medium skillet over medium-high heat. Add ginger; sauté until fragrant, about 10 seconds. Add shrimp and cilantro; sauté until shrimp are just cooked through, about 1 minute. Remove from heat. Season with salt and pepper.

Pour hot water into large bowl. Using tongs, dip 1 spring-roll sheet in water 5 seconds. Remove from water; place on wet towel. Let stand 30 seconds (spring-roll sheet should be soft and pliable; if still stiff, sprinkle with more water).

Place half of lettuce leaf across top third of spring-roll sheet. Arrange 4 shrimp halves on lettuce. Top with 1 tablespoon each of green onions, carrots, and cucumber. Sprinkle 1/2 teaspoon mint over filling. Fold sides of spring-roll sheet over ends of filling. Starting at filled side, roll into cylinder. Place on plate. Repeat with remaining spring-roll sheets, lettuce, shrimp, green onions, cucumber, carrots and mint. Serve with sauce.