After eating these, you'll be asking, "Where's the Beef?" The Worcestershire sauce in the ground turkey meat really makes them taste like ground beef, but so much healthier. We love the concept of "sliders" or mini burgers, they're just too cute! I'm sure you'll be seeing different variations of these bite sized beauties… as they're fun to make and even more fun to eat.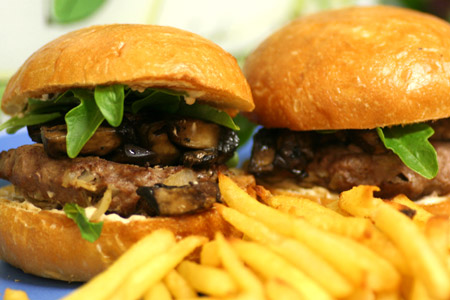 Balsamic Portobello Turkey Sliders

(Based on a recipe by Rachel Ray, with lots of modifications).

Ingredients
1/2 onion, chopped
1 pounds ground turkey
1/4 cup Worcestershire sauce
salt and pepper to taste
1 teaspoon Emeril's Essence (make your own here)
Extra-virgin olive oil
8 dinner rolls (we used Challah rolls from Trader Joe's), split and toasted
2 portobello mushrooms, diced
More salt and pepper
about 1/2 cup Balsamic vinegar
1/2 cup mayonnaise
Coarse black pepper
4 slices Provolone or Swiss cheese (optional)
Baby greens
Tomato, sliced

Directions
Saute onions in a small pan over moderate heat for 3 to 5 minutes until tender.

Brush a cookie sheet with olive oil. Combine meat with Worcestershire sauce, onion, salt, pepper, and essence and mix well. Form 8 small patties slightly larger than the size of your dinner rolls (they will shrink when cooked) and place on cookie sheet. Broil patties for 3 minutes, flip, and broil 3 minutes more.

Heat some olive oil in a medium nonstick skillet over medium high heat. Add mushrooms and 2-3 tablespoons Balsamic vinegar, season with salt and pepper, and saute until just tender, about 3 to 5 minutes. Remove from heat.

Combine mayonnaise, 2-3 additional tablespoons Balsamic vinegar, and more essence (optional). Spread onto both sides of toasted rolls. Add patty, cheese, mushrooms, tomato, and greens. Enjoy!