So, we bought a panini maker. Yes we did. And we're storing it in the living room because we really don't have space for something like that. But man, does it make a good sandwich. Don't have a panini maker? I've heard a brick wrapped in tin foil works just as well. :)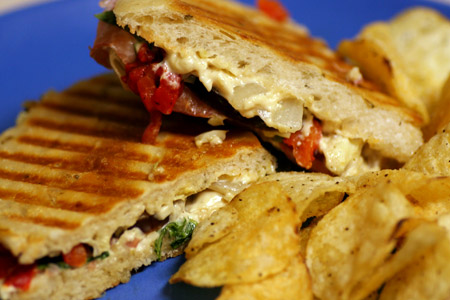 Eggplant Panini with Rosemary Aioli
This is a great "leftovers" recipe. Take all the random veggie scraps left in your fridge at the end of the week, sauté them up, smother them in aioli, and grill. Mmmm. My favorite part of this sandwich is the aioli, which gives the sandwiches a rich, creamy texture that feels like cheese (I can't have cheese on my sandwich, unfortunately, so this is the next best thing! Better even!)
Makes 2 sandwiches.
Ingredients
Focaccia bread
1 eggplant, thinly sliced
1/2 onion
1 can marinated artichoke hearts, chopped
roasted red pepper (the canned stuff works great), chopped
few slices prosciutto (optional)
fresh basil, roughly chopped
provolone cheese (optional)
olive oil

For Aioli:
1/2 cup mayonnaise
1/2 lemon, juiced (or to taste)
2 cloves garlic, minced
1 tsp dried rosemary or 1/2 tsp fresh rosemary, chopped
1 tsp balsamic vinegar
1 tsp honey mustard
salt and pepper, to taste

Directions
To make aioli, combine mayo, lemon juice, garlic, rosemary, vinegar, mustard, and salt and pepper. Stir well to combine.

Cut focaccia bread into two pieces, then slice each piece in half. Note that if your bread has a "curved" top, you might want to gently slice it so the top is flat. Your sandwich will grill better this way.

Heat about a tablespoon of olive oil in skillet. Add eggplant and onion, sauté for about 5 minutes, until tender. Add artichoke hearts and cook for an additional 1-2 minutes.

To assemble sandwiches, generously spread 1/4 of the aioli on the inner side of each bread slice. Spread a few pieces of proscuitto onto two pieces, then sprinkle with basil and roasted red pepper pieces. Carefully spread eggplant filling onto bread halves. Top with cheese (optional) and other half of bread, and brush both sides with olive oil.

Grill sandwiches in panini maker or in skillet with a foil-wrapped brick until golden and filling is hot and bubbling, applying pressure to flatten sandwiches. Slice in half and serve warm.