Panini – take 2. Taylor liked this version better. Maybe he's not a fan of the artichokes. The good thing about Panini is you can put whatever you'd want in, so he added prosciutto and cheese, I opted to skip those. Again, a different recipe for aioli which works well with the salad (which, did I mention, is one of my favorite salads of all time?!).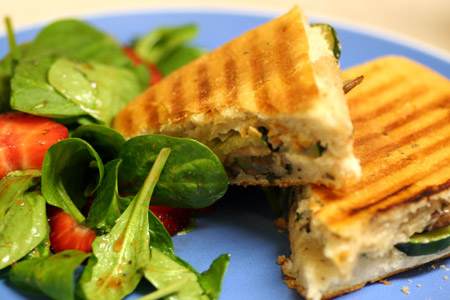 Zucchini & Mushroom Panini

A recipe of our own invention, on the fly, based on what was in the fridge and fresh at the farmer's market. Recipe makes 3-4 sandwiches.

Ingredients
Focaccia bread
1/2 red onion, sliced
2 zucchini, thinly sliced
1 cup crimini mushrooms, sliced
fresh basil, roughly chopped
provolone cheese (optional)
olive oil

For Aioli:
1/2 cup mayonnaise
1/2 tsp paprika
1 tsp Worcestershire sauce
1 tsp honey mustard
2 tsp red wine vinegar
1 tsp poppy seeds

Directions
To make aioli, combine all ingredients and stir well to combine.

Cut focaccia bread into two pieces, then slice each piece in half. Note that if your bread has a "curved" top, you might want to gently slice it so the top is flat. Your sandwich will grill better this way.

Heat about a tablespoon of olive oil in skillet. Add zucchini, mushrooms, and onion, sauté for about 5-10 minutes, until tender.

To assemble sandwiches, generously spread 1/4 of the aioli on the inner side of each bread slice. Sprinkle with basil. Carefully spread zucchini filling onto bread halves. Top with cheese (optional) and other half of bread, and brush both sides with olive oil.

Grill sandwiches in panini maker or in skillet with a foil-wrapped brick until golden and filling is hot and bubbling, applying pressure to flatten sandwiches. Slice in half and serve warm.
Ok, so it might seem like a strange combination, but it is amazing. You must try it once. Not only is it beautiful, but the dressing is sweet and tangy and perfect. You'll be eating it every day if you're not careful.
Strawberry Spinach Salad

Ingredients
1 package raw spinach
2-3 pints fresh strawberries
1/2 bunch green onions
1/2 cup sugar
1/2 cup light olive oil
1/4 cup red wine vinegar
1/2 teaspoon paprika
1/2 teaspoon worchestershire sauce
1 teaspoon poppy seeds

Directions
In a small bowl, combine sugar, olive oil, vinegar, paprika, worchestershire sauce, and poppy seeds (this can be prepared ahead and refrigerated.)

Place washed spinach, sliced strawberries, and chopped green onions into serving bowl. Toss with dressing and serve immediately.