A classic eggs Benedict with a Jewish twist: a crispy potato latke topped with smoked salmon and a jammy poached egg, all smothered in a rich and creamy hollandaise.
Latkes are one of my favorite foods, so I'm going to grab any opportunity I can to eat them. Including this jaw-dropping brunch recipe, where the crispy latkes take the place of the traditional English muffin in a classic eggs Benedict.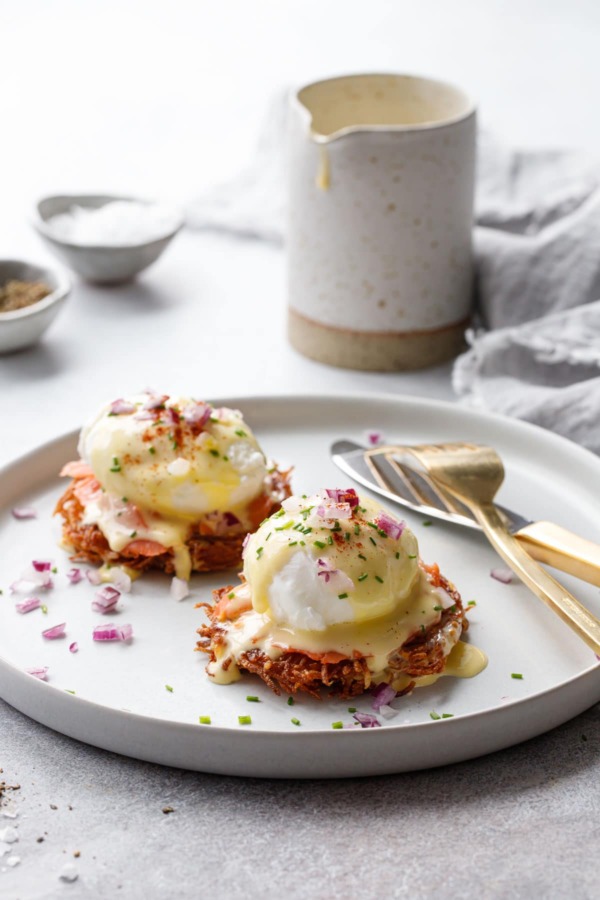 One of my most memorable meals of 2021 was a weekday brunch back in June (you know, back when things were looking up. Was it memorable because it was one of the 2 times we actually ate inside a restaurant the entire year? It's definitely possible, although I really think this meal would've stood out even if we'd been eating out weekly.) Anyway. Back in June, we decided to treated ourselves to our first meal out in over a year: a nice leisurely brunch on a Tuesday morning when we were practically the only patrons in the place.
The newly-opened restaurant, called Shep's, took over the location of one of our favorite brunch spots that closed last year. The place is billed as a Jewish delicatessen, which I was obviously excited about because I could seriously eat latkes all year round and the prospect of someone else making them was too good to be true.
After a quick glance at the menu we were immediately drawn to the latke eggs Benedict (I mean, how could we not?) as well as a babka French toast. We'll often take this route for brunches, getting one sweet and one savory dish and splitting them between the two of us.
And while the babka French toast was quite good, it was the latke eggs Benedict that blew us away.
Basically, it's a classic eggs Benedict with poached eggs and hollandaise sauce, but swapping the traditional English muffin for a crispy potato latke, and with lox instead of ham. And let me tell you: it was one of the best things I've eaten in a long, long time.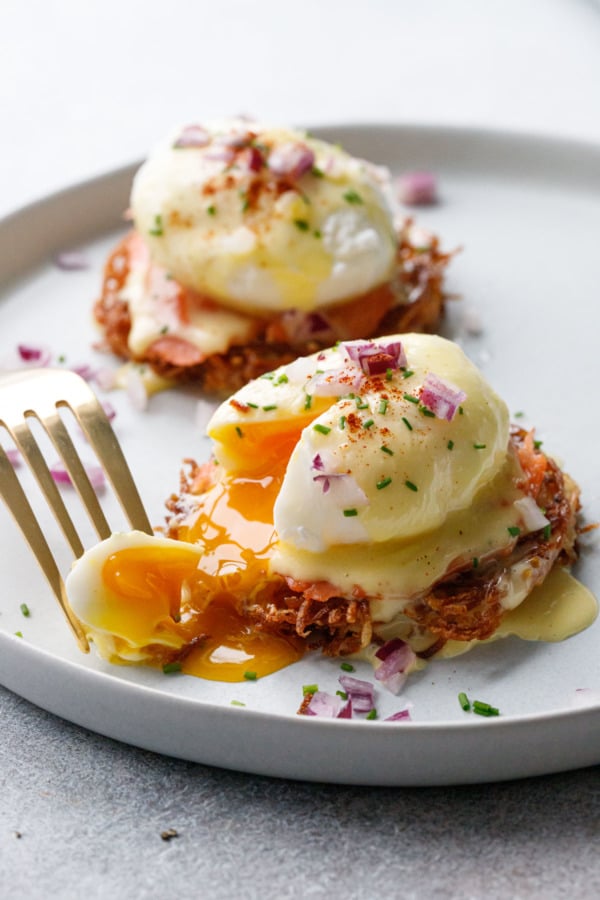 Somehow, the combination of crispy fried potatoes and cold smoked salmon somehow manages to taste a little bit like bacon? I can't quite explain it, but I sure wasn't complaining. Paired with the rich and creamy hollandaise it was simply perfection.
It took us a while, but we finally recreated the dish at home, using my grandma's latke recipe and a quick blender hollandaise, topped with smoked salmon, finely chopped red onion, fresh chives, and a pinch of paprika. And let me tell you, it was nearly as fabulous as the restaurant version.
If you're really in a from-scratch mood, you can even cure your own gravlax, a process which takes about 3 days, but produces delicious results. Technically smoked salmon and lox or gravlax aren't quite the same thing (one is cured and smoked, the other is just cured), but either would work beautifully in this recipe.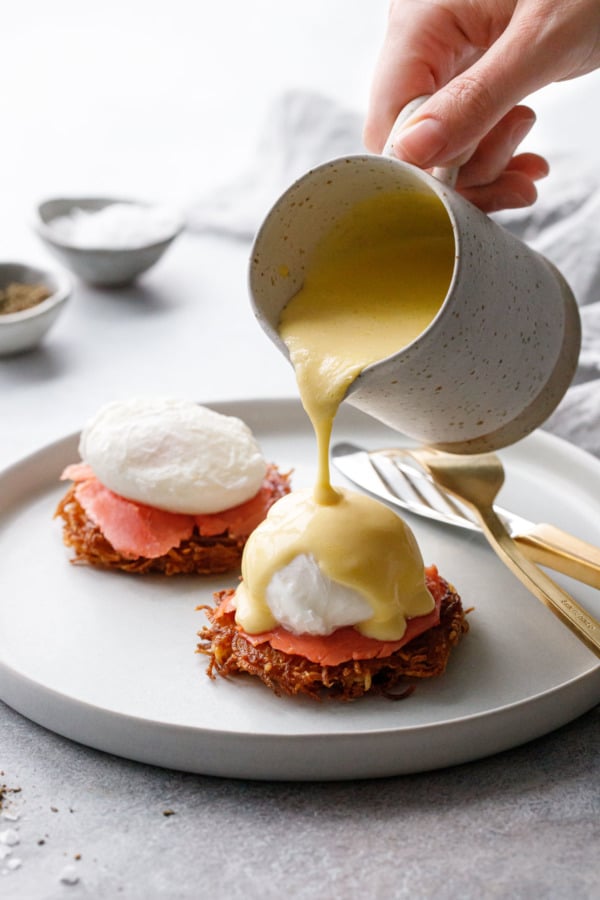 I pulled out these little pastry rings (same ones I used to shape these Japanese puffy pancakes) to see if I could get perfectly round latkes, and for a recipe like this one it worked perfectly. Something like an English muffin ring or pancake ring would work here too, but you can also go free form.
I typically make my latkes slightly smaller and thinner (I prefer them crispy all the way through), but I wanted these to be thicker to serve as a proper foundation for the eggs. I used about 1/4 cup of shredded potato per latke, resulting in crispy edges and a fluffy, tender center.




Tips & Tricks for the Crispiest Latkes
For the crispiest latkes, you want to soak your shredded potato in salted water for about 30 minutes (though longer is totally fine), then drain them completely. The more moisture you can wring out, the better.
I like to use a salad spinner for this, it's the easiest way I've found to get out all the moisture. Simply line the inner basket of a salad spinner with paper towels, add your shredded potato, then spin away!
If you don't have a salad spinner, place the shredded potato in the middle of a clean tea towel, then gather up the edges and wring out as much moisture as you can.
Cook the latkes in a generous 1/4-inch of oil. For latkes of this size, that will take about 8 to 10 minutes for the first side, and 5 to 7 or so for the second.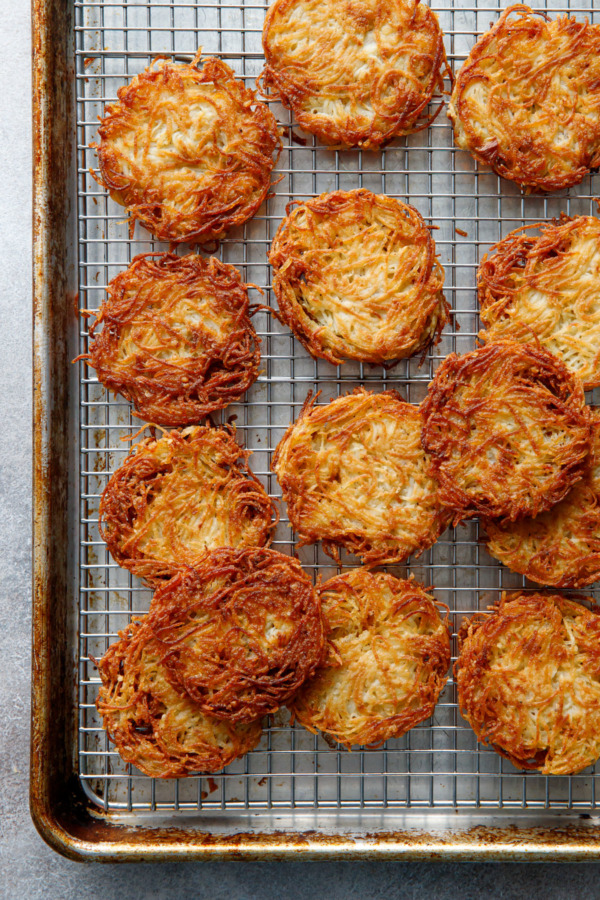 A Whole Lotta Latkes
This recipe makes about 12 large-ish latkes, perfect for 4 servings of eggs Benedict (accounting for an extra latke for each person which should be a given).
Latkes take a good bit of time and labor, although this is a fairly small batch so it is much more manageable (I regularly make 3x this many latkes for our annual Hanukkah dinner, and even with two pans going at once it's easily 90 minutes frying alone).
Make ahead tip: latkes keep beautifully! Make them a day ahead of time and refrigerate overnight, or freeze them in a single layer on a baking sheet before bagging them airtight and storing for up to 1 month.
To reheat, arrange latkes in a single layer on an oven-proof wire baking rack sitting on a cookie sheet. The baking rack will allow the hot air to circulate around the entire latke, ensuring they are just as crispy as they were the day they were made. Bake at 350 degrees for 7 to 10 minutes or until latkes are sizzling.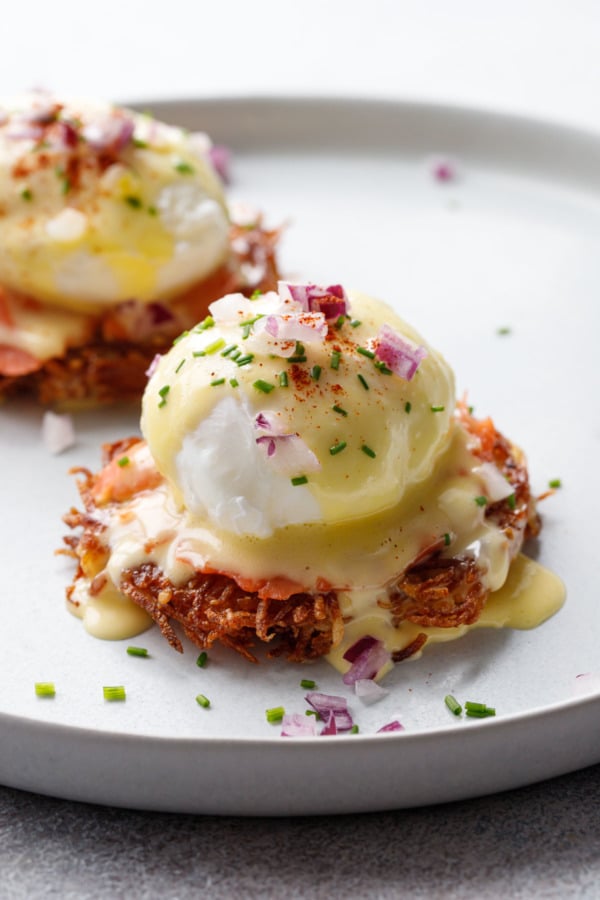 Hollandaise of our Lives
This recipe is a quick blender hollandaise, which uses the residual heat of the butter to emulsify the sauce. If you find it a bit thin after adding the butter, you can thicken it slightly by whisking it in a bowl set over a pot of nearly simmering water. Take care however, as if it gets too hot it will curdle.
A more traditional hollandaise, if you prefer it, can be made by whisking the egg yolks with a splash of water in a bain marie (water bath) over barely simmering water (the bowl should sit over, but not actually touch the water). Then slowly (very very slowly) drizzling in the melted butter, whisking vigorously until an emulsion is formed. Add the lemon juice and salt at the end to taste. This is how we did in our book Breakfast for Dinner, where our steak and eggs Benedict is quite delicious, although now that I've had latke eggs Benedict, I can say it is far, far superior than any other iteration.
Most online resources say that hollandaise is best served fresh, sometimes suggesting it can be kept warm for about 30 minutes or so in an insulated thermos. This blender version is so quick it's almost easiest to just make it immediately before serving. That said, I've found that hollandaise sauce actually reheats reasonably well the next day, gently warmed in a bain marie. Keyword here is gently, as hollandaise will curdle and separate if it gets too hot. If you keep your water just under boiling, it should be just enough heat to warm the sauce without breaking it.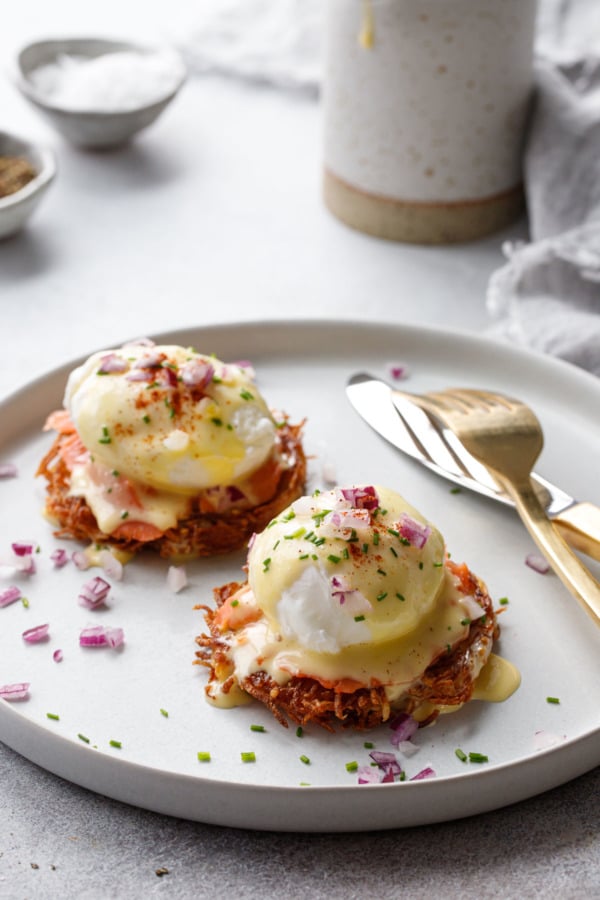 Perfectly Poached
Always use the freshest eggs possible when poaching, as fresher eggs have firmer whites, with less wispy stringy bits to deal with. We like to use a splash of vinegar in the water too, which helps tighten up the whites even further.
Making poached eggs for a crowd is sometimes a bit tricky, as poached eggs really work best when cooked one at a time.
We've found you can make the individual poached eggs first, taking them out when they're just underdone and place on a lightly oiled plate. Then, when you're ready to serve, gently plop all the eggs back into a pot of gently simmering water for about 30–60 seconds to reheat them all at once.
Latke Eggs Benedict
This recipe will make about twelve 3-inch latkes, perfect for about 4 servings (with one extra latke per person).
Ingredients:
For Latkes:
1 1/2 pounds russet potatoes (about 2-3 large or 3-5 medium)
1/2 medium onion
1 large egg, lightly beaten
2 tablespoons matzo meal or all-purpose flour
1 teaspoon kosher salt
1/2 teaspoon freshly ground black pepper
vegetable oil, for cooking
For Hollandaise:
3 large egg yolks
1 tablespoon freshly squeezed lemon juice
1/4 teaspoon kosher salt
1/2 cup (1 stick, 113g) unsalted butter, melted
For Assembly:
8 large eggs (the fresher the better)
splash of white vinegar
4 oz cold smoked salmon (lox)
finely chopped chives
finely diced red onion
Directions:
Grate potatoes and onion. I like to use a food processor for this step, with the thinner grate blade. Place grated potatoes in a large bowl of lightly salted water and let soak for 20 to 30 minutes or up to 1 hour.
Drain potatoes, squeezing as much moisture out of the grated potatoes as possible (wring it out in a clean kitchen towel or spin it in a paper-towel lined salad spinner).
Combine grated potato, onion, egg, matzo meal, salt and pepper in a large bowl, folding with a fork until evenly moistened.
Heat a large skillet over medium heat. When hot, add a 1/4-inch deep layer of oil to the pan.
When the oil is shimmery and a test piece of potato sputters and sizzles, the oil is ready. If it is too hot and starts to smoke, reduce the heat slightly.
Spoon about 3-4 tablespoons of potato mixture into the hot skillet, spreading out to a 3-inch round. You should be able to cook about 3-4 latkes at a time depending on the size of your pan, but don't overcrowd the skillet.
Cook for 6 to 10 minutes per side or until golden brown, then flip and cook for another 5 to 6 minutes more. Remove from oil with a slotted spatula, letting any excess oil drain off. Place on baking sheet in the oven to keep warm while you cook the remaining pancakes. Latkes can also be made ahead of time and refrigerated or frozen; to reheat, place latkes on an oven-proof wire rack set inside a baking sheet. Bake at 350 degrees for 5 to 7 minutes or until heated through and crispy.
For poached eggs, crack one egg into a small ramekin. Fill a saucepan 2-inches deep with water. Add vinegar and bring to a bare simmer over medium heat. Small bubbles should be coating the bottom of the pan, but not fully boiling. Carefully tip egg into the water. Cook for 4½ to 5 minutes or until whites are cooked and yolk is thickened to a jam-like consistency. If you like your eggs firmer, cook for about 30 seconds more. Lift egg out of pan with a slotted spoon and place on a lightly oiled plate (or serve immediately). Repeat with remaining eggs. If the eggs have cooled by the time you are ready to serve them, they can be reheated by returning them to simmering water for 30 seconds.
To make hollandaise, combine egg yolks, lemon juice, and salt in a blender and blend on medium-high speed until smooth. Melt butter until hot but not sizzling. With the blender running on low, slowly drizzle in melted butter. Start out very slowly, until an emulsion is formed, then you can drizzle the rest of the butter in a little bit faster.
If the hollandaise appears too thin, you can thicken it slightly by whisking it in a bowl set over a bowl of barely simmering water. Whisk constantly until thickened slightly, taking care not to let it get too hot or it may curdle the eggs.
Keep sauce warm for up to 30 minutes before serving by leaving it in over the water bath (but remove from heat so it does not continue to cook), or transfer to an insulated cup or thermos.
To assemble, place a piece of smoked salmon and a poached egg on top of each latke. Drizzle generously with hollandaise and sprinkle with chopped chives, red onion, and fancy flake salt and freshly ground black pepper to taste.
Did you make this recipe?
Let us know what you think!
Leave a Comment below or share a photo and tag me on Instagram with the hashtag #loveandoliveoil.