Chocolate and peanut butter lovers: delight! This one's for you, with a rich milk chocolate brownie topped with layers of creamy peanut butter frosting and a luxurious chocolate ganache.
Given the choice between chocolate cake or brownies, I'll choose the brownie every time, especially when it's loaded and layered with more chocolate and sweet and salty peanut butter like this one.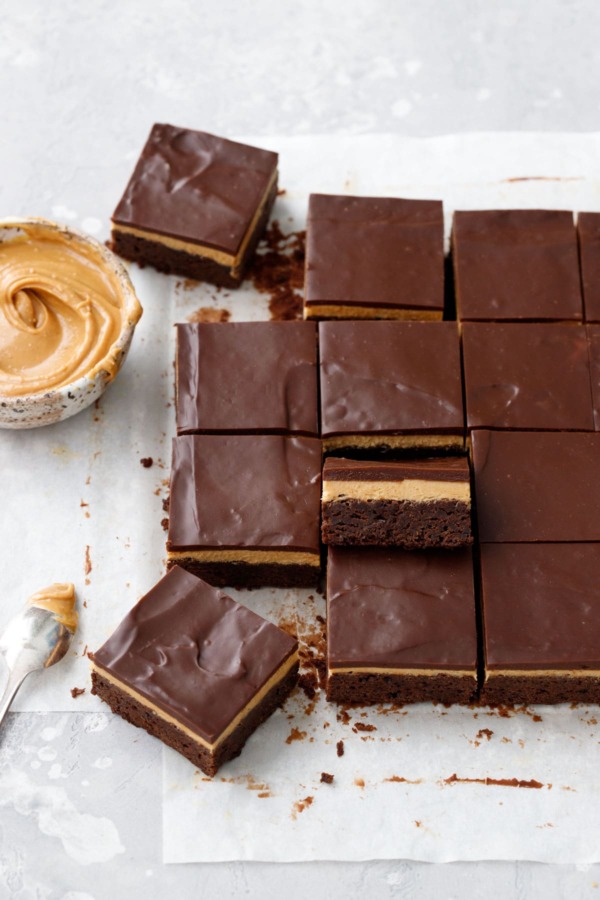 I recently had the urge to re-make, re-test, and re-shoot my old Cream Egg brownie recipe from way back in 2012. It's a great recipe that always sees a little bit of a boost this time of year, but the photos don't really do it justice. They're not horrible (I had almost 5 years of experience at that point, if you can believe it… man I've been doing this blogging thing for way longer than I realized), but they are definitely not quite the same caliber of images I'm able to capture now. I also wanted to play with the ratios of brownie-filling-topping, and explore swapping the milk chocolate topping with a silky smooth milk chocolate ganache (basically, I can't leave well enough alone).
A combination of factors, including crummy light and less-than-clean cuts (as a result of my impatience to get it done undoubtedly) failed to please my perfectionist self, and I didn't end up reshooting the recipe after all. But that's not to say we didn't enjoy the spoils of the endeavor nonetheless. As Taylor was shoving the results of my test batch into his mouth, he remarked that his idea of a perfect brownie would be that same fudgy brownie base, a layer of sweet and salty peanut butter in place of the fondant, and a rich ganache topping.
So I made it happen.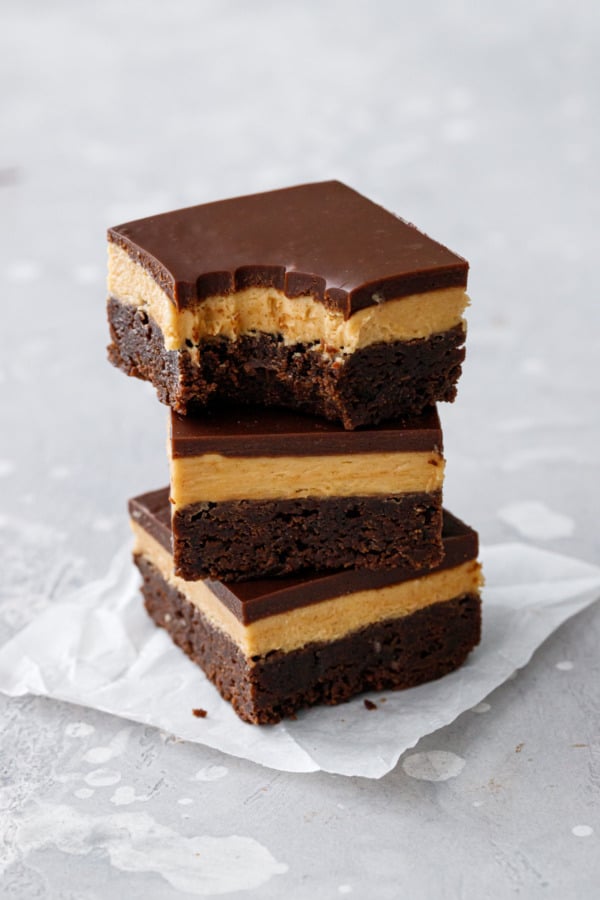 The peanut butter layer turned out a bit more buttercream-y than I envisioned (I was shooting for something Reese's like), but we both decided that it was quite lovely, light and fluffy and perfectly peanut buttery. The hint of salt, in both the brownie layer and the peanut butter layer, cuts the richness of the chocolate beautifully and also amplifies the flavors.
The brownie itself is dense and fudgy (just how I like them), even more so if you let it chill overnight (as hard as that may be, trust me when I say you'll get much cleaner looking cuts if you wait until the next day).
I used a mix of chocolates, both dark and milk chocolate in both the brownie and the ganache, since, while I love me an ultra-dark chocolate brownie, I couldn't ignore the fact that milk chocolate pairs so well with peanut butter. I wanted the best of both worlds.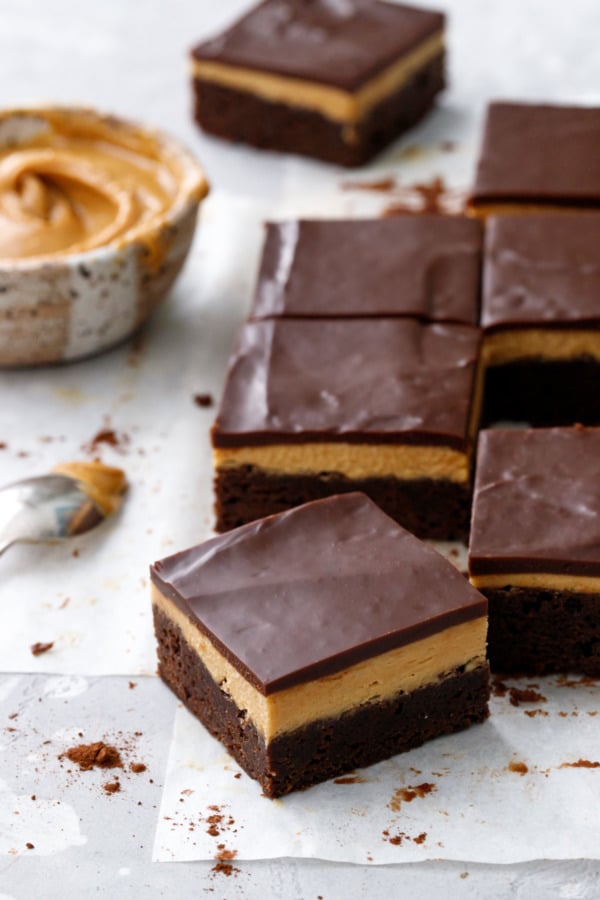 A mix of different varieties and percentages of chocolate gives the brownies a well-rounded and multi-dimensional chocolate flavor, and a bit of milk chocolate in any ganache always makes it smoother. While you could technically use all of one or the other, the blend of the two is, I feel, simply perfection.
Avoid using chocolate chips if you can; the stabilizers required to make them hold their shape in cookies also make them reluctant to melt. For the ganache especially, having chocolate that melts smoothly is critical to achieving that perfectly silky ganache texture (I can't tell you how many failed batches of greasy, separated ganache I had to throw out before I realized that the quality of the chocolate really matters).
I like to use chocolate coverture callets (Callebaut, Cacao Barry, and Valrhona are all brands to look for), which are somewhat chip-shaped but are made to be melted. Even though they come in small bits, I still chop them even finer. Especially in a low-ratio ganache like this one, the smaller the chocolate pieces the more likely they are to melt fully without additional heat. That said, if you've stirred in the hot cream and still see chunks of unmelted chocolate, place the bowl over a small pot of gently simmering water (like a double-boiler, essentially) to give it a bit of extra heat to melt the residual chocolate. I like using a metal prep bowl for this reason. Do not put it on direct heat or you will most certainly break your ganache (if it starts to look greasy or separated, it's broken and, unfortunately, beyond saving).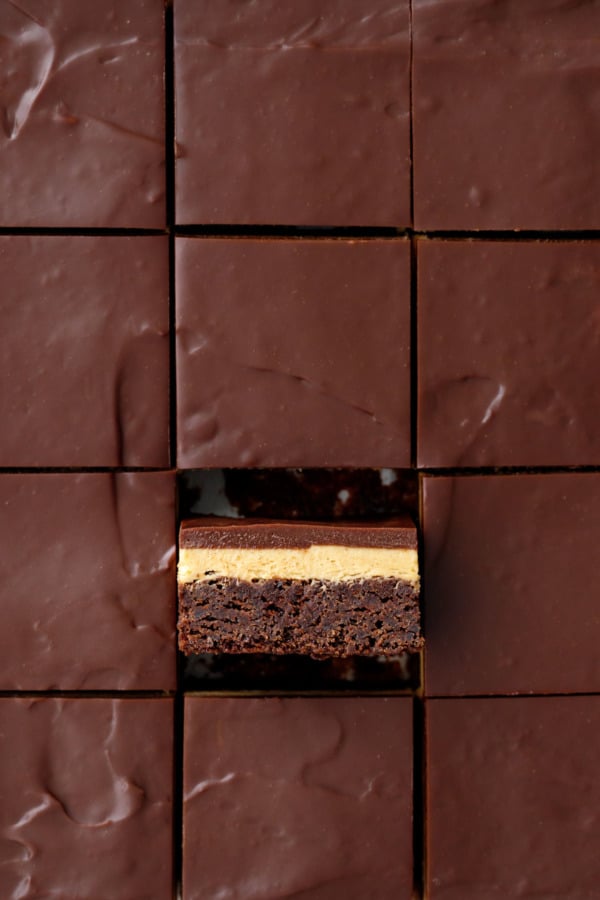 Because the tops these brownies are ultimately covered up, I'm not too concerned with getting that perfectly shiny top, which I normally achieve by beating the heck out of the eggs and sugar before adding the melted chocolate/butter. However, doing so adds a lot of air to the batter, making the brownies rise a bit in the oven and subsequently sink again while they cool, resulting in an uneven surface topography.
For frosted brownies like this one, I prefer a brownie that's perfectly flat, which means leaving the air out of the equation.
It actually makes these brownies ridiculously easy, since there's no mixer and only one saucepan required (everything can be mixed together in the same pan with just a whisk and a spatula).
The top won't be quite as shiny, but the even surface is an ideal foundation for perfectly defined layers of brownie, peanut butter, and ganache.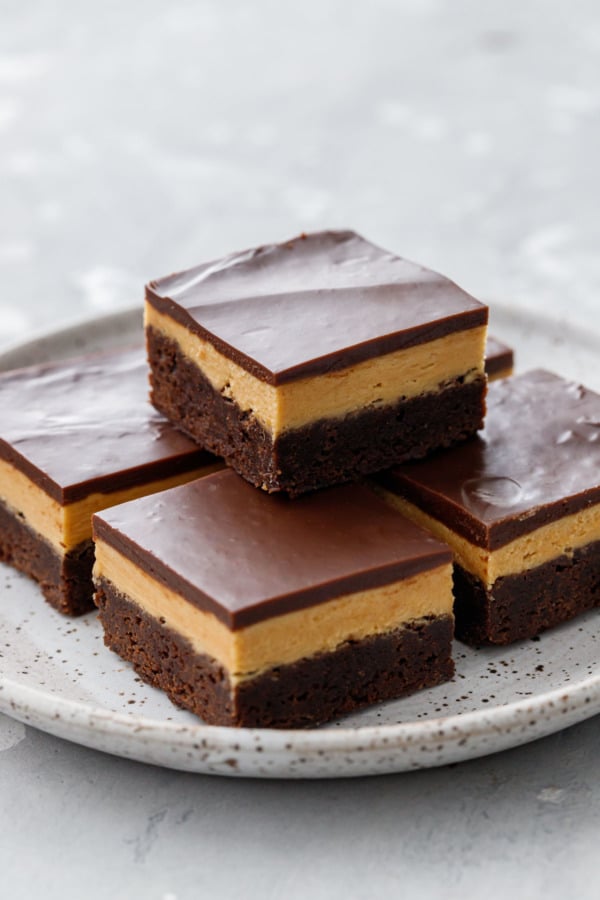 Want to know the secret to getting super clean cuts on your brownies and bars?
You'll need three things: patience, a large, warm knife, and a wet paper towel.
If you try to cut these brownies soon after pouring the ganache, you probably won't get clean cuts.
If you try to cut these brownies with a small, serrated, or dull knife, you won't get clean cuts, and if you don't clean off that knife in between, each cut will just get subsequently messier and messier.
Instead, let your brownies fully chill. A few hours at least, overnight is best.
You can cut off the messier edges of the brownies first (enjoy those precious bites as a chef's snack, you deserve it!) if you want cleaner, more even squares overall.
I also pull out my ruler and make marks on the very top and bottom edges of the brownies, which I can then line up for each slice (this part is always so tedious to me, I hate it, but necessary if you want perfect squares. I actually just bought one of these expandable pastry cutters, which I won't actually use to cut the brownies, but rather make the step of measuring out my cuts much easier).
Then, take a large, sharp knife and run it under warm water for 30 seconds. Pat dry, then make your first cut in a single downward motion (don't saw!) sliding the knife out the side instead of lifting it back up if possible. Clean off the knife with the wet towel before making your next cut (you can also run it under water again to clean it off between cuts and also rewarm it).
Voila. Perfectly clean cuts that showcase the perfectly defined chocolate and peanut butter strata that make these brownies so stunning to behold (not that your tastebuds care, ultimately, but it's true that we eat with our eyes first and foremost).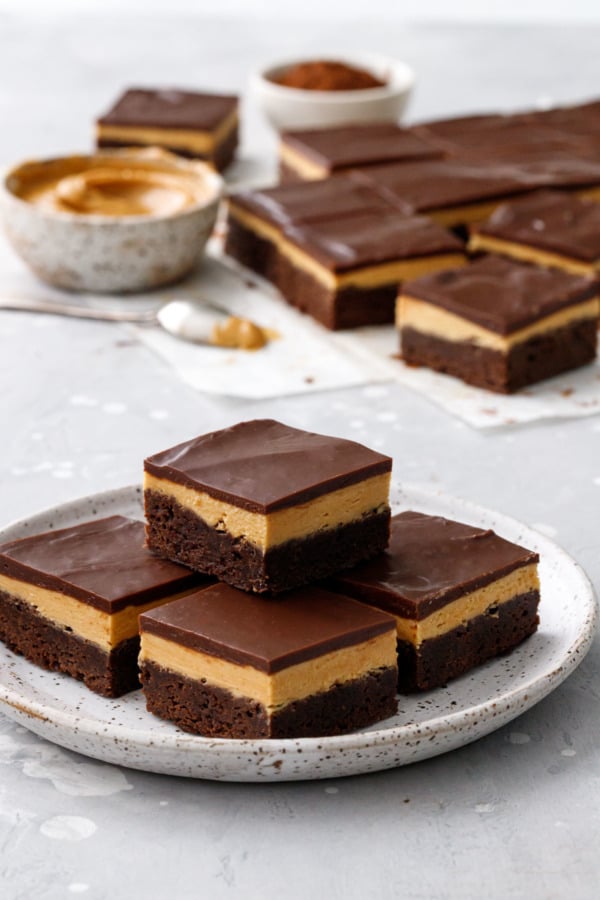 And as for Taylor… he's still a chocolate cake man at heart but I think these may have him convinced that brownies are the superior treat.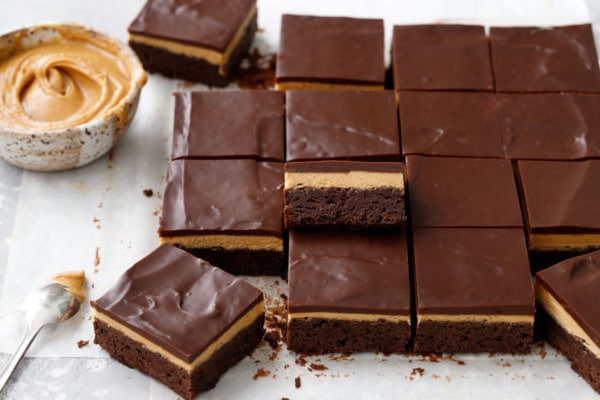 Milk Chocolate Peanut Butter Ganache Brownies
A rich milk chocolate brownie topped with layers of creamy peanut butter frosting and a luxurious chocolate ganache. If you can bear it, let the brownies chill overnight for the cleanest cuts and the fudgiest texture.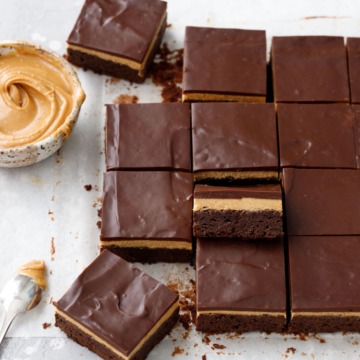 Ingredients:
For Brownies:
2 oz (56g) dark chocolate, chopped
2 oz (56g) milk chocolate, chopped
6 tablespoons (85g) unsalted butter
1/2 cup (110g) brown sugar
1/4 cup (50g) granulated sugar
2 large eggs, at room temperature
1 teaspoon vanilla extract
1/2 cup (63g) all-purpose flour
2 tablespoons (14g) dark or Dutch processed cocoa powder
1/2 teaspoon fine sea salt
For Peanut Butter Layer:
6 tablespoons (85g) unsalted butter, at room temperature
1/2 cup (140g) creamy peanut butter, at room temperature
3/4 cup (90g) powdered sugar, sifted
pinch sea salt (or to taste, slightly more if using unsalted peanut butter)
For Ganache Layer:
2 oz (56g) dark chocolate, finely chopped
2 oz (56g) milk chocolate, finely chopped
¼ cup (60g) heavy cream
1 teaspoon corn syrup
Directions:
Preheat oven to 350ºF. Line the bottom and sides of a 8-by-8-inch pan with parchment paper, leaving a slight overhang on two edges.
Sift together flour, cocoa, and salt in a small bowl and set aside.
Melt chocolate and butter in a double boiler or a medium-large bowl set over gently simmering water. Stir until smooth, then remove from heat. Whisk in sugars and stir until dissolved and mixture has cooled slightly.
Whisk in eggs and vanilla extract. Sprinkle flour mixture over top and fold in to chocolate mixture using a large rubber spatula until just incorporated. Pour into prepared pan.
Bake for 20 to 25 minutes or until toothpick inserted into the middle comes out clean. Transfer pan to a wire rack and allow to cool completely.
For peanut butter filling, cream butter on medium-high speed; add peanut butter and beat until smooth and evenly incorporated. Add powdered sugar, a little bit at a time, beating until light and fluffy. Mix in salt to taste. Spread on top of cooled brownies. Refrigerate for at least 1 hour or until firm.
For ganache, place chopped chocolate and corn syrup in a heat-proof bowl. Warm cream in a small saucepan set over medium-low heat until it just starts to simmer (careful not to let it scald, this small of a quantity of cream it is easy to do so). Pour over chopped chocolate. Let sit for 30 seconds, then gently whisk, starting in small concentric circles in the center of the bowl and slowly working outwards as the mixture emulsifies. Continue to gently whisk until smooth. Pour over peanut butter layer, spreading into an even layer (don't overwork it or it will start to pull up the peanut butter layer below). Return to refrigerator and chill until set, at least 30 minutes, or overnight if possible (brownies will slice the cleanest when chilled overnight).
Remove brownies from pan using the edges of the parchment paper to lift the entire block out of the pan. Cut into 16 even squares (for the cleanest cuts, run a large sharp knife under warm water, pat dry and then slice in one single, smooth motion, sliding the blade out of the brownies instead of lifting it back up. Rinse/wipe off the blade after each cut.) Brownies will keep, refrigerated in an airtight container, for up to 5 days.
Did you make this recipe?
Let us know what you think!
Leave a Comment below or share a photo and tag me on Instagram with the hashtag #loveandoliveoil.