Simple and satisfying, these stir-fried egg noodles are tossed with a toasty soy and sesame-based sauce that's packed with flavor.
For a quick and satisfying dinner, look no further than these easy sesame stir fry noodles. Infinitely adaptable, you could add just about any combination of protein and veggies that you'd like to the flavorful sauce and noodle base.
If you search for sesame noodles, most of the recipes you'll find are cold noodles with a thick sauce that's usually more peanutty than sesame. Why is that? We love the flavor of sesame in all forms: from oil to paste to whole seeds, and yet we knew we wanted a hot, saucy stir fry noodle, not something cold and slimy.
The puzzling lack of such a thing is how this recipe was born.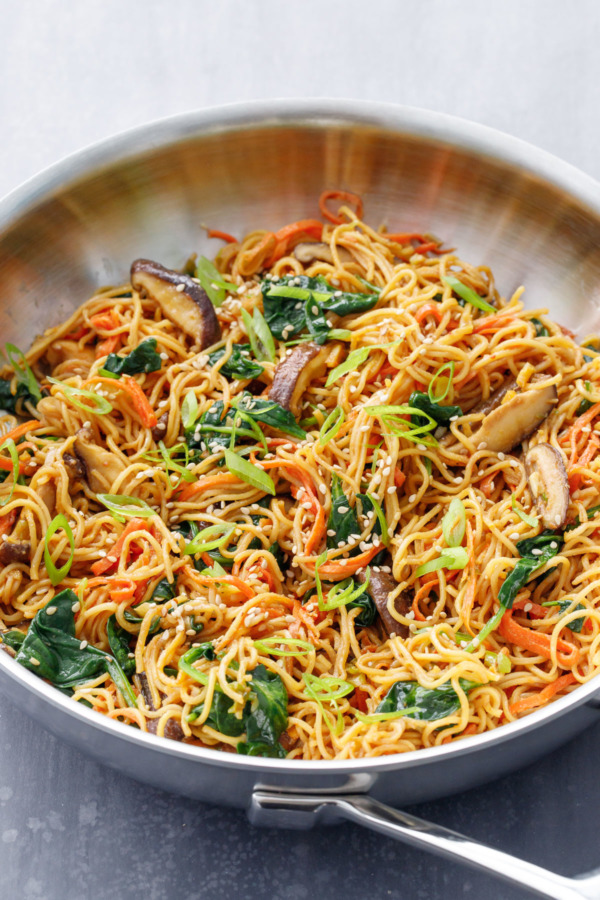 Loosely adapted from our always popular Soy Sauce Noodles recipe, this nutty variation brings a little extra sesame kick in the form of tahini and extra toasted sesame oil.
We also mixed up the accoutrement, nixing the bean sprouts in lieu of shiitake mushrooms and some fresh baby spinach. You could also add other veggies, maybe use bok choy instead of spinach or add back the bean sprouts we removed. You could even add some cubed tofu or other protein to make it a more substantial meal.
The noodles we used were labeled Canton-Style egg noodles, since we couldn't find the same Hong-Kong-Style egg noodles we used for the earlier recipe. Both are very similar noodles with an eggy yellow color. Chow mein noodles (not the crispy kind you use on salads, to be clear) would probably work as well, and, actually, so would ramen noodles or even spaghetti in a pinch if you can't find anything else. Heck, it could probably also be adapted to use sweet potato or zucchini noodles.
Just avoid fresh egg noodles. While normally I'm a strong proponent of fresh over dried, that's not the case here. We were so excited to come across a package of frozen noodles at our local Asian market, but, alas, they came out unpleasantly pasty (a quality we first attributed to the tahini, but it persisted even in tests with a completely tahini-free sauce). We much preferred the final texture of the dried noodles for this recipe.
Because the noodles are stir fried in a hot pan until they start to crisp, if you want to double this recipe I highly recommend cooking the noodles in batches (or have two pans going at once). Overcrowding the pan will result in fewer crispy noodle bits (and those are arguably the best part of this recipe).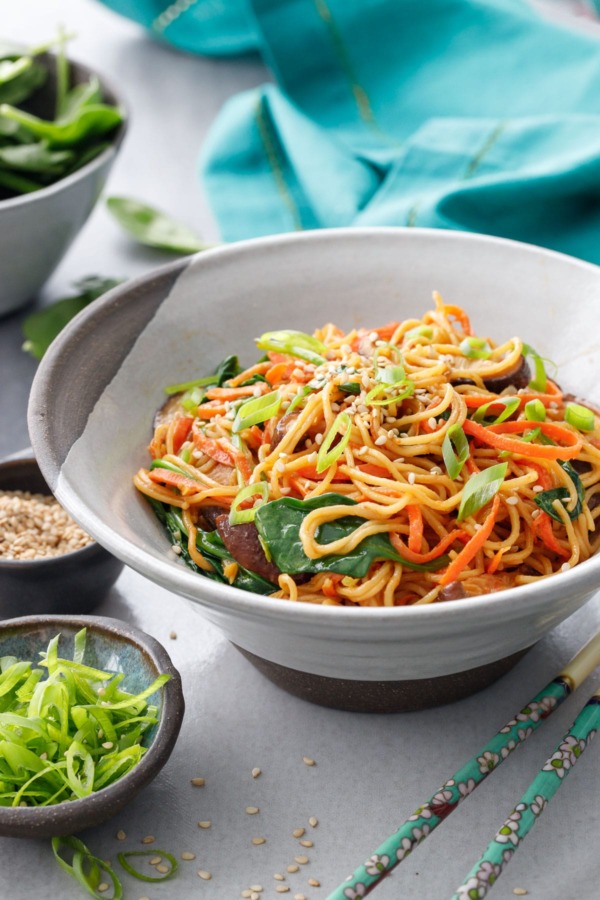 I love a good 30 minute recipe. That's one of the best things about stir fries: none of this low and slow nonsense. Instead, it's all about the smoking hot skillet (seriously, your oil should be shimmering before you even think of adding in the noodles). If you had a real wok (and the appropriate burner to accommodate it), it'd be even faster.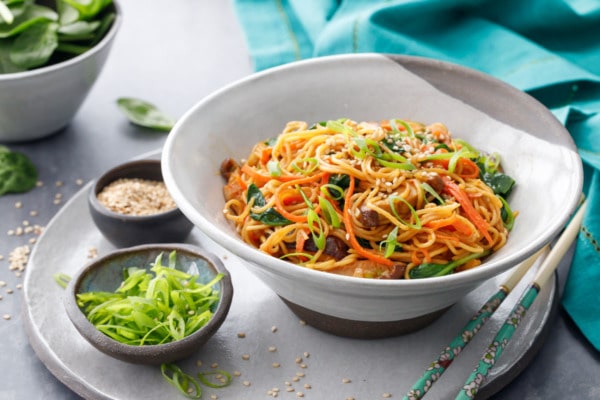 Sesame Stir Fry Noodles
Stir fried egg noodles tossed with a soy and sesame sauce, crunchy carrots, mushrooms, fresh spinach and green onions. Don't forget to sprinkle some toasted sesame seeds on top!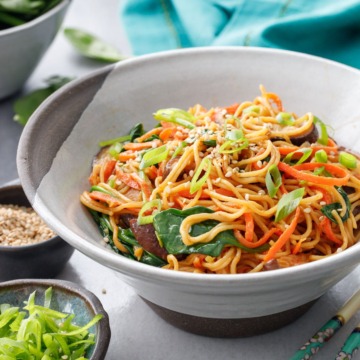 Ingredients:
3 tablespoons soy sauce
3 tablespoons sesame oil
1 tablespoon Shaoxing wine*
1 tablespoon tahini or sesame paste
1 tablespoon chili garlic sauce
2 teaspoons brown sugar
3 tablespoons vegetable oil, divided
3 ounces (2 bundles) Canton or Hong Kong-style egg noodles**
2 garlic cloves, minced
1 teaspoon minced fresh ginger
2 green onions, sliced into matchsticks, white/light green and darker green parts separated
4 ounces shiitake mushrooms, stems removed and cut into slices
1 medium carrot, thinly sliced into matchsticks or ribbons
3 ounces fresh baby spinach
toasted sesame seeds, for topping
Directions:
In a small bowl, whisk together soy sauce, sesame oil, Shaoxing wine, tahini, chili garlic sauce, and sugar. Set aside.
Bring a large pot of water to a boil. Add noodles and cook for 2 to 3 minutes (refer to package instructions for specific times, especially if using a different kind of noodle) or until just al dente. Drain and rinse under cool water and spread out on a plate to dry.
In a large skillet or wok, heat 1 tablespoon vegetable oil over medium-high until it shimmers. Add noodles and cook for 2 to 3 minutes, without stirring, until bottoms are slightly crisp. Flip over as best you can and let cook for another 2 minutes. (Even though the noodles will not get entirely crispy, this step helps dry them out so they do not stick and absorb all the flavorful sauce.) Slide noodles onto a plate and set aside.
Return skillet to medium-high heat with remaining 2 tablespoons oil. Add sliced mushrooms and satué until softened and starting to brown, about 5 minutes.
Add garlic and ginger along with white and light green parts of green onion and quickly sautée until fragrant, about 1 minute.
Return noodles to skillet along with sauce mixture. Toss well with a pair of tongs or chopsticks, breaking up clumps of noodles as you go, until noodles are entirely coated, about 2 to 3 minutes. Add dark green parts of green onion, carrot ribbons, and spinach and cook for 1 minute more or until spinach is just wilted.
Remove from heat and divide among serving bowls; sprinkle with toasted sesame seeds and serve.
*Shaoxing (also spelled Shao Hsing) is a Chinese rice-fermented cooking wine, easily available at grocery stores with robust Asian foods sections or at Asian food stores. You can also substitute a dry (not cooking) sherry if needed.
**Depending on what kind of noodles you buy, check the package for cooking instructions: ours recommended soaking the noodles in cold water for 30 minutes prior to cooking.
Did you make this recipe?
Let us know what you think!
Leave a Comment below or share a photo and tag me on Instagram with the hashtag #loveandoliveoil.