It's gift guide time! This year I got my act together a bit earlier than usual, so hopefully you can take advantage of all the black friday/cyber monday sales coming up soon.
I scoured the internet for the best gifts for the foodie in your life, and have divided this massive gift guide up into sections for anyone who loves to cook, loves to bake, loves to eat, loves to drink, or loves to entertain (I mean, it's basically five gift guides in one.) Did I go overboard? Probably. But I hope someone out there finds it useful. ;)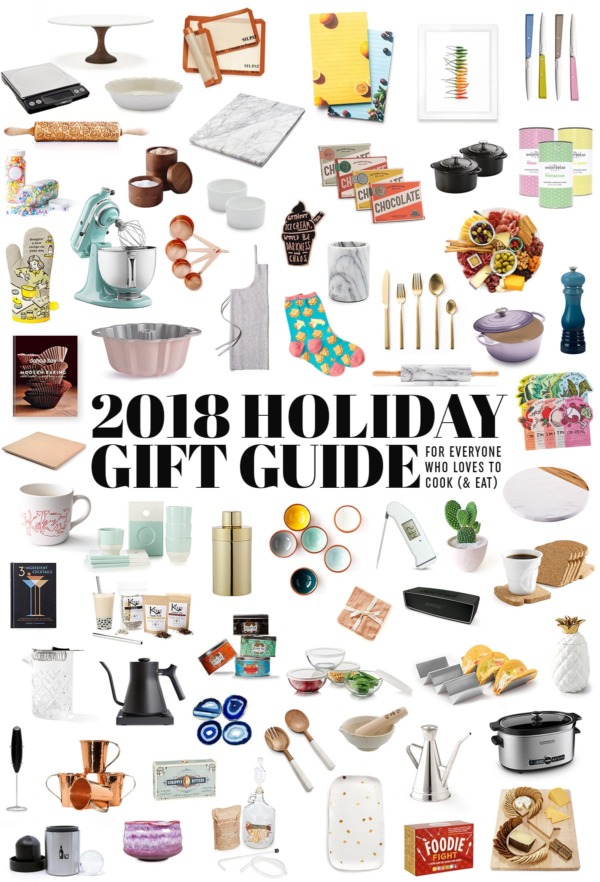 Everything in this gift guide is something I either own and love, or would love to own (I even pulled some of these gems right from my own wishlist).
Happy holidays indeed.
(Note that this post is not sponsored in any way and no brands have paid to be included here, however we have worked with some of the brands here as part of past/present brand partnerships. There are also affiliate links in this post, FYI. And if you're reading this post in RSS or email you might want to click through for easy clickable links to every item on this list!)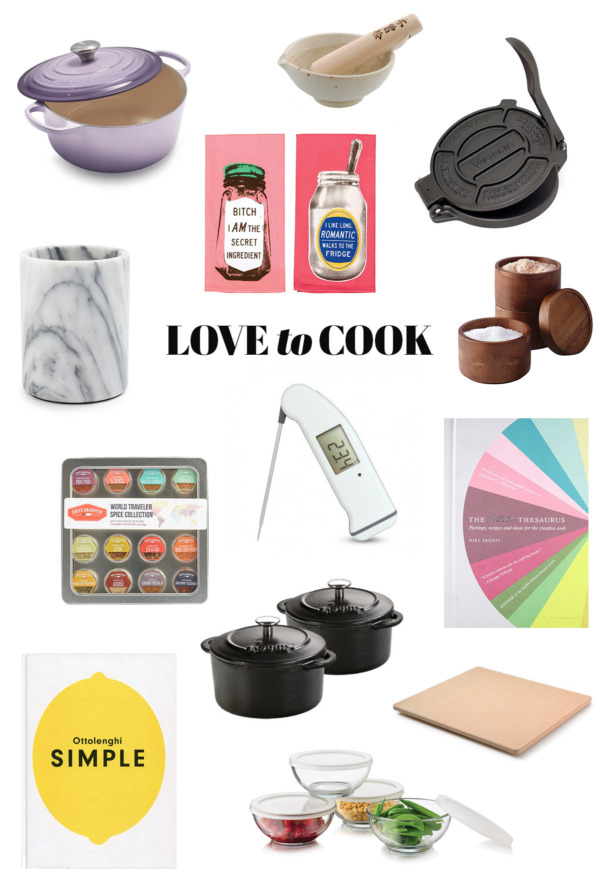 Love to Cook
Le Creuset 5 1/2 quart Dutch Oven — From soup and stock to braised meat and bread, a Dutch oven is one of the single most practical pieces of cookware you can own. I love the durability of Le Creuset (and lets face it, I'm a sucker for the colors). For a lower cost version that's just as durable, check out this one by Lodge or this one by KitchenAid (the lid doubles as a grill pan!)
Japanese Suribachi Mortar & Pestle — This Japanese style mortar and pestle has fine ceramic grooves on the inside that do quick work of making paste out of whatever you're working with, from sesame seeds to herbs and garlic.
Marble Utensil Holder — A gorgeous way to hold your commonly used kitchen tools. Nice and heavy so it won't tip over.
Tortilla Press — Store-bought tortillas don't hold a candle to homemade. Tip: this thing is HEAVY to either have it shipped directly to the recipient or bring it in person.
Cheeky Dish Towels — Bring a little humor to your kitchen with these hilarious tea towels. I might be buying the 'secret ingredient' one for everyone I know.
Wood Stacking Salt Cellar — If you're like me, you've got a bunch of different specialty salts floating around in bags in your pantry. Something like this gorgeous salt cellar is a perfect solution. Bonus: for gifting, pre-fill the containers with specialty salts like Maldon flake salt, fleur de sel, or black lava sea salt.
World Traveller Spice Set — Travel the world of flavor with this unique spice set from World Market. From Portuguese peri-peri to Chinese five spice to Lebanese za'atar and more.
Thermapen Professional Cooking Thermometer — For cooking, baking or grilling, a good thermometer is worth its weight in gold. Thermapens are simply the best thermometers money can buy. Period.
The Flavor Thesaurus — If you love making up your own delicious recipes, this book will prove immensely useful. It covers pretty much every flavor and ingredient you can think of and lists the best flavor combinations for each one. The Flavor Bible is another such resource, larger and even more in-depth but not nearly as pretty.
Lodge Mini Cocottes — A good set of oven-safe cocottes are handy for homemade pot pies, mac and cheese, baked eggs and so much more. I love these matte black enameled cocottes from Lodge. They're super heavy duty and downright gorgeous.
Ottolenghi Simple — Our new favorite cookbook. I totally bough the UK version because the cover is simply stunning, but if cooking in grams and mL drives you nuts, the US version is available as well. :)
Pizza Stone — A home oven simply can't come close to a wood-fired pizza oven, but with a pizza stone, you can come close. This stone is our personal favorite, it was a wedding gift from our cousin and is practically blackened from use, but these things last forever. Put it in the preheating oven at least 45 minutes before you plan to bake to let the stone get good and hot.
Libbey Glass Prep Bowls — These bowls are the perfect size for prep, and the included lids make for easy clean up and storage of leftover.
Love to Bake
Walnut & Marble Cake Stand — You've just baked a gorgeous layer cake… don't do it a disservice by displaying it on a plain old plate. This gorgeous walnut and marble cake stand turn your cake into the centerpiece it is.
OXO Digital Food Scale – If you care at all about accuracy when you're cooking or baking (you should), a kitchen scale is a necessity. I've basically stopped using measuring cups entirely for flour since a scale is so much more accurate.
Emile Henry Pie Pan – While I generally prefer to bake my pies in a classic 9-inch pie tin, this gorgeous deep dish ruffled pie pan sure makes for a pretty presentation.
Silpat Nonstick Baking Mats — Better than parchment paper, these reusable nonstick baking pan mats are one of my favorite kitchen tools of all time. I have 4 of them and store them in my baking pans so they're ready when I need them.
Embossed Floral Rolling Pin — Crucial if you're wanting to make these homemade Oreos, but this rolling pin can be used for any dough that will keep its shape when baked. I also have this cat design (in the kid size) which is absolutely precious.
Marble pastry board — whether you are a pastry chef or a budding food photographer, these marble boards are the best. I have the one from Sur la Table (it's my go-to for photos when no other background seems to be working) but World Market has a less expensive version that's the same size. (Tip: if using for photography, try to go into the store and pick out the one you like best. Marble has a lot of variation and the random one you get shipped might not be your favorite).
Sweetapolita Sprinkle Blends — You can never have too many sprinkles. Really. And these blends from Sweetapolita are so much fun. Check out the build-your-own gift set and put together a set of 3 of your favorite sprinkle mixes. (<<< use code LOVEANDOLIVEOIL15 and get 15% off your first order!)
Cheeky Potholders — For the baker with a sense of humor (and a dirty mouth) these potholders are a hoot.
KitchenAid Artisan Stand Mixer — Every cook worth their salt needs a stand mixer. It's one of the most versatile items in a baker's kitchen. If you're looking for a good 10 years worth of gift ideas, get them a mixer this year and then one of the various ridiculously practical attachments each year thereafter (like the ice cream maker, pasta maker, or spiralizer).
Straight-Sided White Ramekins – It seems like all ramekins are fluted, which is fine and all, but sometimes you want something clean and modern. These 5oz ramekins are perfect for deep dish creme brûlée, baked eggs or soufflés. If you prefer shallower creme brûlée, these handled dishes are the perfect size.
Blush Pink Bundt Pan — Hello, lover. This heavy duty Nordic Ware bundt pan in a limited-edition blush pink tickles all my fancies. It's gorgeous, and also bakes a damn fine bundt.
Linen Apron — This is my favorite apron for photos. The pinstripe pattern adds a subtle texture to the backgrounds of images, and the drape of the linen is lovely. Second favorite: Hedley & Bennett (y'all know I have a thing for ampersands).
Copper Measuring Cups — Measure in style with these gorgeous copper measuring cups.
Modern Baking — This baking book is downright gorgeous.
Marble Rolling Pin — The heavy weight of this marble rolling pin makes rolling out doughs a breeze, the marble stays naturally cool (to keep the butter in your pie flaky), not to mention it's downright gorgeous. It comes with a matching marble stand so it won't roll away in your cabinet or on your countertop.
The Cookie Dough Lovers' Cookbook — Shameless plug, but I really do think our cookbook makes a great holiday gift!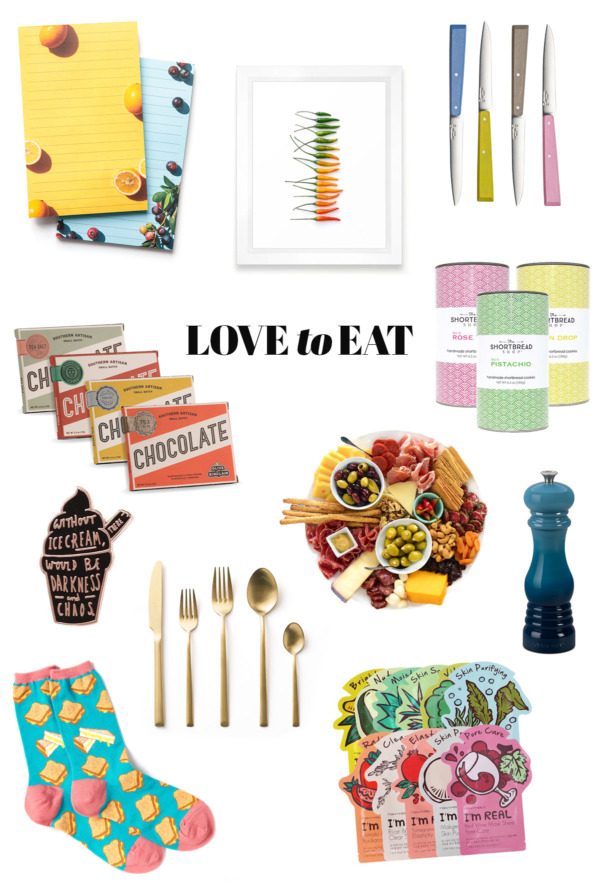 Love to Eat
Blueberry & Lemon Notepads – I've turned some of my favorite photos into notepads! The perfect size for list-making or note-taking, printed on quality recycled paper in vibrant colors. Choose between a set of 2 or 4.
Hot Pepper Gradient Art Print — One of my own photos, now available printed in a beautiful custom frame (pick your size and frame color). This would look great hung up in your kitchen!
Opinel Table Knife Set — These table knives come in gorgeous color sets (although the wood one is very pretty too). You can also get singles on the Opinel website, mix and match and make your own colorful set!
Olive & Sinclair Chocolate Sampler — Our favorite Nashville chocolate maker ships nationwide! Check out one of their chocolate bar samplers or seersucker samplers (the cherry bombs are absolutely explosive!)
The Shortbread Shop Pistachio Shortbread — This stuff is amazing. I don't often rave about pre-packaged cookies (I'd rather bake my own) but I'll admit I can't even come close to making shortbread this good. While the pistachio is my favorite, the other 6 flavors aren't too bad either (wink wink).
Ice Cream Enamel Pin — Truth.
Delallo Build Your Own Gift Collection — Our favorite Italian imports company has an amazing assortment of food gifts, but did you know you can also build your own? Choose your price point and pick your products from their incredible selection for a truly amazing gift.
Le Creuset Peppermill — Available in the same gorgeous colors as their enameled cookware, these 8″ peppermills are as pretty as they are practical (I love the color options). A true countertop showpiece!
Matte Gold Flatware Set — Gold is the new black, and these matte gold utensils are drop dead gorgeous. The matte finish also makes them perfect for photography (no awkward reflections!)
Grilled Cheese Socks — Funny how as a grown up you actually like getting socks for Christmas. Well, as long as they're awesome socks, like these grilled cheese ones! Socksmith also has some other awesome food-themed socks including sushi, mac and cheese, and even pancakes!
I'm Real Face Masks — These 'delicious' sounding face treatment masks are food for your skin! The tomato, red wine, and broccoli (yes, broccoli!) masks.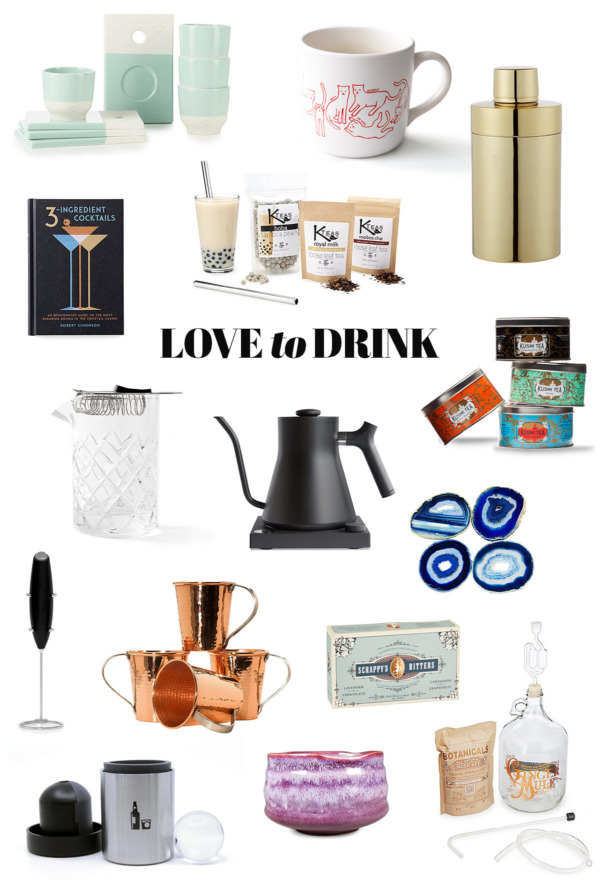 Love to Drink
Color Lab Espresso Cups — Cute and colorful, that's my thing! I love these color block espresso cups, which come in 4 fun colors with matching saucers. So freaking cute, it makes me want to start drinking espresso.
Cat Mug — My favorite mug, the perfect size for my morning matcha latte. In fact, I probably need another one.
Modern Gold Cocktail Shaker — I love this modern take on a classic bar tool. Gold finish outside with durable stainless inside, with a modern silhouette. Gorgeous!
3 Ingredient Cocktails — This book is Taylor's favorite cocktail book, because every recipe only uses 3 ingredients. Nothing fancy, quick to make when you're craving a mixed drink but don't want to spend the time to make something complicated.
Bubble Tea Kit — Bubble tea lovers, this one's for you! Including tapioca pearls, powdered tea mixes in two flavors, and reusable stainless steal fat straws, this kit has everything you need to make bubble tea at home.
Cocktail Mixing Pitcher & Strainer — Pretty cut glass design and a perfectly sized stainless steel strainer for all your favorite cocktail concoctions.
Electric Pour-over Kettle — This modern electric pour-over kettle is simply stunning. I love the long, narrow spout which makes for pinpoint pour accuracy.
Kusmi Tea — These Russian loose-leaf teas made in Paris are some of our favorites, and this beautiful gift sampler set would make a perfect gift for the tea lover in your life. I particularly like the Russian Morning and English Breakfast varieties.
Blue Agate Coasters — Oh so pretty.
Milk Frother — No fancy espresso machine necessary to make frothed milk! Simply use this handheld milk frother in a cup of warmed milk for a lovely froth just like your favorite coffee shop.
Moscow Mule Mugs — Gorgeous copper mugs make the best moscow mules (the copper keeps your drinks especially cold). I personally have these patina-finish mugs, which no longer appear to be available (I tried really hard to find them, sorry!) but these shiny copper ones have a modern silhouette that I love just as much.
Scrappy's Exotic Bitters Sampler — Take your cocktails to the next level with this exotic bitters kit, featuring tiny bottles (do you really need big bottles anyway?) of chocolate, grapefruit, lavender and cardamom.
Clear Ice Ball Maker — Clear ice is undoubtedly hard to make at home. The same for ice spheres. This tool does both, and it does it well. Granted, this particular one only makes one ball at a time, but it's an efficient use of freezer space. (Currently sold out, but hoping it'll come back in stock soon!)
Matcha Bowl — The proper vessel for drinking matcha falls somewhere between a bowl and a cup. They're designed to nestle perfectly between two hands (honestly, I could drink every hot beverage from a matcha bowl from now on and be perfectly happy). This pretty purple bowl is a stunning option, though you could easily waste a few hours browsing handmade matcha bowls on Etsy. Make it a gift set by including a bamboo matcha whisk and a tin of ceremonial grade matcha.
Ginger Beer Kit — Make your own ginger beer with this DIY kit! It's got everything you need to brew a batch of spicy goodness. Instructions included for both alcoholic and non-alcoholic versions. (FYI, BootlegBotanicals also has a brew-your-own root beer kit coming this fall! Pre-order yours today!)
Love to Entertain
Terracotta Pinch Bowls — These colorful terracotta pinch bowls are the perfect size for condiments and seasonings. I mean, can you ever have too many little bowls?
TierraSol Mini Succulents — Plants really bring a space together, and these adorable mini succulents are seriously cute (they have a few teeny tiny cactii no bigger than your thumb!) Complete with handmade planters, the plants are grown to thrive in lower light conditions and with very little water.
Marble and Wood Cheese Board — Gorgeous marble and teak, in a perfect 1o-inch size for entertaining. Use it as a cheese board, cake plate, or serving platter.
Fringe Linen Napkins — These are totally on my wishlist (in Salmon and/or Dove, hint hint). I wish they had a multicolored set, anyone want to split a set of 4 with me?
Bose SoundLink Mini BlueTooth Speaker — We love this little speaker for the kitchen. It easily connects to your phone via Bluetooth, so you can stream your favorite Spotify playlist while you stir and simmer.
Toasters — Toast + Coasters = toasters, get it? We've had these adorable cork coasters for years now, and we still love them dearly. Bonus: the set of 10 coasters is packaged in a bread bag. How's that for brilliant?
Wood & Marble Salad Servers — Wood and marble seem to be a running theme here, mainly because it's a beautiful combination.
Stainless Steel Taco Holders — I love me some hard shell tacos, but they're a pain in the butt to fill and serve. Finally, a solution for tippy tacos! Holds 2 or 3 tacos depending on which side faces up.
Pineapple Candle — Ok this candle smells amazing. Like grown up fruit punch. Plus the container is downright adorable (and would make a great trinket holder or salt cellar once's it's empty)
KitchenAid Slow Cooker — For big batches of party food like chili, queso or meatballs, a slow cooker makes preparing food for a crowd easy, then keep it on low during the event to keep your food perfectly warm.
Spanish Oil Pitcher — What a gorgeous way to store your good olive oil! Serve alongside a salad or fresh crusty bread.
Gold Confetti Serving Slab — I've been a fan of Lindsay's beautiful porcelain products for years, and this gold confetti serving slab is no exception. Everything in her shop is handmade in North Carolina.
Foodie Fight — The trivia game for foodies! Would make for a fun party activity for the food-obsessed.
Ampersand Cheese Board — Get it, cheese AND crackers? The ampersand-lover in me adores this cheese and cracker board, designed to hold crackers in the outline of the ampersand. Cute!
==============
Phew. That took forever, but I think it's worth it, don't you?
Tell me… what's on your holiday gift list and wish list this year?