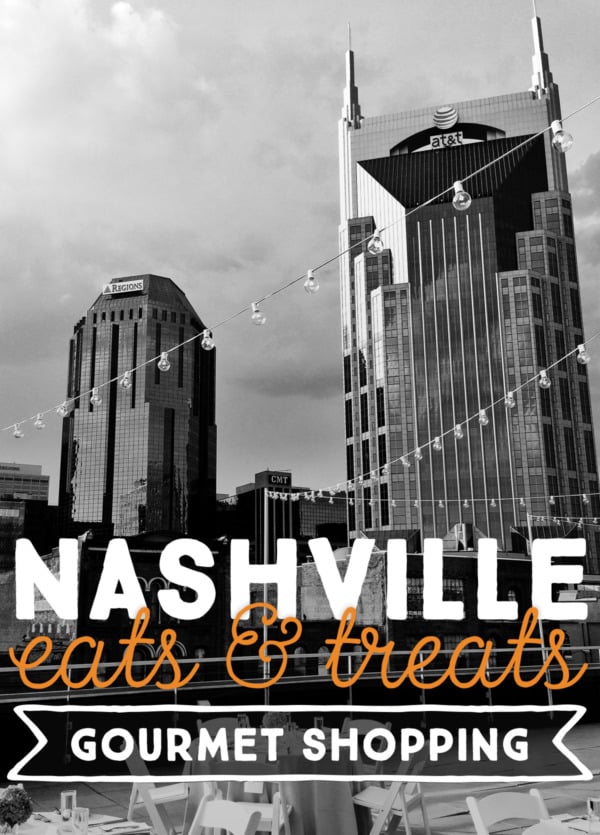 Food makes the best gift (in my humble opinion), because the recipient can eat it and enjoy it and be done with it, and you're not contributing to further clutter in their lives.
With that in mind, I thought now would be the perfect time to highlight some of my favorite Nashville shops to find gourmet gifts for foodies, food fans, and basically anyone who likes to eat.
Whether you're local shopping for out of town relatives, or just visiting and wanting to take a delicious piece of Nashville home with you, these shops have you covered for everything from candy to condiments to cocktail mixers and more.
Goo Goo Shop
Got a chocolate lover on your list? The Goo Goo Shop has you covered. Grab a premium Goo Goo (jumbo versions of their classic candies that are only available in the shop), plus a matching "What the Cluster" t-shirt and a cute luggage tag, or any number of their other cute merchandise items. They also sell vintage gift tins of classic Goo Goos, as well as bags of Lil' Goos (mini versions that are dangerous to have on hand).
→ Goo Goo Shop / googoo.com / 116 3rd Ave S, Nashville, TN 37201
Olive & Sinclair
For a gourmet chocolate experience, Olive & Sinclair in East Nashville is a perfect place to grab some Nashville-made bean to bar chocolate. Our favorite bar is a toss up between the Salt & Pepper and the Buttermilk White (which would even convert white chocolate haters). Also, don't miss the bourbon brittle or duck fat caramels either!
→ Olive & Sinclair / oliveandsinclair.com / 1628 Fatherland St, Nashville, TN 37206
Lazzaroli
We love Tom's fresh pastas, but this Italian specialty shop also carries some great gourmet gifts, including smoked salt, bourbon-barrel aged soy sauce, amaretti cookies, Italian fruit preserves, torrone candy, and more. Closed Sunday/Monday.
→ Lazzaroli Pasta / lazzaroli.com / 1314 5th Ave N #100, Nashville, TN 37208
Little Gourmand
This French specialty shop in Green Hills boasts a huge selection of French-imports, including teas, condiments, confections and more. They also carry a nice selection of gift baskets and curated sets.
→ Little Gourmand / littlegourmand.us / 2209 Bandywood Dr, Suite D, Nashville, TN 37215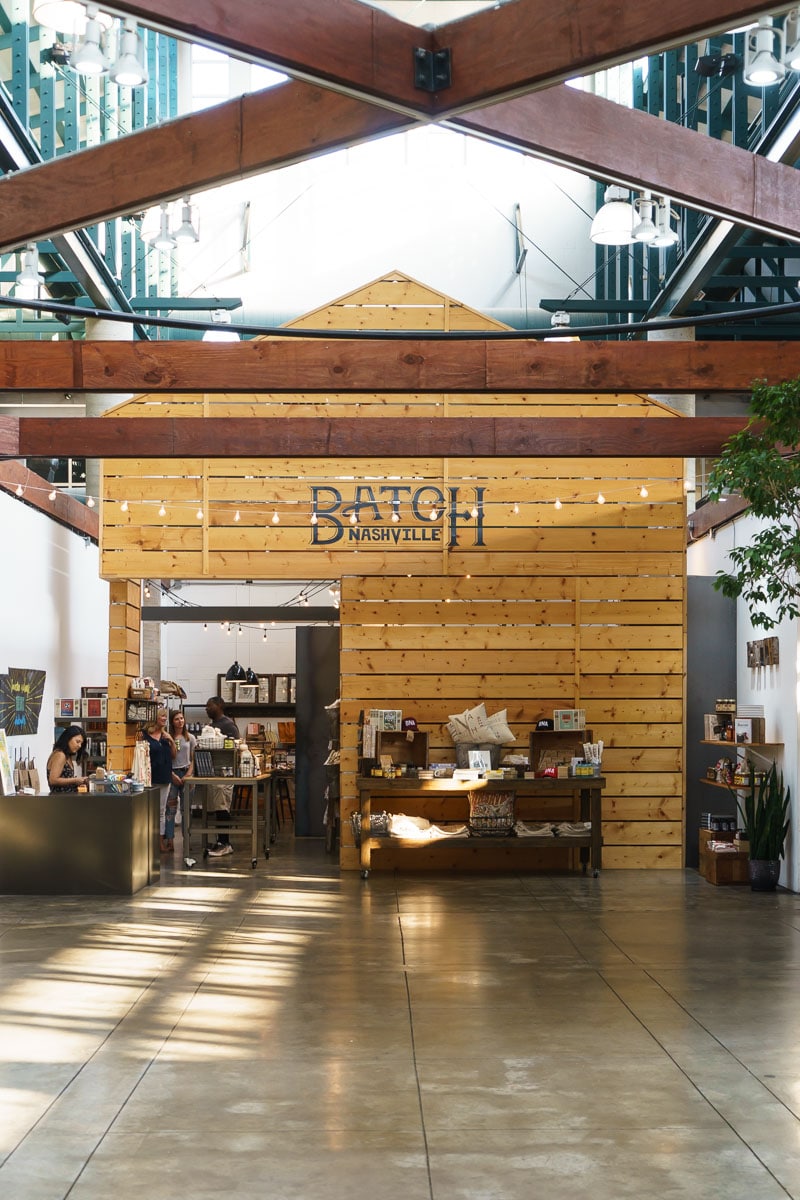 Batch
Your one stop shop for everything local (if you only have time to go to ONE shop, this one has pretty much everything made in Nashville in one shop). Here you can find numerous Nashville-grown delicacies such as Soberdough beer bread mix and TruBee honey, as well as other non-food gift items too. Located in the market house at the Nashville Farmers Market, Batch really is the perfect spot to grab a locally-crafted gift for just about anyone on your list. You can also get Nashville subscription boxes that deliver monthly curated products from around the South – it's the gift that keeps on giving!
→ Batch Nashville / batchusa.com / 900 Rosa L Parks Blvd, Nashville, TN 37208
Bang Candy Company
For all the sweet teeth in your mouth, Bang Candy offers homemade marshmallow gift boxes, candy bark, and flavored drink syrups that all make great gifts. You can find their products at many of the other shops listed here, or visit their adorable shop in Marathon Village (and grab a cup of cocoa while you're there).
→ Bang Candy Company / bangcandycompany.com / 1300 Clinton Street, Suite 127, Nashville, TN 37203
Green Door Gourmet
The market at Green Door Gourmet is filled with all sorts of locally produced foodstuffs in addition to fresh organic produce, dairy, cheese and meat. For the perfect edible gift, check out the large selection of local honey, pickles and preserves, grits and granolas, spices, candy and confections, handcrafted soap, and more.
→ Green Door Gourmet / greendoorgourmet.com / 7007 River Rd Pike, Nashville, TN 37209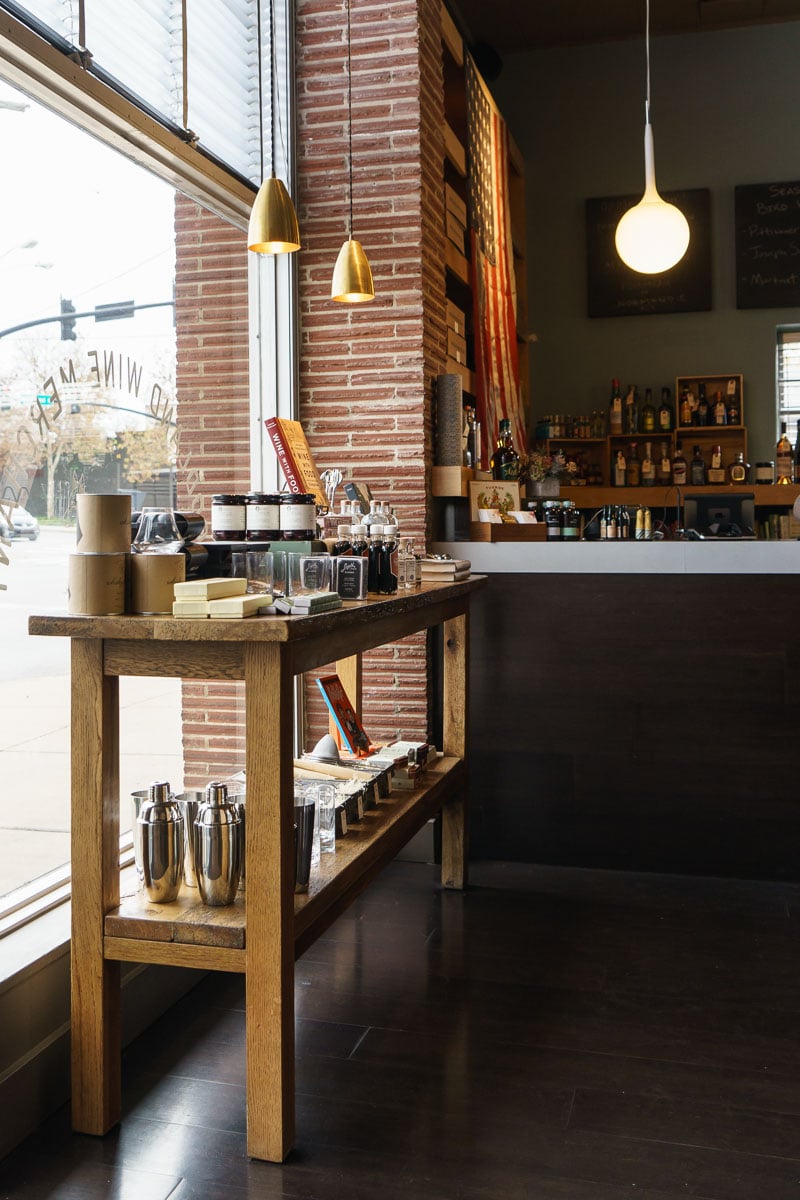 Woodland Wine Merchant
Our favorite local liquor store, this charming East Nashville shop also has some great drink-related gifts. Grab a nice bottle of wine or bourbon and accompany it with some gorgeous glassware, a coffee table-worthy cocktail book, a fancy flask or a jar of bourbon-soaked cherries and you've got yourself one fine gift.
→ Woodland Wine Merchant / woodlandwinemerchant.com / 1001 Woodland St, Nashville, TN 37206
Loveless Cafe
Located 40 minutes outside of Nashville, the Loveless Cafe is well known for it's famous biscuits and other classic Southern faire. But don't miss the lovely little gift shop out back, it's chock full of delicious gifts and merchandise. Loveless also recently just launched a Southern Goodness Subscription box, which ships out different themed boxes monthly; it'd make a great gift idea!
→ Loveless Cafe / lovelesscafe.com / 8400 TN-100, Nashville, TN 37221
OAK Nashville
This pretty little shop is mostly housewares, soaps and candles, but they also have a nicely stocked pantry section that'll make your stomach go pitter patter.
→ OAK Nashville / oaknashville.com / 4200 Charlotte Ave, Nashville, TN 37209
Shop Online
For those of you outside of Nashville who still want a little Music City underneath your Christmas tree, some of my favorite local products can be purchased online!
GooGoo – While you can't get the Premium GooGoos online, you can find the original candies in gift-ready tins, plus adorable gifts and apparel.
Batch Nashville – Most of the products sold in the store are also available for purchase online, including a lovely assortment of gift baskets (many with free shipping!) and their Batch curated subscription box as well!
Olive & Sinclair – Get yourself a chocolate gift set (or, you know, give it as a gift) or try their brittles and barks, or the Seersucker sampler (the cherry bombs are seriously the bomb).
Bang Candy Company – You can now buy Bang's signature marshmallows, chocolate barks, and flavored syrups online, as well as assortment gift boxes and apparel (note they do not ship marshmallows in the summer months).
Loveless Cafe – While you'll miss the world-famous biscuits if you shop online, their biscuit mix IS available online which is almost as good. You can also get your hands on some of their famous jams and even a bacon sampler (I mean, talk about the perfect gift!)
Christie Cookie – An assortment of soft, chewy cookies (or brownies!) would make a perfect gift for a boss, client, friend or far-away family member.
---
For easy trip planning, I've put together this a handy-dandy Google map with all the locations featured in this post as well as others in this series. Look for the orange markers that indicate the spots listed in this post (purple is date spots, green is lunch, pink is sweet spots, yellow is brunch, and blue is French fries – because Fries totally deserve their own category).