I'm starting a brand new feature here on Love & Olive Oil featuring local eats and treats in our hometown of Nashville, Tennessee. A few of you expressed interest in hearing more about local eats, so whether you live here or plan to visit, hopefully you'll find these posts useful. I will come back and update these posts as necessary, as Nashville's restaurant scene is growing faster than I can keep up.
I figured we'd kick off this series the same way you start your day: with a satisfying breakfast. Here are our favorite Nashville breakfast and brunch spots (in no particular order). This is by no means a complete list, just our favorite breakfast and brunch spots at the moment.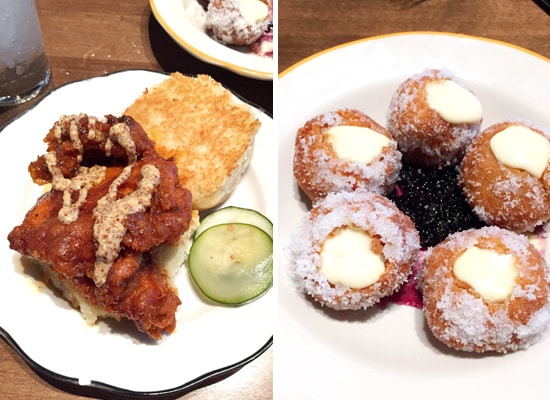 Biscuit Love
Hands down our favorite breakfast. What was once a favorite food truck (served from a decked-out airstream trailer) now has a permanent location in Nashville's Gulch neighborhood (parking tip: the Pine Street garage offers 1 hour free parking). Whatever you do, don't miss the Princess, Karl's sweet and spicy take on Nashville's signature hot chicken, served on (what else) a biscuit. I also love the Bonuts (biscuit-donuts) as well as the Lily, a biscuit French toast served with lemon cream and blueberries.
→ Biscuit Love / biscuitlovebrunch.com / 316 11th Ave S, Nashville, TN 37203
Tavern
This mid-town restaurant boasts one of the most unique brunch menus in town, with tempting mashups like Pretzel Pancakes and Red Velvet Waffles. My favorite dish is the Kaya Toast (which is also on their lunch/dinner menus), featuring a sweet coconut jam on Texas toast, alongside a fried egg and soy sauce reduction. Meanwhile, Taylor raves about the Huevos Rancheros and the Tomatillo Bloody Mary, and there are three unique varieties of Eggs Benedict that will not make your decision easy. And definitely grab a side order of Tavern's famous White Trash Hash, a cheesy potato casserole that's off the hook.
→ Tavern / mstreetnashville.com/restaurants/tavern / 1904 Broadway, Nashville, TN 37203
Marché
With a charming quaint atmosphere, Marché is a delight. The Croissant French Toast is perhaps one of the best French toasts I've ever had in my life, with a surprisingly crisp exterior (no soggy French toast here!) As with most Nashville brunch spots, it can fill up fast; on Sunday especially I recommend getting there 15-20 minutes before they open if you want to be seated immediately.
→ Marche Artisan Foods / marcheartisanfoods.com / 1000 Main St, Nashville, TN 37206
Fido
A long-time favorite, Fido is a great alternative to waiting in line for mediocre pancakes at another well-known establishment just a block away (trust me, look down the street as you walk in, and I'll bet there's a line). With a wide variety of egg dishes and breakfast sandwiches you can be confident in your choice, though the ever-changing specials are always unique and hard to pass up. Fido is a local favorite for good reason.
→ Fido / bongojava.com/fido-cafe / 1812 21st Ave S, Nashville, TN 37212
Loveless Cafe
A Nashville institution, the Loveless Cafe sits about 40 minutes South of downtown Nashville (a gorgeous drive almost any time of year). Their fluffy Biscuits are legendary, and for good reason. I could make a meal of just biscuits and their amazing house-made jams. Though I wouldn't say no to a piece of tender Fried Chicken (gotta have protein, right?) or to an order of their incredible potato casserole. If you go on a Saturday or Sunday morning, plan on waiting at least 2 hours, though if it's a nice day, you can place a to-go order and eat outside on one of the many picnic tables. Also check out the adorable Hams & Jams country store and take a piece of the Loveless home with 'ya.
→ Loveless Cafe / lovelesscafe.com / 316 11th Ave S, Nashville, TN 37203
Pinewood Social
This hip spot is convenient to downtown, with a large, airy space and a full size bowling alley in the back. The Fried Broccoli appetizer can't be missed (no matter what time of day), and I adore the fresh ginger mocktail (mmm, spicy!) They also offer some unique coffee cocktails that are perfect for brunch (or any time, really).
→ Pinewood Social / pinewoodsocial.com / 33 Peabody St, Nashville, TN 37210
Sinema
One of Nashville's newest fine dining establishments, Sinema sits in a restored movie theater in the Berry Hill neighborhood. It's only open for brunch on Sundays, but is well worth a visit for the space alone. If you are a Bloody Mary fan, Taylor says it's the best he's ever had. While I've heard amazing things about their cardamom French toast, the day we happened to go they swapped out the autmumn-inspired butternut squash and pecan combo for a strawberry/banana that was not my favorite. There were a number of other intriguing items on the menu, though, and we will definitely be back. Reservations recommended.
→ Sinema / sinemanashville.com / 2600 Franklin Pike #102, Nashville, TN 37204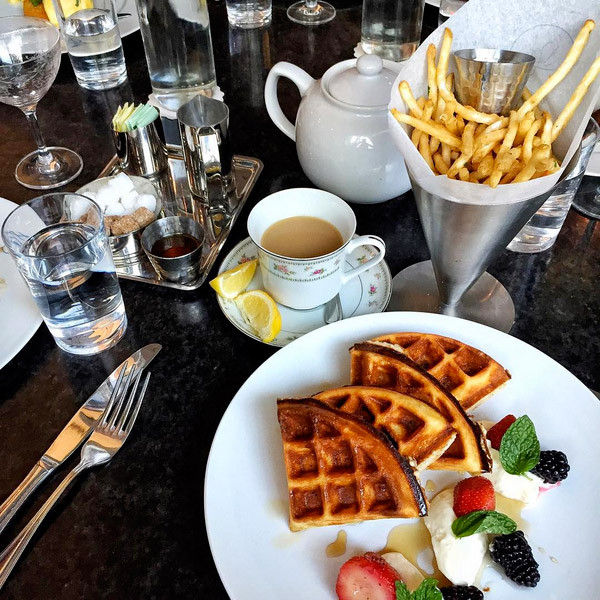 Le Sel
Self described as "new" French, the menu is light and modern and enticing. We haven't been for dinner yet, but their brunch is nothing short of spectacular. It's a little bit of Paris, right here in Nashville. From unique brunch cocktails to perfect Belgian waffles, classic omelets and perfect 4 minute tea, Le Sel's brunch menu will not disappoint. Whatever you do, don't miss the fries (excuse me, frites). They're the best in town.
→ Le Sel / leselnashville.com/ / 1922 Adelicia St, Nashville, TN 37212
5th & Taylor
We love 5th & Taylor, the fact that it's walkable for us only seals the deal as one of our favorite new restaurants. They don't do anything crazy, but rather they put unique spins on classic brunch dishes and execute the heck out of them. My trout cake Benedict was perfectly salty, smoky, and savory, while Taylor still fantasizes about the sweet and spicy fried chicken (served with a fresh herb salad, because, balance). The zabuton steak (on both their brunch and dinner menus) is one of the best steaks in town (and a steal at $27). This place doesn't get nearly the buzz that it deserves, though I'd still recommend getting reservations if you can.
→ 5th & Taylor / www.5thandtaylor.com / 1411 5th Avenue North, Nashville, TN 37208
Updated February 2, 2016.
---
For easy trip planning, I've put together this a handy-dandy Google map with all the locations featured in this post (this map will be updated as I continue/expand this series).
Just remember that breakfast = yellow, and you're good to go.