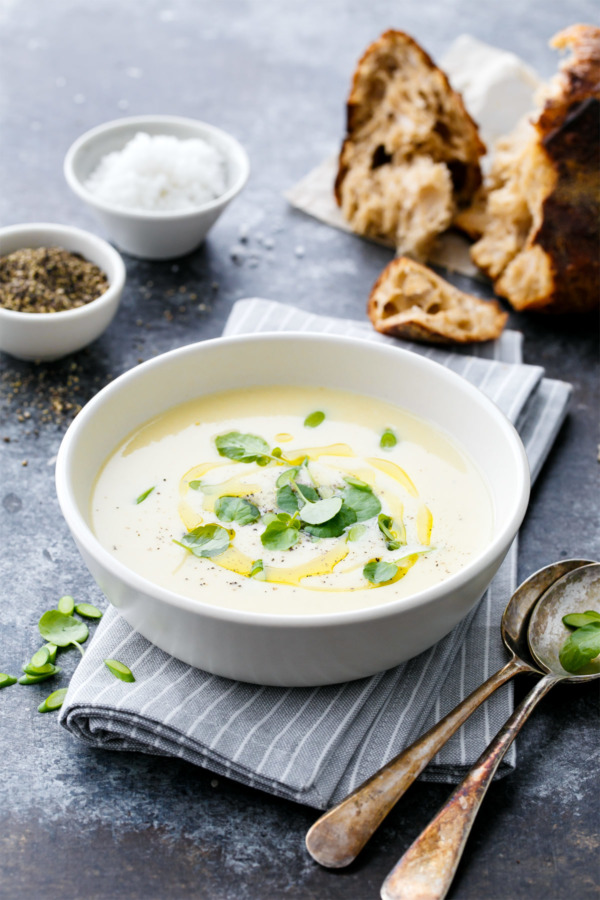 I first made this recipe back in 2007, in the early days of this blog when all I had was a set of lime green dishes and a tiny kitchen with harsh fluorescent lighting.
It was less than appetizing.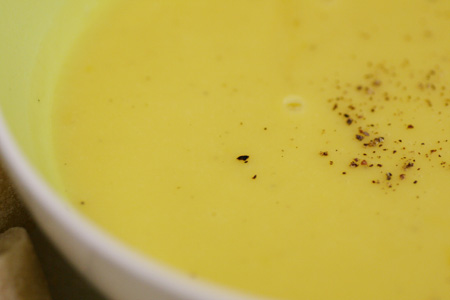 Don't you just want to frame that? I mean, lime green soup in a lime green bowl? And what an artful sprinkle of black pepper!
My, my how far we've come.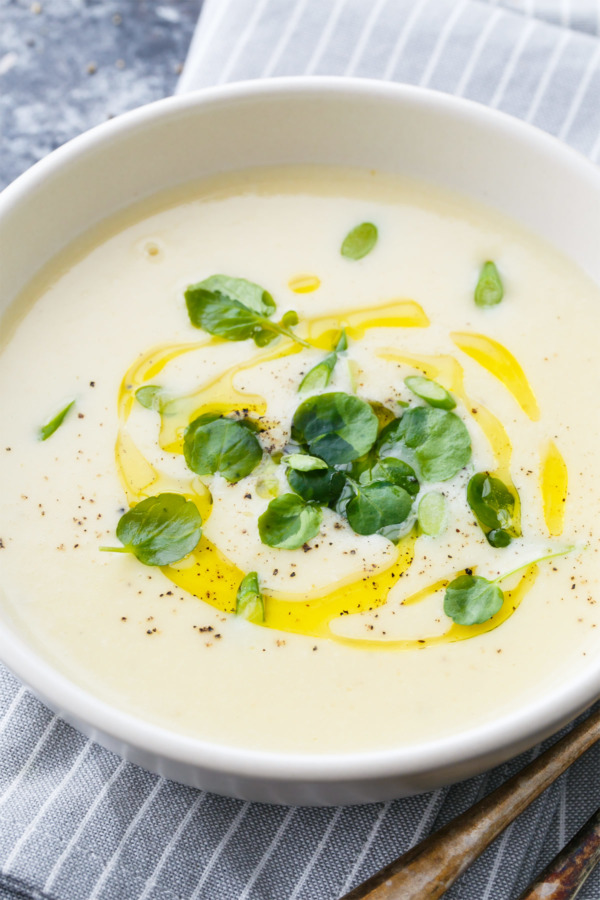 (I've said it before and I'll say it again: I will never get rid of my old photos, no matter how bad the photos might be. I know a lot of bloggers update old posts, but I, for one, appreciate the perspective of change and improvement. I've been doing this for 10 years, and that progress is ever so apparent in cases like this.)
Still, I felt this soup deserved a second chance, so when I spotted green garlic at the market recently, I decided that it was time. Because, unlike what that old photo might make you think, it really is a beautiful soup… even if it isn't *actually* lime green.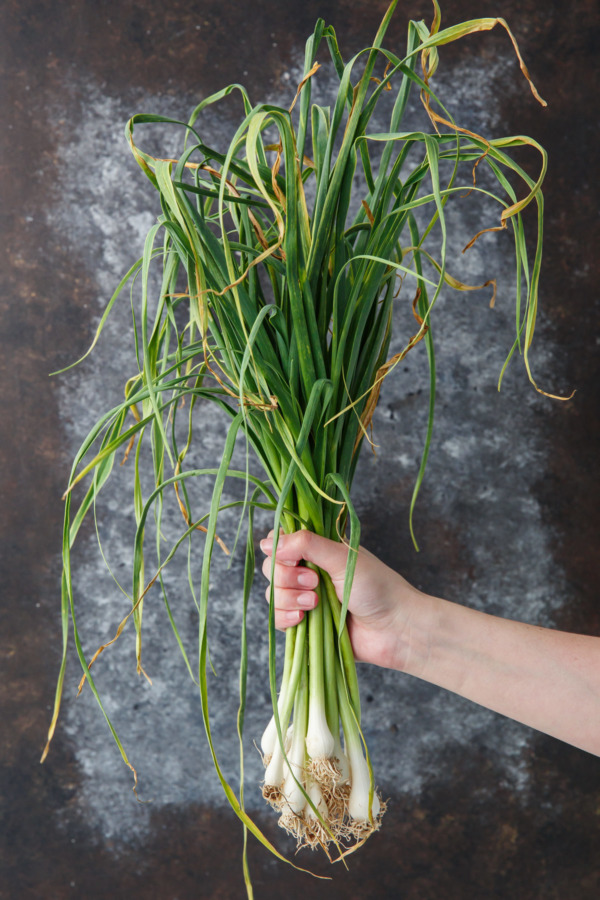 Green garlic isn't easy to come by. It's only available for a short time in the spring before the garlic starts scaping, though you might easily mistake it for green onions or spring onions. Many farmers will sell it as they thin out their garlic plants, allowing the remaining bulbs to grow larger and more freely than if they were overcrowded. While I see garlic scapes pretty regularly around here, this is the first year I've actually seen green garlic. Needless to say I was quite excited.
Green garlic is much more mild in flavor than mature garlic; if you substituted 8 ounces of the later in this recipe you'd end up with something quite potent (let's just say no vampires would dare venture near your house anytime soon). I'd actually say a better substitution, if you couldn't find green garlic, would be leeks: the milder flavor would be more palatable in the final soup.
We halved this recipe using the handful of green garlic you see above; it was slightly less than the weight called for in the recipe, and so we added one or two cloves of mature garlic to make up for the difference. You only use the white parts of the green garlic, the rest you can use like you would green onions, or make it into a pesto.


It's not a quick soup: give yourself a solid 90 minutes from start to finish (10 years ago I said it took us 2 hours to prepare, so I guess I've improved in other ways as well). Also? Learn from my mistakes back then and don't overfill your blender with hot liquid. Trust me. It only takes one hot-soup-volcano and you'll never do it again.
But the effort is well worth it, as the result is a creamy, perfectly garlicy soup that is lovely alongside some good crusty bread. In addition to the black pepper, we topped it this time with a drizzle of olive oil, some thinly sliced garlic scapes (you could also slice some of the green parts, like green onion) as well as some fresh watercress, the peppery leaves proving the perfect contrast to the rich, creamy soup.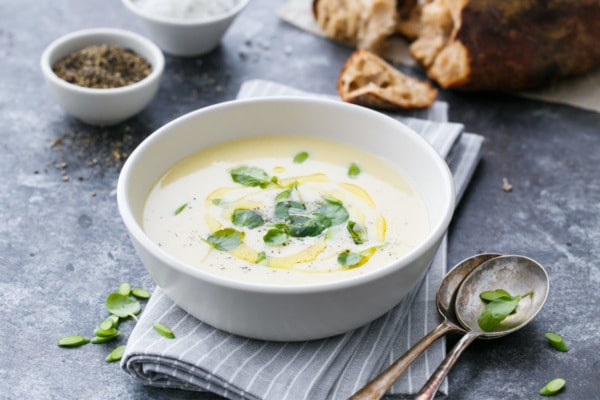 Green Garlic Soup
This ultra creamy potato-based soup uses young green garlic, which is harvested in the spring before the bulbs have a chance to develop. If you can't find it, substitute leeks instead.
Ingredients:
5 tablespoons unsalted butter
24 young garlic plants, white part only, halved lengthwise (about 8 ounces worth)
3/4 cup water
1 1/2 pounds (22 ounces) small red potatoes, peeled and quartered
6 cups (1 1/2 quarts) chicken or vegetable broth
1/2 cup heavy cream
1 1/2 teaspoons salt
2 to 2 1/2 teaspoons white wine vinegar, to taste
ground pepper to taste
thinly sliced garlic scapes, olive oil, and watercress, for garnish (optional)
Directions:
Melt butter in large, heavy bottomed stock pot. Add garlic and 1/4 cup of water. Bring to a simmer, then cover and cook for 15 minutes. Add the potatoes and remaining 1/2 cup water and simmer for 20 minutes. Add the broth, cover, and allow to bubble gently for 20 more minutes.
Allow to cool slightly. Puree the soup in batches in a blender for 2 minutes until smooth. If a smoother texture is desired, pass the puree through a medium-fine sieve and return to saucepan. Stir in the cream and salt. Add the vinegar, 1 teaspoon at a time, tasting the soup after each addition, until it tastes good to you.
Reheat the soup gently and serve in warm bowls. Grind black pepper generously over each portion and serve with slices of toasted or grilled sourdough bread.
Did you make this recipe?
Let us know what you think!
Leave a Comment below or share a photo and tag me on Instagram with the hashtag #loveandoliveoil.