I'm not a big soup fan, but I enjoyed this one. Especially dipped with sourdough bread. It was not overwhelmingly garlicky in flavor, surprising considering the amount that goes into it. Though it was quite the ordeal to make it… it took us almost 2 hours. Good for a chilly spring weekend maybe.
Also, whatever you do, don't try to blend the soup while it's hot. Taylor found that out the hard way (no where in the recipe does it say to cool the soup first), but hot soup+blender=big mess. Give yourself extra time to let it cool significantly before you blend it.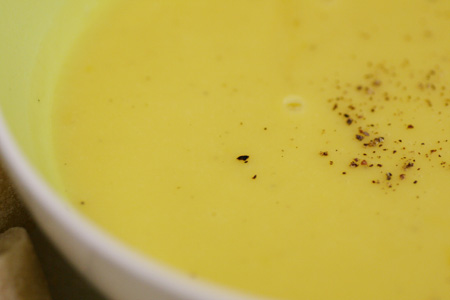 Green Garlic Soup
Makes ten 6 oz portions (or 6 standard-ish size portions). Recipe from Chez Panisse Cooking.
Ingredients
5 tablespoons unsalted butter
24 young garlic plants, white part only, halved lengthwise (8 oz)
3/4 cup water
1 lb + 6oz small red potatoes, peeled and quartered
1.5 quarts broth (recipe calls for chicken, we used vegetable)
1/2 cup heavy cream
1.5 teaspoons salt
2 to 2 1/2 teaspoons white wine vinegar
ground pepper to taste

Directions
Melt butter in 6-quart noncorroding pot. Add the garlic and 1/4 cup of the water. Bring to a simmer, cover tightly, and cook for 15 minutes. Add the potatoes and remaining 1/2 cup water and cook at a simmer for 20 minutes. Add the broth, cover, and allow to bubble gently for 20 minutes.

Allow to cool. Puree the soup in batches in a blender for 2 minutes. Pass the puree through a medium-fine sieve into a bowl. Stir in the cream and salt. Add the vinegar, 1 teaspoon at a time, tasting the soup after each addition, until it tastes good to you.

Reheat the soup gently and serve in warm bowls. Grind black pepper generously over each portion and serve with slices of toasted or grilled sourdough bread.