This recipe was created in partnership with White Lily®, whose quality flours are a staple in our kitchen. Thanks for supporting us and the brands we love!
It's official.
Taylor is a skillet cookie FIEND. Addict. Junkie. Totally and completely obsessed.
When I mentioned the idea of doing some sort of chocolate almond cookie or skillet cookie, he immediately began campaigning for a skillet version. And by campaigning I mean not-so-subtly whispering "skillet cookie" over my shoulder every few hours until I got the hint.
Spoiler: I got the hint.
While such subliminal messaging techniques are arguably less-than-subliminal, I obliged, embracing his request for something other than plain-ass chocolate cake for once.
I can't say why a skillet cookie is so much better than a regular cookie, but it's the truth. Maybe it's the heft of the skillet or the extra crisp cookie edges or the near-molten center or the fact that you have no choice but to eat it warm right out of the oven or… ok, I take that back, I guess I do know why a skillet cookie is so much better.
Inspired by the classic ice cream flavor, this cookie features an almost brownie-like chocolate base studded with chocolate chunks, slivered almonds, and gooey marshmallows. I topped them with a few more marshmallows (that come out perfectly toasted) and a pinch of sea salt (my secret weapon for pretty much every sweet treat these days).
To me, the closer a cookie is to its cookie dough form, the better, so I intentionally left the center particularly gooey on this one. It's almost like a warm molten lava cake, but with delightfully crisp edges that you crunchy cookie lovers will go ga-ga over. I'm 100% on team gooey, but if you prefer your cookies more done in the center, just cook them a few minutes longer.
Unlike my earlier recipe for Oatmeal Chocolate Chip Skillet Cookies, I made this batch in larger 6-inch skillets, one of which will serve 2-4 people (depending on if your crowd is made up of more Taylors or more Lindsays). For perspective, one 6-inch skillet is about the equivalent of 4 mini skillets (of which Taylor could easily eat two). Use a large cookie scoop to portion out about 2 oz of dough per mini skillet, and 4 scoops (approximately 8-9 ounces of dough) per 6-inch skillet.
I would not, however, recommend making this in a larger 9 or 10-inch skillet. While one batch of dough would fill it almost perfectly, the marshmallows tend to dissolve/explode/disintegrate after about 20 minutes in the oven, and a big skillet would definitely take longer than 20 minutes to fully bake. For that reason, the smaller skillets work best for this recipe (and as of yet I have not tried this recipe sans-skillets, but I assume it'd spread/ooze too much without the edges of the skillet to contain it.)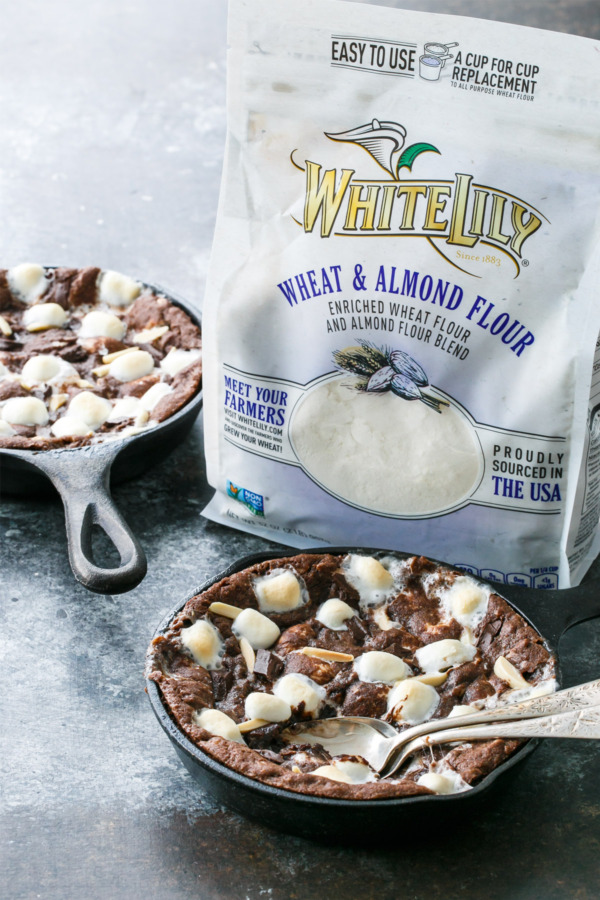 This recipe is made using White Lily®'s Premium Wheat & Almond Flour Blend. It's not straight up almond flour (which can be hard to bake with since it doesn't contain any gluten… and gluten is what typically gives a cookie it's structure and chew). The beauty of this flour blend is it can be substituted cup for cup for All-Purpose flour without aversely affecting the results (and the same is true in reverse, of course, you can certainly use standard AP flour in this recipe). You can find White Lily® Wheat & Almond Flour blend in stores now in select states or online at smucker.com.
Also good to note is that, while these cookies are best enjoyed warm right out of the oven, this recipe is a great make-ahead option. You can either freeze balls of dough for later use (just plop the frozen dough balls right into the skillet and bake as instructed, adding 2-4 minutes or so to the final bake time) or you can bake the cookies as instructed, taking them out 1-2 minutes before they are done to your liking. Let cool, and cover and refrigerate if it'll be more than an hour or two before you serve them. Then, just before serving, pop them in the oven for 5 to 10 minutes or until warmed through. They are just as good reheated as freshly baked.
Happy husband tip #42: Always have a bag of frozen dough balls stashed in the freezer so he can bake up a fresh, personal sized cookie whenever the craving hits. He may even bake up one for you too. And let me tell you, having your husband deliver a warm, freshly baked skillet to you when you're curled up on the couch reading a book, well, let's just say that life is very, very good.
Molten Rocky Road Skillet Cookies
These molten chocolate rocky road skillet cookies are crispy on the edges and soft and gooey in the middle. Studded with chocolate chips, slivered almonds, and mini marshmallows, dig in!
Ingredients:
1 cup White Lily® Wheat & Almond Flour Blend*
1/4 cup dark or dutch-processed cocoa powder
3/4 teaspoon baking soda
1/2 teaspoon fine sea salt
1/2 teaspoon espresso powder
6 tablespoons unsalted butter, room temperature
2/3 cup packed light brown sugar
1 large egg
1 teaspoon vanilla extract
1/2 cup semisweet chocolate chips or chunks
1/2 cup slivered almonds
1/2 cup mini marshmallows, plus a few more for topping
flake sea salt, such as Maldon, for topping (optional)
Directions:
Preheat oven to 350 degrees F. Lightly butter 8 individual 3.5-inch cast iron skillets or 2 6-inch skillets and arrange on a baking sheet.
In a bowl, whisk together flour, cocoa powder, baking soda, salt, and espresso powder until evenly distributed. Set aside.
In a mixing bowl or the bowl of a stand mixer, beat butter and sugar until light and fluffy, 2 to 3 minutes. Mix in egg and vanilla, scraping down the sides of the bowl as needed. Add dry ingredients and mix until just incorporated. Stir in chocolate chunks and almonds, then fold in mini marshmallows.
Divide dough among skillets. You'll want approximately 2 tablespoons or 1 3/4 ounces of dough per mini skillet, or about 8 ounces of dough per 6-inch skillet. Pre-measured balls of dough can also be frozen on a lined cookie sheet until frozen solid, then transferred to a zip top bag for later use.
Top with a few more chocolate chunks, almonds, marshmallows and a sprinkle of flake salt (if desired). Bake for 18 to 20 minutes for 6-inch skillets or 14 to 16 minutes for 3.5-inch skillets, or until edges are golden and center is just set but not overcooked. If you like your cookies more on the done side, cook for a few minutes longer. Add 1-2 minutes of cook time if cooking dough from frozen (do not thaw first).
Let cool for 5 minutes before serving warm.
*White Lily Wheat & Almond Blend is a mix of both wheat and almond flours. If you can't find it, substitute all-purpose flour, or use a mix of mostly all-purpose with a little almond flour for flavor and texture.
Did you make this recipe?
Let us know what you think!
Leave a Comment below or share a photo and tag me on Instagram with the hashtag #loveandoliveoil.

Disclosure: This post was created in partnership with White Lily. As always, all opinions written are purely our own. We're incredibly grateful for opportunities like these that allow us to continue sharing delicious recipes with you, so thank you for supporting us and the brands we love.