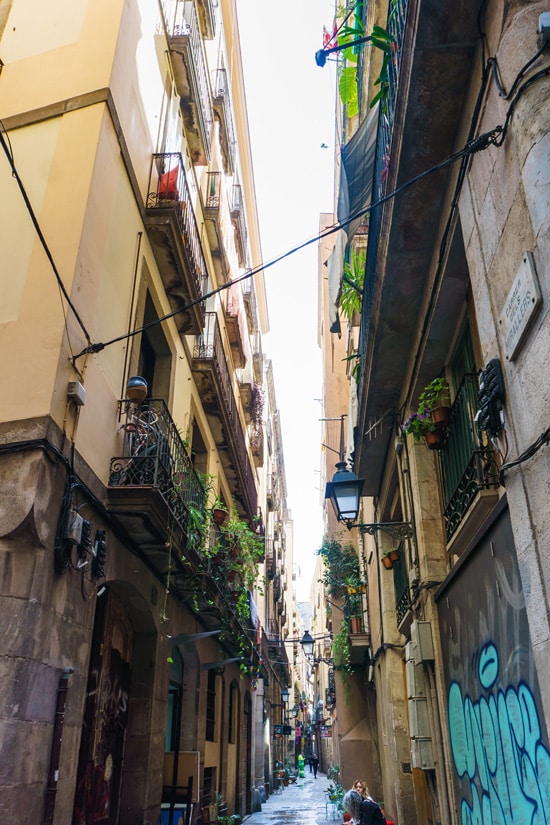 After 5 days in Paris we made our way via high-speed train along the Mediterranean and through the Pyrenees into Spain. We could have flown, but the 6 1/2 hour train ride allowed us to see the countryside transform before our eyes, the voice over the train loudpseaker slowly transitioning from French to Spanish and Catalan.
Once there, we met up with my sister and her friend and spent the next 6 days wandering in awe, hopping on and off of buses, trains, trams, and funiculars that took us all over the city, from the sandy beaches to the surrounding mountains, seeing the city from all angles, and consuming all the horchata, cured ham, and fresh seafood our stomachs could hold.
Don't get me wrong, Paris was perfect. Lovely and inspiring and picturesque.
But I could live in Barcelona.
I can't really describe it, but something about the city just felt comfortable to me, friendly and full of life. Not to mention downright delicious.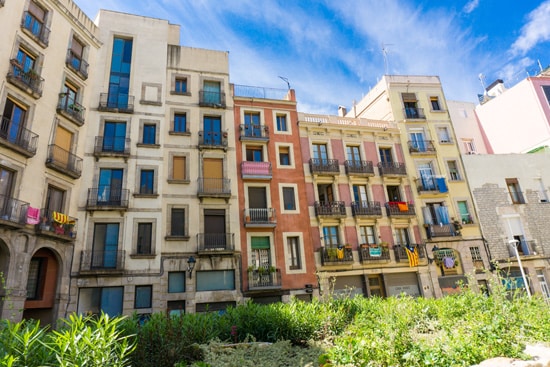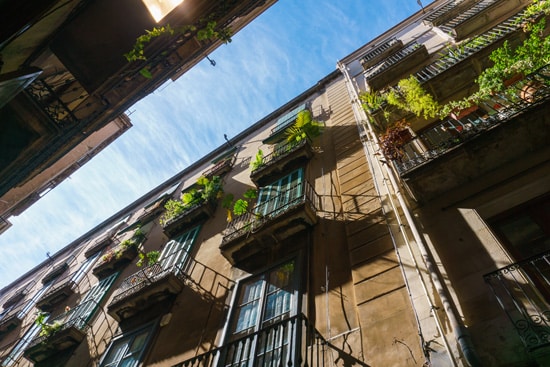 Barcelona is this oddly pleasing mashup of old and new: old building facades literally pasted onto the fronts of new ones, new arches and architectural details designed to mimic the look of the old, and hundred year old buildings sitting side by side with modern ones. Some may see it as a bad cut and paste job or lament the old that was torn down to make way for the new, but I saw it as representative of the rich history of a city that's overcome and rebuilt and thoroughly arrived in the modern age.
We got a good overview of the city and it's history on an architecture tour our first day in town and a sweets and pastry tour the following day (the later of which, oddly, was probably a better overview of the city's history and architecture. Go figure.) While we are proponents of wandering and exploring a new city on your own terms, there's something to be said for taking an official tour, learning the history and the stories behind some of the buildings you may have walked right by otherwise.
The oldest and most historic parts of the city are located within the old Roman city walls, and it's obvious that's what people want to see. The narrow streets and church courtyards were jam packed with tourists, but (and this is one of the reasons why the tours we did were well worth it) one street over might be silent and serene, full of hidden history.
Our first full day in Barcelona happened to fall on la diada de Sant Jordi, or St. George's Day, also widely celebrated as International Day of the Book (as it is also the acknowledged date of birth and/or death—depending on which source you consult—of both Shakespeare and Cervantes). It's an especially big deal in Barcelona, Sant Jordi being patron saint of Catalonia and all (our taxi driver explained this to us as he expertly meandered through the narrow streets and roundabouts like it was nothing).
St. George's Day is probably the closest equivalent to Valentine's Day here in the states. The men give their lovers red roses (and the sheer number of street vendors selling roses that day was immense), while the women present their men with books. I was a bit put off at this disparity, as I would have much rather had a book than a rose.
That is at least until we discovered an amazing pastry shop selling special rose-shaped cakes for the holiday (you'll have to wait for the Barcelona eats post to see those!) and I told Taylor that that was a rose I would happily accept. I'll take cake over flowers any day.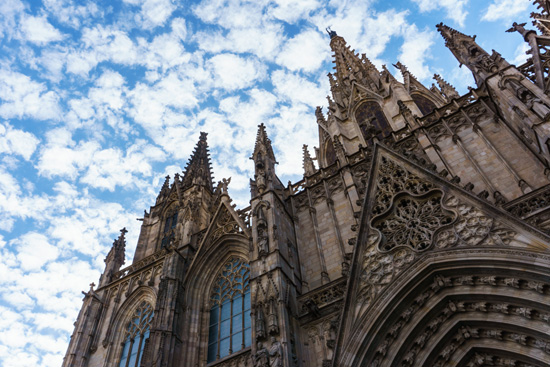 Like last time, I've split up our Barcelona travels into two posts, today's focusing on the sights and the next which will zero in on the amazing food we enjoyed while we were there (food which could—and did—rival Paris in a big way). Be sure to click through to read (and see) it all!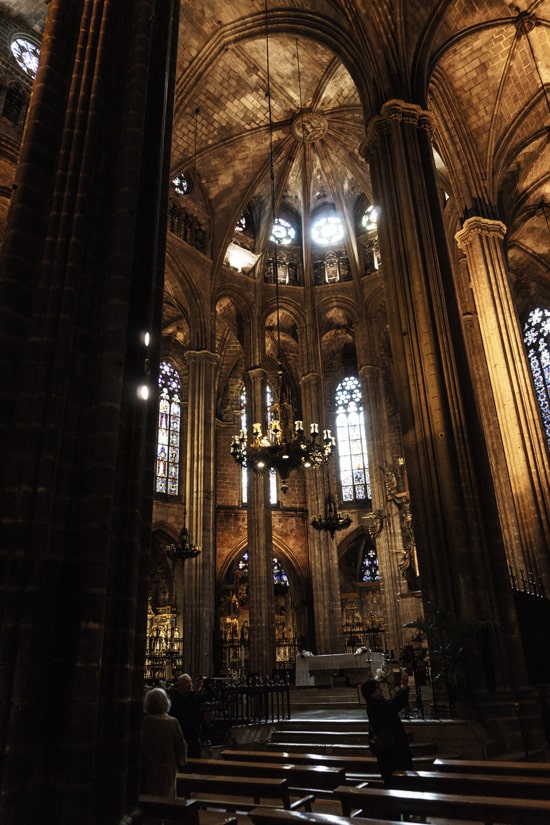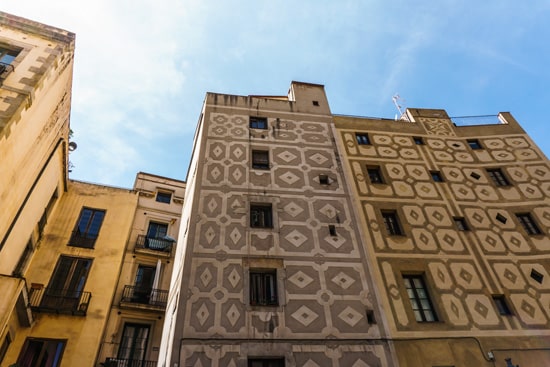 The history of Barcelona is visible on its walls. The outside of this church is pockmarked from bullets and shrapnel from the bombs that killed so many during the Spanish Civil War.
If you look closely, Barcelona's Roman roots are hidden in plain sight, like these 2,000 year old columns that tower within an aqua-painted courtyard. These columns are all that remain of what was once a Roman temple.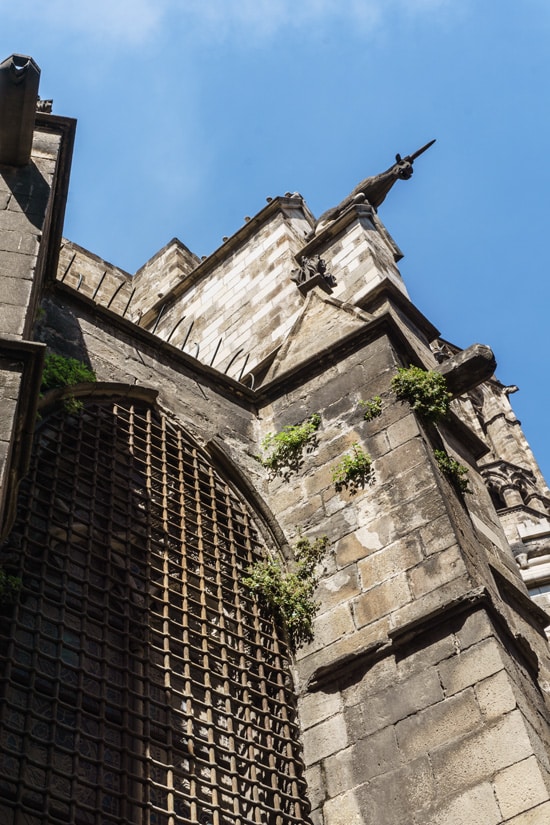 Unicorn gargoyles. How about that.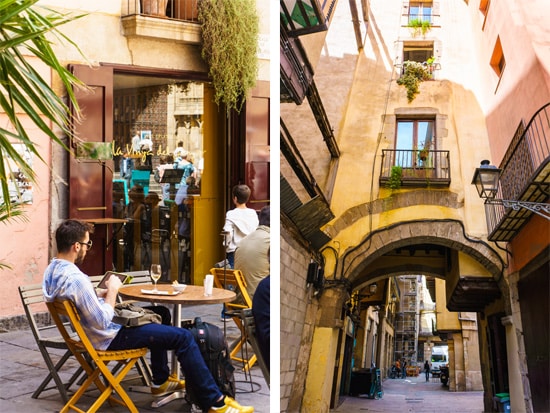 Meandering through the ancient streets it's easy to forget that you're actually sitting along the Mediterranean coast. But walk a few minutes south and you find yourself in Barcelonetta, which interestingly enough was originally an island and has slowly filled in over hundreds of years. Gorgeous beaches make up much of the coastline on one side of the city, with a large and active shipping port hidden by the hills on the other.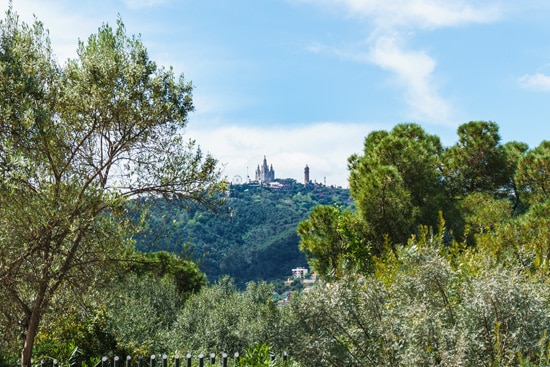 From the streets outside of our apartment we could see a magical cathedral at the top of the mountain. It looked like a castle right out of a Disney movie, silhouetted against the cobalt blue of the day. Finding ourselves free one morning, we mapped out the complicated route of metro, train, funicular, and bus to get us to the top of Tibidado.
As it turns out, the Sacred Heart cathedral is much less impressive up close, oddly composed of two separate cathedrals stacked almost on top of each other. And sitting just at the base of the steps lies an amusement park. It was a bizarre cultural contrast that we couldn't quite wrap our heads around.
The views would have been spectacular if it weren't for the thick set fog that engulfed the mountain that morning. We hung around as long as we could, but not wanting to pay the admission price to the amusement park, left us with very little to do but sit and watch the fog roll through, temporarily obscuring the tops of the cathedral and the colorful ferris wheel, along with the rest of the city.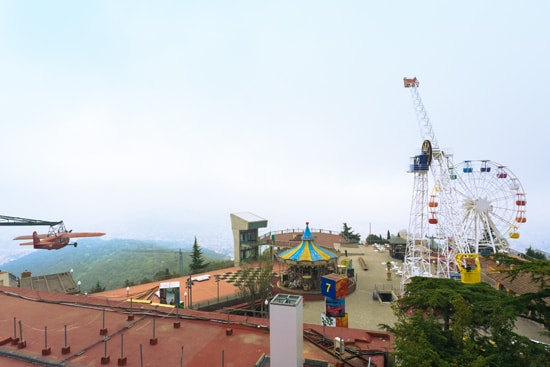 At nighttime, the magic fountain is the place to be, at least if you enjoy colorful spouts of water set to 80s music. But while you're enjoying the show, don't forget to look behind you, as the art museum on the hill behind the fountain is a sight to be seen.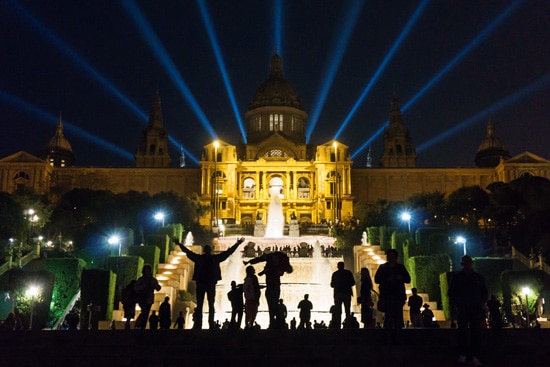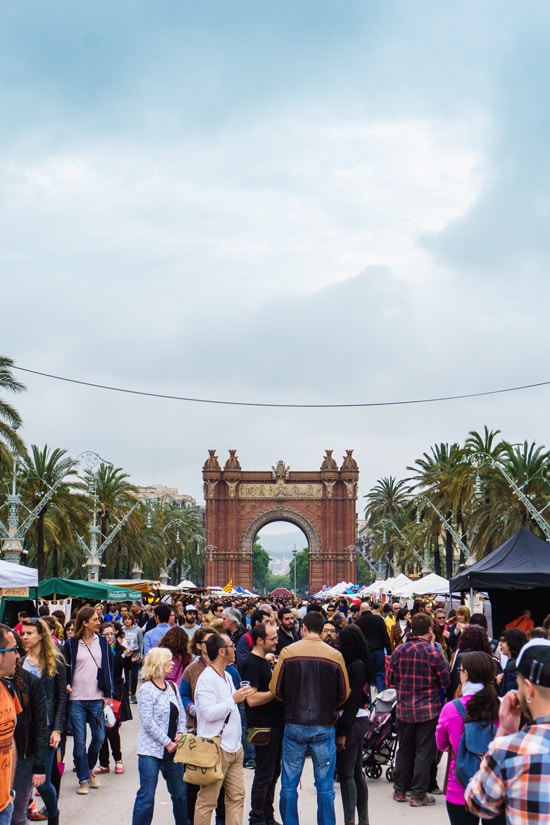 We stumbled upon an Earth day festival in the park surrounding the Arc de Triomf (yes, Barcelona has one too). It was a day where all of us were slightly hangry, our well-laid plains foiled by fog and restaurant closures (the majority of shops and restaurants close on Sunday and/or Monday). Rather than sit and stew, we decided to check out the festival, which turned out to be one of our favorite parts of our time there. The local street food and artisan made goods were a sight to see and a treat to devour. It's true then, that a cup of freshly made horchata and a hand-rolled chocolate trufa is the ultimate cure for hanger.
Of course, Barcelona wouldn't be Barcelona without Gaudi, the city's most famous architect. While we could argue about what qualifies as beautiful architecture vs just plain weird, there's no denying the man was, shall we say, creative.
We booked a nighttime tour of the iconic Casa Mila.
Aesthetic preferences aside, you have to admit that Gaudi was a master of light, a fact we saw clearly in the evening hours as the light streamed through the organic shapes of the building's entries.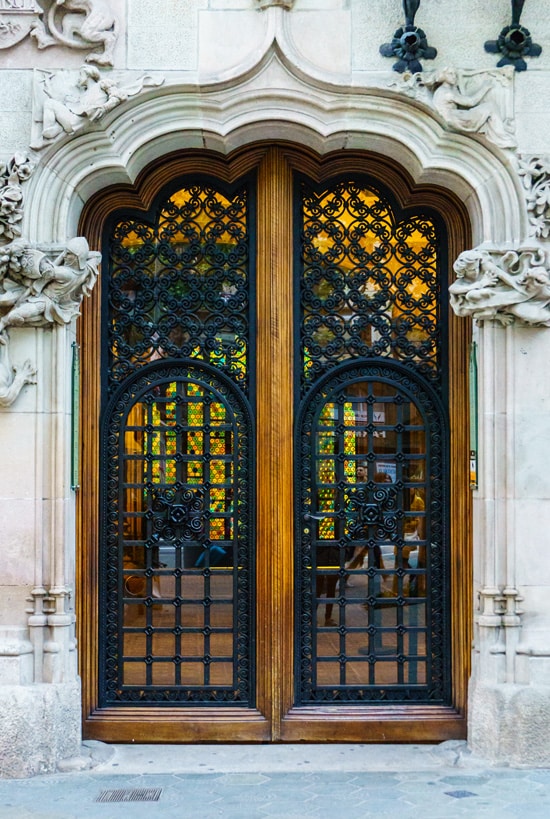 (Not a Gaudi-designed door, but beautiful nonetheless, and being that it sits right next to Casa Batlló I have a feeling it often gets overlooked).
Of course Gaudi's greatest accomplishment, by far, has to be the Sagrada Familia. When Gaudi died in 1926 (hit by a tram, no less) the cathedral had been under construction for over 40 years, construction which continues to this day.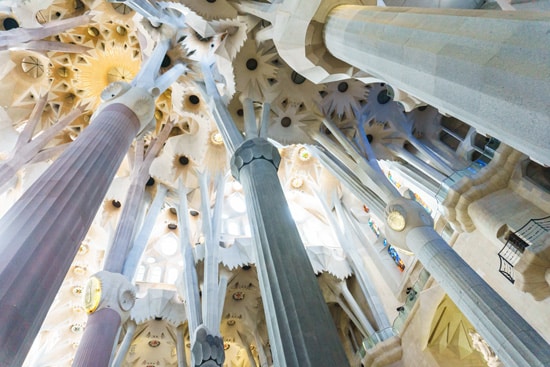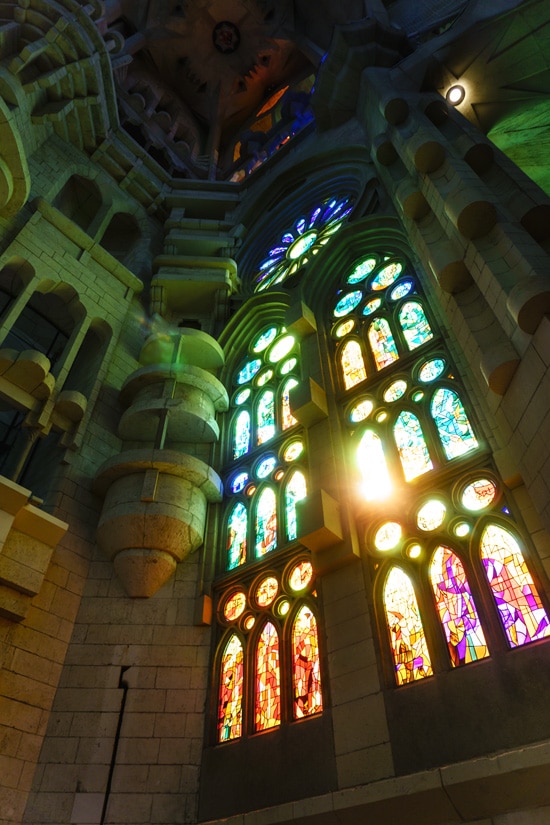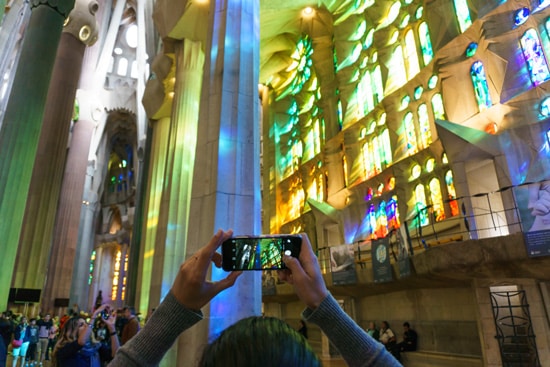 The Sagrada Familia was perhaps the single most awe-inspiring piece of architecture I have ever seen. The forms and colors and the sheer scale of the thing takes your breath away, and I'm not even a church person (they're beautiful, I give you that, but, like museums, I can only see so many before they all start to blend together). But not this one.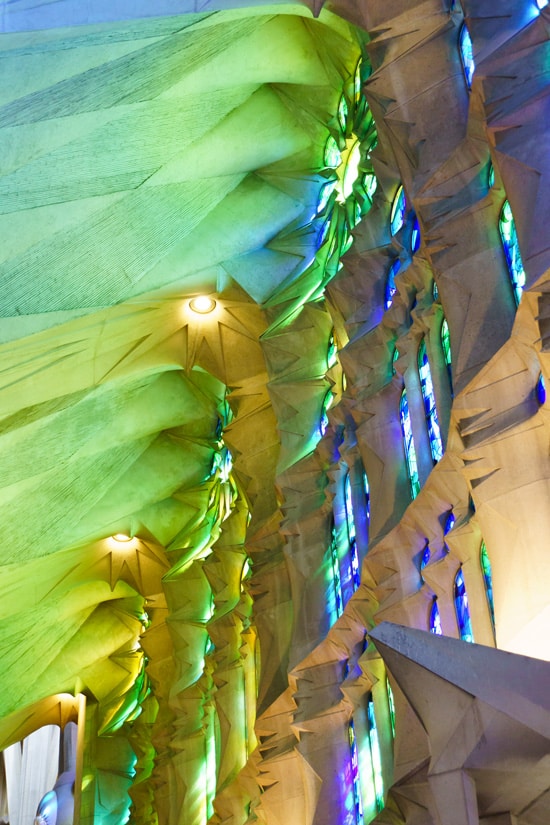 We had tickets to ascend one of the façade's towers, only to discover when we arrived that the towers were closed that day. The entire church was closing down that afternoon, in fact, to host a mass for the victims of the Germanwings plane crash that had originated in Barcelona. A number of high-profile guests including the Spanish king and prime minister were scheduled to attend, hence the increased security measures and closing of the towers. We were disappointed for sure, the view from the towers would have been amazing, but we couldn't help but be sympathetic and understanding. We were fortunate to have booked our entrance in the morning that day, otherwise we would have missed out on this masterpiece entirely.
If you ever find yourself in Barcelona, this is the one monument that I implore you to see. You'll never look at architecture and engineering the same way again.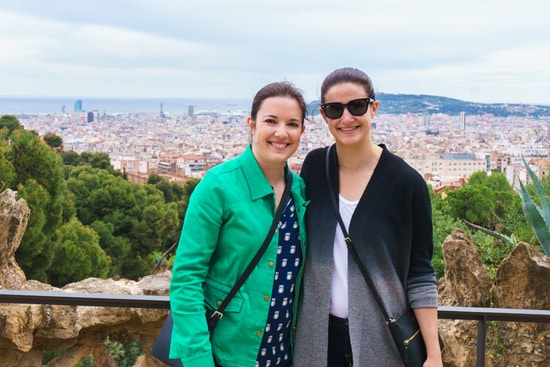 Gaudi's influence on the city is far-reaching, from the houses in the Eixample to the towering pillars of the Sagrada Familia to the monumental gardens overlooking the city. It's bizarre and trippy and sometimes downright weird, but it is an integral part of the character and color of Barcelona as a whole.
Like Paris, we rented an AirBnB apartment in the newer Eixample neighborhood, where the streets aligned in perfect grids. The old town was charming, but it was also overrun with tourists. Stepping outside the old neighborhoods and into the newer ones gave us a taste of local life, and honestly, we couldn't have picked a better location. Some of the city's most amazing restaurants and pasty shops sat within minutes of our apartment. Not only that, but we scored with this beautiful, and affordable, 2 bedroom apartment (with a much appreciated 2nd bathroom luxury) that allowed the 4 of us to coexist without stepping on each others' toes.
One of the first things we learned upon arriving was that "tercero" was not the third floor, but actually the fifth, the "principal" and "primary" floors coming before the first. Go figure. While there was a tiny elevator, we trudged up those stairs like nobody's business, but we were all huffing by the time we reached the front door.
Ah, Barcelona. You charmer, you. I felt truly at home in your colorful streets full of colorful people, in awe of your grandest monuments, indulging in your food and your drink and your gorgeous weather.
Six days wasn't nearly enough.