Our trip ended where it started, in Florence. We flew in and out of the tiny airport, which, aside from the delayed luggage (we lived out of our carry-on for 2 days) was much more pleasant than I'm sure some of the larger airports were. Especially at 7am when we left.
The Duomo in Florence is one of the most incredible buildings I have ever seen. The beautiful white and green marble facade and massive dome cupola are truly a sight to be seen.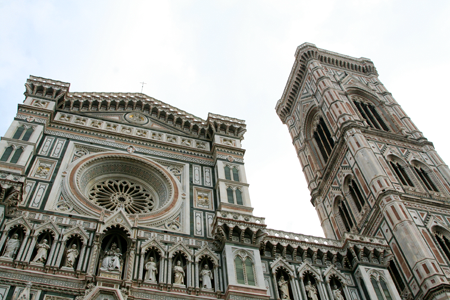 I think I took a picture of it every time we walked by.
Florence is truly a beautiful city full of art and history and art history. Just seeing some of the pieces I had studied in art history class, the original pieces, in person, was reason enough to go there.
I mean, Michelangelo is buried there for gosh sakes. Galileo too (though he is sort of in pieces… his tomb is in Santa Croce but his finger is on display in the Galileo museum… creepy).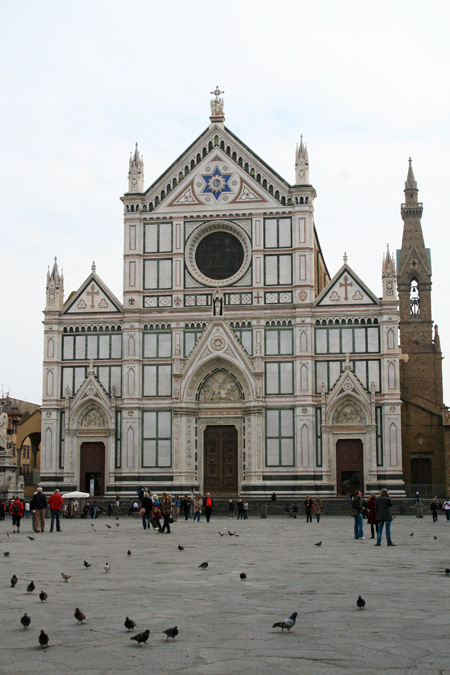 There are a lot of churches in Florence. We sort of wandered into this one expecting another amazing interior (though the entrance fee to this one seemed a bit steep). But once we got inside we knew why. Seeing the actual tombs of Michelangelo, Galileo, Dante, and Machiavelli (among others) warranted a higher admission, I suppose. Though by the end of our time there we really did feel, as Taylor put it, "10-Euro'd to death."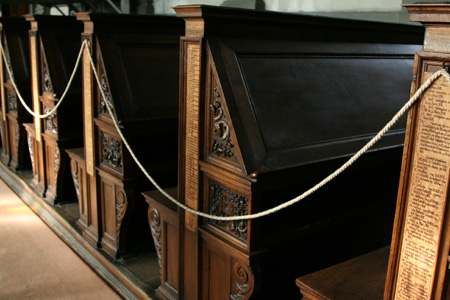 One of our favorite stops was the Laurentian Library. Because it's nice to see something beautiful and historic that isn't a church (what a concept!). The library was a stunning space. Michelangelo done good with that one.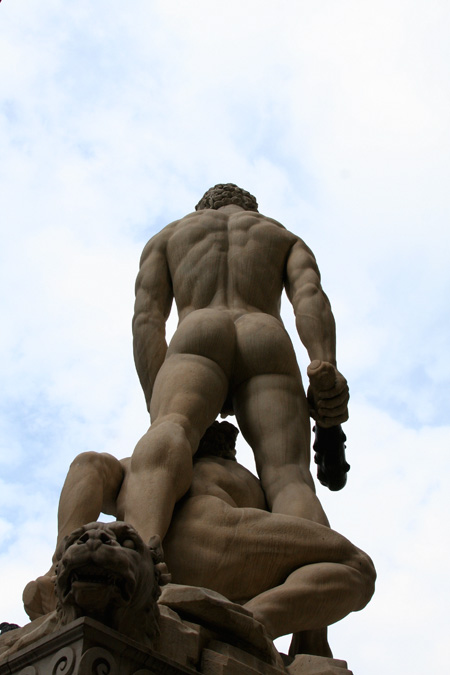 Hmm. Interesting view.
I promise, I didn't intentionally photograph the backsides of these statues. It just happened.
I took some frontal shots too. And yes, I censored David. This isn't a TSA screening, afterall. Besides, this isn't the real David anyway. Just a copy. The real one's in the Academia, which we did NOT see, because we didn't feel like paying 20€ just to see his "original" junk. That is all.
Moving on…
Florence is full of beautiful details.
While the food in Florence was a bit harder to navigate (you often found yourself in an overpriced, ho hum restaurant where all you heard was English, not exactly authentic), we did discover what may be the world's best sandwich (and something we've been craving since we've been back)…
Salami and pecorino on delicious bread. Or prosciutto and parmigiano. So simple, and so good. Especially when you find a place that slices the meat fresh for you on the spot.
Our final day there, we grabbed a few sandwiches and made the trek up to Piazzale Michelangelo, where you could look out over the entire city.

A perfect picnic lunch with the most incredible view (click!).
And with that, we enjoyed our final gelato (biscotti e crema, or cookies and cream), and said farewell! fair Florence, and ciao! Italia! We hope to return someday very soon.