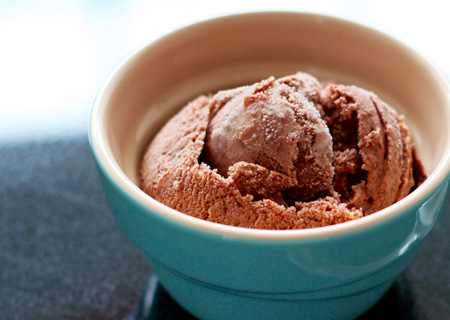 It's been about a year and half since I stopped eating dairy. Before then, I'd come home from work/class and indulge in a bowl of rich chocolate ice cream. Unhealthy, I know, but especially in the summer ice cream was all I needed to feel refreshed after a long day. I even had an ice cream maker (that so conveniently attaches to my kitchenaid), and made some pretty darn delicious homemade ice cream.
Since then, I've discovered that there actually are some decent non-dairy ice creams out there. But I still miss the rich and creamy concoction that came out of my ice cream maker. And sorry, but sorbet just doesn't do it for me.
So when I saw this recipe for a coconut-milk based ice cream, how could I not try it? Especially in this sticky Tennessee heat.
I was a bit nervous, not being a huge coconut fan (coconut shrimp and curry, yum – but coconut contaminating my chocolate? no way). However, I do have to say that even those who despise coconut will enjoy this ice cream. The coconut flavor melts away behind the rich chocolate in the forefront, and the result is a creamy, icy treat worthy of any ice cream lover.
It was a touch icy, which I attribute to the fact that I didn't chill the mixture enough before putting it in the ice cream machine, and it didn't freeze as fully as I would have liked. Once in the freezer, it did form some big crystals.
But you know? I think I might have found my new afternoon refreshment. This whole dairy-free thing 'aint so bad!
Chocolate Coconut Milk Ice Cream
Makes 1 quart. Recipe from David Lebovitz, via Mac & Cheese.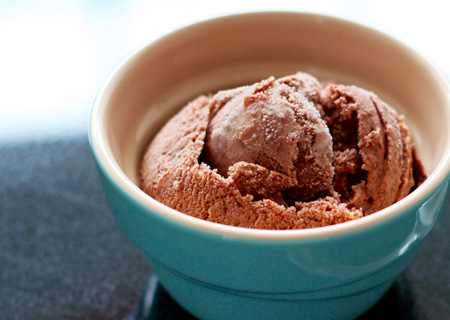 Ingredients:
1 cup water
1 cup sugar
5 ounces bittersweet chocolate, coarsely chopped
2 cups canned coconut milk
1 tablespoon dark rum
Directions:
Heat water and sugar in a medium saucepan until sugar is dissolved. Add chocolate to the syrup and stir until chocolate is completely melted. Remove from heat, and stir in coconut milk and rum.
Chill completely (at least 2-3 hours), then freeze in ice cream machine according to manufacturer's instructions. Transfer to a freezer safe container and freeze overnight.
Did you make this recipe?
Let us know what you think!
Leave a Comment below or share a photo and tag me on Instagram with the hashtag #loveandoliveoil.