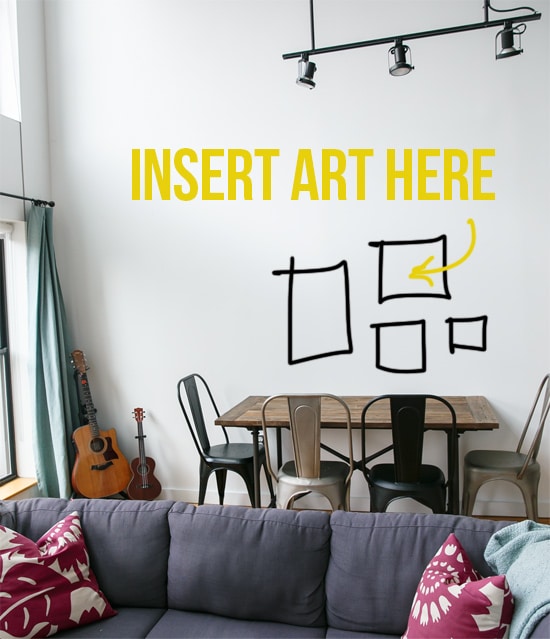 Our new dining table is finally broken in (we hosted our first 6 person gathering last month, a feat our old 4-seater table could not even begin to accommodate). However, despite having lived in the same place for 6 1/2 years, the blank walls that now surround the new table make it feel like we just moved in yesterday.
We need some art, and we need it, stat.
Problem is, we can't decide. Do we go with one giant piece of art (our extra-tall walls could most definitely support something oversized), or do we cobble a few unique pieces together for a collage-like effect? Stretched canvas or frames, and matching frames or mis-matched? Times like these I wish I was an interior designer and didn't waffle so much with such decisions.
Our old dining "room" had a big painted square on the wall, which defined the space and served as a backdrop for some DIY wine bottle art. Which was awesome. And we loved it, but after 6 years of the same thing we needed a change.
Plus, our new reclaimed-wood dining table (this one from Restoration Hardware) was longer and didn't fit in the square. As painful as it was to paint over, knowing how much time we spent tediously measuring, taping, and painting pristine edges on that darn square, the clean white wall was a refreshing change. Until we realized just how boring that wall was and our need for art became even more urgent.
Sometimes, art just happens to you when you aren't even looking.
When I saw this fig painting, I didn't think twice about buying it. I love that it's an original, not a print, and yet miraculously still affordable. Sorry, but I'm not one to spend thousands of dollars on art (I value fine art, I truly do, but I'm just not in a place to justify purchasing such things for myself). Oh and by the way, the artist, Eric Buchmann, has some other foodie-friendly pieces on Artfinder, including passion fruit (OMG) and pomegranates, just in case you were interested in owning one yourself. :)
The problem with the fig was its size, 11×14 would look rather pathetic hanging by itself on our rather large dining room wall. So I expanded my art search, finding an amazing and unique treasure trove of art over at Minted. I'm sure you, like me, thought of Minted as holiday cards and wedding invitations, but it turns out they have an amazing selection of limited edition art prints too.
Would you believe me if I said I probably spent three entire days (not all at once, of course) narrowing it down this far? I'm sure I'm well on my way to carpal tunnel by now after scrolling (and scrolling) through endless pages of art.
I'm indecisive like that, but when I get obsessed with something, I don't care how stiff my wrist gets, I'm determined to see it through.
And yet, the more I scrolled, the worse it got. I had upwards of 50 pieces of art marked as a favorite before long. And while our empty wall is quite large, I daresay it's not big enough to fit THAT much art.
So rather than continue my endless death-scroll, I figured I should set some criteria. The best way to start narrowing down choices was to first create an arrangement for the wall, and then find art that fit within that arrangement. That seemed more reasonable than doing it the other way around.
Based on the approximate size of the fig painting (once we get it framed) and the available art sizes on Minted, we came up with a few possible arrangements for 3 or 4 pieces. The bottom middle and right were the ultimate winners, the middle our final choice because of the large vertical frame that worked better proportion-wise with our favorite pieces than a square.
That's where you come in. Help?
Note that we'll likely be changing out the pillows, rug, and curtains to something a bit more neutral (gasp – dare I say, we're maturing in our tastes?) and so are trying not to base our art decisions off of those replaceable pieces. Rather, we want to get art we know we'll love, and then make our color/decor choices based on that.
Heads up: this post contains affiliate links and I will receive a small commission if you make a purchase after clicking one of them. All opinions are purely my own. Thank you in advance for supporting L&OO!
Option #1 (from left to right, largest to smallest): Roast Chicken (um, if we get this one I will MOST DEFINITELY have to test out the recipe), Northern Flow, California Succulent
Option #2: Eiffel Tower in the Rain (did I mention we're planning a trip to Paris this spring? Obv we've got croissants on the brain), Forsythia, Glyphs Modern (once a font nerd, always a font nerd)
Option #3: Ode to Rothko I, Drift, Forsythia
Option #4: Nice Work, Concentric, Forsythia
So?
Which would you choose?
Follow up: matching frames, or mismatched frames? (Gah, more decisions!) Someone please take away my photoshop privileges before I start making more mockups.