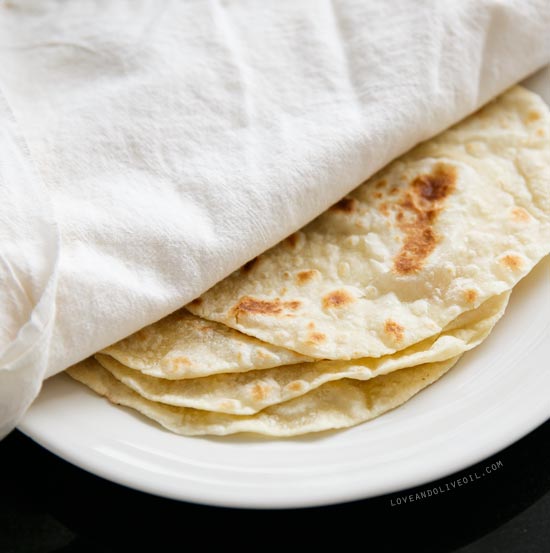 Following yesterdays Crispy Cauliflower Tacos, I thought I'd share our favorite recipe for homemade flour tortillas. This is one of those situations where store-bought simply can't compare to homemade. Seriously, make a quesadilla with these babies, and you'll see what I mean. I promise you won't be disappointed. The taste and texture are unlike anything you can buy in a (normal) grocery store; they practically melt in your mouth with a buttery softness not unlike a pie crust.
The secret?
Lard.
No, seriously.
We found some really nice lard at a hip local butcher (if you're local, you know the place). If you can find good quality lard, use it: you'll end up with a richly flavored tortilla and not one that tastes like bacon. Although that wouldn't necessarily be a bad thing, but lesser quality lards do have a pronounced porky flavor. If you can only find gigantic containers of lard, divide it up into 1/3 cup portions and freeze it, that way you always have some on hand when the tortilla-craving hits.
If you can't find or would rather not use lard, unflavored vegetable shortening is your next best bet. While the flavor might not be quite as robust, it'll still beat a store-bought tortilla any day (honestly, those things are as flat in flavor as they are in shape).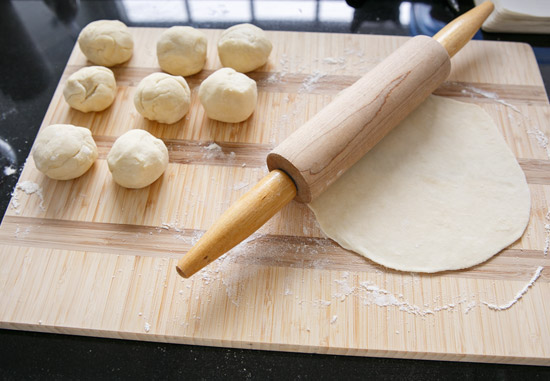 The process of making flour tortillas is actually easier than corn, because you don't need any gadgets or presses other than your hands and a rolling pin. Also unlike corn (which are better fresh), flour tortillas keep quite well and can be made a day or two ahead of time.
The dough does need to rest for 30 minutes before you roll and cook, so give yourself enough time. There's nothing worse than a last minute scramble to get dinner on the table. But once you get the hang of it, you may find yourself hesitant to buy store bought tortillas again. It's well worth it, I promise.
Homemade Flour Tortillas
Ingredients:
1 3/4 cup (9 ounces) all-purpose flour, plus more for kneading
1 teaspoon kosher salt
1/3 cup lard
1/2 cup cool water
Directions:
In a large bowl, whisk together flour and salt. Add the lard, in chunks, and cut in with a pastry blender or your fingers until the mixture resembles coarse crumbs. Drizzle in the water, and stir with a fork until the mixture comes together.
Transfer the dough to a lightly floured work surface. Knead, adding more flour as needed (up to 1/4 cup) until the dough is smooth and pliable. Using a scale, divide the dough into 8 equal pieces (for large tortillas) or 10-12 pieces (for smaller tortillas). Shape into balls. Cover loosely with plastic wrap and let rest at room temperature for 30 minutes to 1 hour.
Place a nonstick skillet or griddle over medium heat. Lightly flour your work surface, and roll each ball into a thin circle (about 8-inches in diameter for large, 6-inch diameter for small tortillas). Keep unused dough covered with a tea towel until ready to use.
Cook the tortillas for 1 to 2 minutes per side until light golden brown in spots. Transfer to a plate or serving platter and cover with a tea-towel. Repeat with the remaining tortillas. Tortillas will keep, refrigerated and sealed in an airtight bag, for up to 3 days. Microwave for 30 seconds under a damp tea towel to reheat.
Did you make this recipe?
Let us know what you think!
Leave a Comment below or share a photo and tag me on Instagram with the hashtag #loveandoliveoil.