Last week, we opened ourselves up to questions. I really loved hearing what you guys had to say and what you wanted to know. Here goes…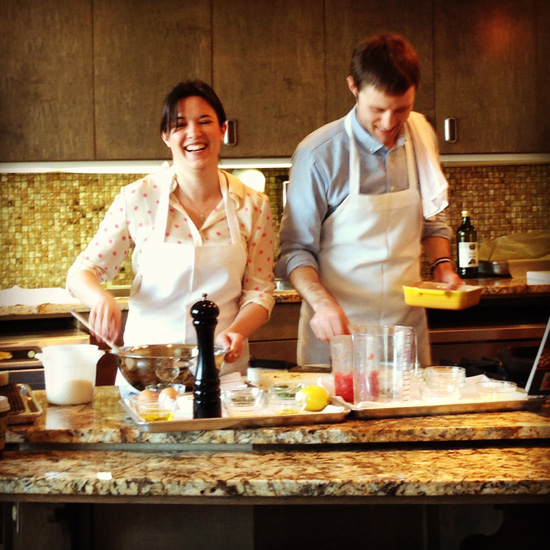 When you started your blog and design business, did you ever anticipate that you'd make your living doing them and that they'd grow into what they are today? Like did you go to college and get your degree with anything like this in mind?
We had absolutely no idea. The blog started as a way to keep track of and share recipes and play with my fancy new camera. Food blogging wasn't so much a "thing" then as it is now, so I couldn't even fathom what it could become. As for the design business, that kind of grew organically out of some freelancing work I had been doing in college. I did go to college for design, so I knew I wanted to be a designer, but it just sort of happened that we ended up working for ourselves. I guess it was just meant to be! :)
What deal did you guys make that Taylor has/gets to do all of the dishes?
Taylor made that deal himself because he's got much higher standards of cleanliness than I do. I have no problem with dishes sitting in the sink for a few hours… er, days… whereas he can't stand it and would rather do them himself immediately than let them sit around.
Do you have any advice on blogging with a partner?
While we do cook together, the blog is primarily me doing most of the writing/photography. But we are partners in every other way, including in our business. I guess my advice would be to have your individual roles well defined and don't step on each other's toes. In our design business, I am the designer/coder, and Taylor does most of the 'fun' accounting/business management stuff. I really think that's part of why it has worked so well. If we were BOTH designers I have a feeling we'd spend more time bickering than working.
Is there any recipe that you really loved but didn't make it into BFD?
There was a gorgeous citrus salad I wanted to include; but I think I was in love with it more for aesthetic reasons (it would have made a beautiful picture). When we realized that it didn't exactly blow your socks off taste-wise and was kind of tricky to eat, we decided to scrap it in favor of better-tasting recipes.
What is the most essential piece of equipment (tool, pan, dish) in the kitchen that you would recommend every kitchen have?
A good knife, probably. Although I love me some spatulas.
Do you have any odd food combination preferences that you would normally be embarrassed to share?
Me? Fish sticks and mayonnaise. Taylor? Microwave popcorn dipped in milk.
How was your first year of blogging and what would you say are the major challenges you faced?
Food blogging back then wasn't quite as big of a deal as it is now, so I think our first year of blogging was easy. We were just posting what we were eating, and having fun doing it. We didn't care about traffic or advertising (I didn't have ads on this blog at all until 2011). Sometimes I kind of miss that.
What are your least favorite foods?
Taylor hates polenta. Lindsay can't stand grapes or grape-flavored anything. We both are very not-fond of dill (except in pickles).
One of the things I love about being married and having a family is the creation of new traditions. In the years you've been together, what food traditions have you established?
That's a tough one! We don't have many food traditions, mainly because we like trying new things and new recipes, but I would say our holiday cookie shipments. Each year we make a few different kinds of cookies and send them out to our grandparents and other family members, along with some other goodies like jam. Cookies beat presents anytime, I say!
If a fun-loving, food loving couple were to visit Nashville for a 3 or 4 day weekend, what would you recommend for an itinerary?
Wow hard question. I love this city but it's always hard for me to just pick things. It depends a lot if you like country music, history, etc. my recommendations might change. But food. So much good food!
Friday – dinner at City House or Rolf & Daughters (call ahead, R&D especially you will need reservations). Afterwords head downtown to Broadway to get a taste of the tourist side of Nashville. If you like country music you'll love this, if not, you can laugh at the ridiculousness that are the honky-tonks. Either way it's an experience you have to do at least once, and then never again.
Saturday – Spend the morning exploring the Nashville Farmers Market, grab early lunch at Bella Nashville, AM/PM, Wild & Local, or one of the popups. Check out Bicentennial park too behind the market, be out there at the top of the hour to hear the bells. If you like music, see what's playing at one of the dozens of local venues that night. Or head over to East Nashville which has some cute shops and restaurants. Get a tour of the Olive & Sinclair chocolate factory. Early dinner at Silly Goose or Two Ten Jack, then Jeni's for ice cream after. Then more music? Seriously you could go to a show every night if you wanted to.
Sunday – If you happen to be in town the 3rd weekend of the month, check out the Nashville Flea Market (hello, cheap old junk!) Otherwise, head to Centennial park. We have our very own full-size replica of the Parthenon. While the 'tour' of the inside isn't necessarily worth the $, if it's a pretty day the park is beautiful. Maybe you'll be lucky and run into a food truck like Riffs or BiscuitLove, or you can grab some hot chicken (Nashville's signature dish) at Hattie B's which isn't too far away. In the afternoon you could head back downtown and check out Riverfront Park and the Country Music Hall of Fame (very cool if you appreciate country music history). Dinner at Merchants or Etch.
Monday – Brunch at the Loveless cafe (fried chicken and biscuits, hello!) Do this Monday because it's super super busy on the weekends. Afterwords take a drive down the Natchez Trace.
Name one place you feel like everyone absolutely has to eat at in Nashville. And then one dessert place. ;)
City House. It's been one of our favorites since we first at there 4 years ago. The fact that we can walk there doesn't hurt, either. For dessert, Jeni's is hard to beat, although the goodie selection at Riffs Cafe is pretty incredible. Cupcake Collection for a good, solid cupcake. Las Paletas if it's hot. We don't have many straight-up dessert places (boo). That's one area Nashville is really lacking.
What's your favorite prop to use in photos?
Spoons! I have a thing for spoons. So much better than knives or forks. :)
What are your favorite & least favorite foods to photograph?
I love photographing desserts, because there is much more of an opportunity to be playful than with savory foods. Least favorite food to photograph would probably be eggs. Or burritos. Or quesadillas.
What advice would you give to an aspiring blogger?
Do it because you love it, not because you're trying to get rich quick.
How do you find your own voice in the craziness of thousands of blogs out there? How do you stand out?
We aren't trying to be something we're not. I think because we didn't set out to make a living from it, we're not constantly trying to be the next 'big thing'. The food you see on the blog is the food that we love to make and the food that we actually eat. I know that's not really advice, but I guess I'd just say to be true to yourself and who you are. You have to love what you're doing. If you're faking it or forcing it, it will show.
Self-realization: we don't take enough pictures of ourselves. That sounds selfish (and honestly I can't stand selfies), but these few shots were pretty much all I could find of the two of us in 2-3 years of iphone photos. The rest? Food. And cats. Yeah, that's about all you need to know about us right there.
Anyways, hope you enjoyed getting to know us a little bit better! We sure did! I mean, we enjoyed sharing with you, not getting to know ourselves better (I'd hope by this age we'd have a pretty good idea of who we are). Let's do it again soon, shall we?