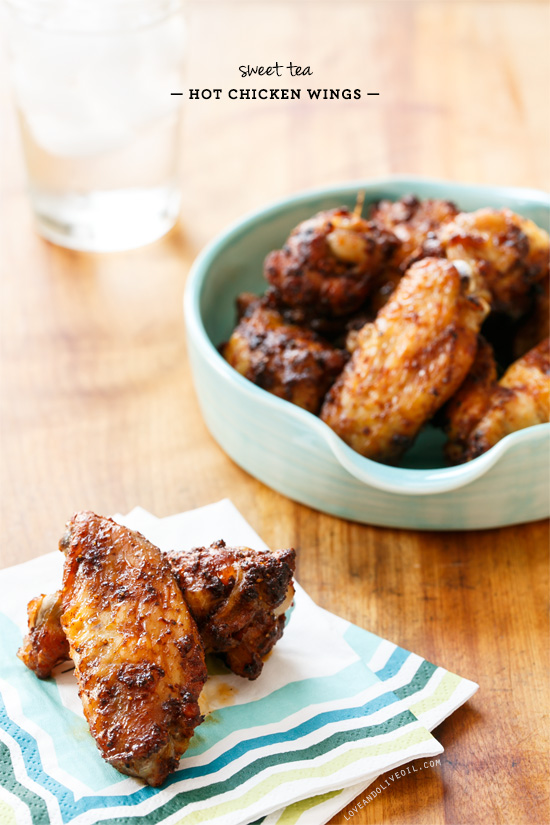 If you had to name one food that was truly Nashville, it would have to be hot chicken. Originally created by an angry woman trying to get back at her womanizing boyfriend, her attempts at revenge were foiled when her spice-loaded fried chicken went over well with the dude instead of causing him severe pain (or, the pain was in fact, pleasurable since the chicken was so delicious). You have to respect a woman who gets her revenge in the form of fried chicken.
This is no where near authentic hot chicken (haters gonna hate). It's baked rather than fried, with a level of spiciness at which hot chicken aficionados would turn up their noses and snicker. Milder than the mild at Prince's, that's for sure, and maybe I am a chicken, but for normal folk, "mild" in this case is still pretty darn spicy.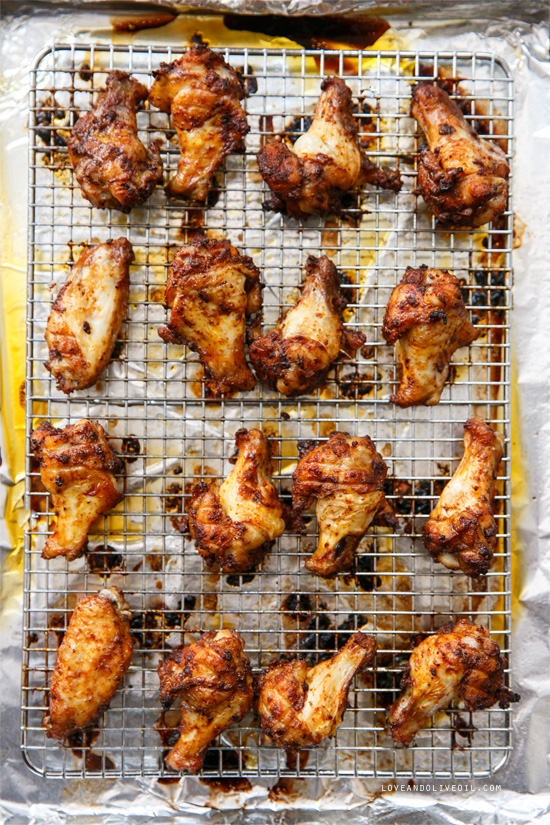 It's like the ultimate Southern spa treatment: sweet tea bath followed by a hot spice massage. The sweet tea brine infuses the wings with flavor and moisture much in the way a salt brine does the same to a turkey. The wings are then air dried and rubbed with a potent spice mixture of cayenne, ancho chile, paprika, garlic, and pinch of smoked salt and baked until the tips are crispy. Tender and juicy like you wouldn't believe, with a slow burn that warms you from the inside out.
Just have a glass of water (or milk) handy. Believe me, you're going to need it; wimpy version or not, these wings are no joke.
Sweet Tea-Brined Hot Chicken Wings
Ingredients:
For Brine:
2 cups brewed sweet tea
1 tablespoon kosher salt
1/2 tablespoon smoked salt
2 pounds chicken wings
For Rub:
2 teaspoons ground cayenne
1 teaspoon ancho chile powder
1 teaspoon garlic powder
1 teaspoon ground paprika
1/2 teaspoon ground black pepper
1/4 teaspoon smoked salt
cooking spray, as needed
1 tablespoon canola oil
Directions:
The night before you will be serving the chicken wings, prepare the brine. Combine sweet tea, kosher salt, and smoked salt in a 2 cup microwave safe measuring cup. Microwave on high for 45 seconds or until warm and stir until salt is dissovled. Add a few ice cubes to quickly bring the mixture back to room temperature.
Place chicken wings in a medium bowl. Pour over cooled brine mixture; cover and chill for 8 hours. The next morning, remove wings from brine and place on paper towels. Discard brine. Pat wings dry and arrange on a baking rack set inside a half-sheet pan. Place wings, uncovered, in the refrigerator for 6 to 8 hours until completely dry.
Preheat oven to 400 degrees F. Line a baking sheet with aluminum foil and place an oven-safe wire baking rack inside. Spray liberally with cooking spray.
In a bowl, combine cayenne, ancho chile, garlic, paprika, salt and pepper. In a large bowl, toss chicken wings with 1 tablespoon canola oil. Sprinkle spice mixture over and toss until evenly coated. Arrange wings on prepared baking rack so they are not touching each other.
Bake for 40 to 50 minutes, flipping once part way through, until skin is browned and tips are crispy. Serve warm.
Did you make this recipe?
Let us know what you think!
Leave a Comment below or share a photo and tag me on Instagram with the hashtag #loveandoliveoil.