After making these brownies a few weeks back, I couldn't stop thinking about them. That topping, like an extra chocolatey, peanut butter rice krispie treat, had wedged itself into the fissures of my brain.
Apparently there were some stray thoughts of ice cream floating around in there too, because it didn't take long for me to put the two together.
I don't know, something about the idea of a crunchy ice cream got me up off the couch and into the kitchen. Sometimes I sit and let an idea marinate for a few weeks (or at least a few hours while I finish that made-for-tv movie), but this was one of those ideas that needed to be executed post haste.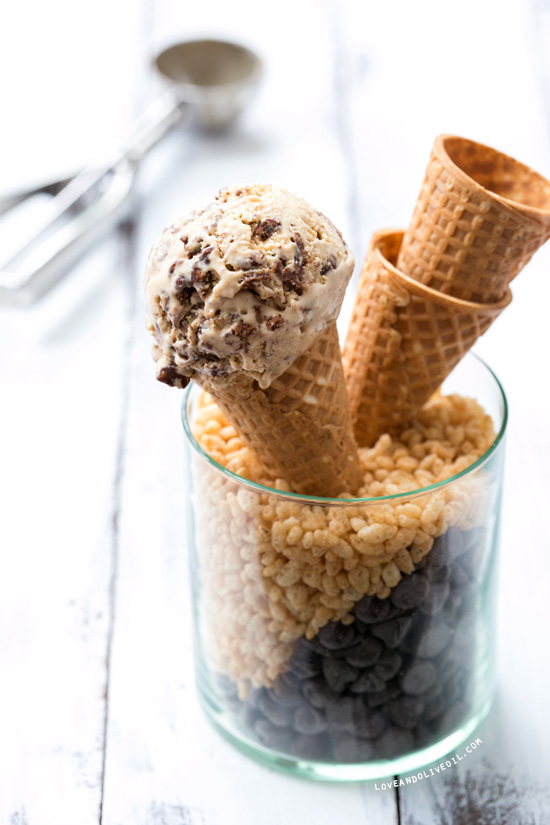 The ice cream on its own would be worth it, and why I've never done a straight-up peanut butter ice cream before I have no idea. But with the added element of crunch from the rice cereal, plus chocolate and even more peanut butter…
Well, let's just say it's worth tearing up your biceps to scoop it (literally the hardest-to-scoop ice cream I've ever made), since you're cutting through chunks of solid frozen chocolate as well as the ice cream. I, as usual, made a pretty weak attempt to scoop the stuff, gave up, and promptly summoned Taylor from upstairs. He groaned and grunted and scooped maybe a tablespoon into my bowl before declaring he had to up his game at the gym. Not to work OFF the ice cream, mind you, but just so he'd be able to scoop it more easily in the future.
That's my kind of guy.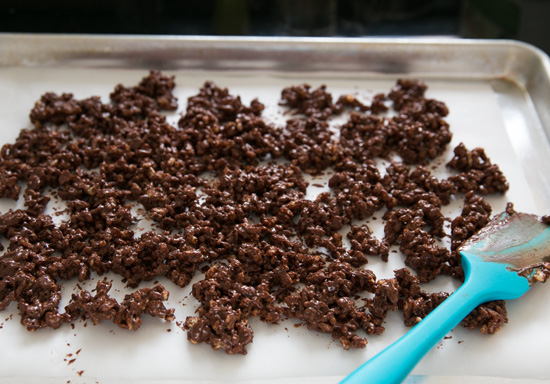 After making the crunch concoction, you want to spread it out as thinly as you can on a baking sheet before freezing it. The thinner it is the easier it will be to break or chop into pieces after it has set. The smaller the pieces, the easier it will be to scoop. At the same time, you want to keep the rice krispies as whole as possible, as the chocolate covering the krispies is what keeps them crunchy even when surrounded by frozen cream. Ideally you'd have each individual krispie separated and completely surrounded by chocolate, but realistically that's not going to happen.
Just consider it a win-win… how many foods do you actually burn calories before and during the consumption process? Two, I believe: celery, and this ice cream.
Chocolate Peanut Butter Crunch Ice Cream
Ingredients:
For Peanut Butter Ice Cream:
2 cups heavy cream, divided
1 cup whole milk
2/3 cup granulated sugar
1/8 teaspoon salt (increase to 1/4 teaspoon if using unsalted peanut butter)
4 large egg yolks
2/3 cup creamy salted peanut butter
1 teaspoon vanilla extract
For Chocolate Peanut Butter Crunch:
1/2 cup chocolate chips (about 3 ounces)
1/4 cup creamy peanut butter
1 1/2 cups crisp rice cereal
Directions:
To make the ice cream, pour 1 cup of the heavy cream into a heat-proof bowl and nest inside a larger bowl filled with ice water. Place a fine mesh sieve over the top of both bowls.
In a saucepan, combine remaining cream, milk, sugar, and salt. Cook gently over medium heat, stirring regularly, until sugar is dissolved and mixture just starts to steam. Remove from heat.
In a small bowl, whisk egg yolks. Slowly whisk in some of the warm cream mixture, 1/3 cup at a time, until about half of the cream mixture has been incorporated and yolk mixture is warm to the touch. You want to do this gradually; doing so will temper the egg yolks rather than cook them.
Pour yolk mixture back into the saucepan and return to medium heat, stirring constantly, until the mixture thickens slightly and coats the back of a spatula, about 5 to 7 minutes, or until it reaches approximately 165 to 170ºF. Do not allow it to boil.
Remove from heat, then add peanut butter and stir until smooth. Pour mixture through sieve into cold cream, discarding any solids. Add vanilla extract and stir until cool. Cover mixture with plastic wrap, carefully pressing wrap down onto the surface of the cream mixture. This will prevent a skin from forming on top of the custard. Refrigerate until completely cool, at least 3 hours or overnight if possible.
Meanwhile, combine chocolate and peanut butter in a large, microwave safe bowl. Microwave on medium speed for 60 to 90 seconds, stirring every 15 seconds, until melted and smooth. Fold in rice cereal until evenly coated. Spread mixture in a thin layer on a parchment-lined baking sheet, then freeze until firm. Just before using, coarsely chop into bite-sized pieces.
Churn ice cream according to manufacturer's instructions. When ice cream is the consistency of soft serve, stir in the crunch pieces, then transfer to a freezer safe container and freeze overnight until firm.
Did you make this recipe?
Let us know what you think!
Leave a Comment below or share a photo and tag me on Instagram with the hashtag #loveandoliveoil.