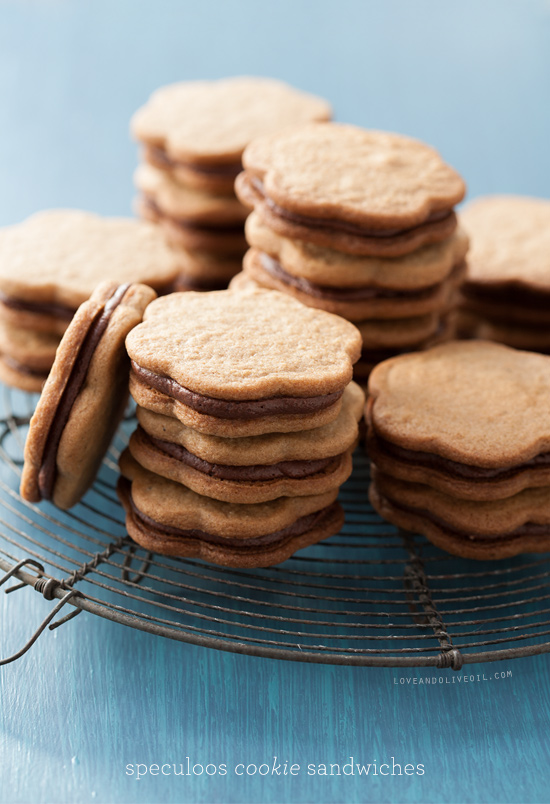 Speculoos!
It sounds like something out of Harry Potter.
And indeed, they could most definitely be described as magical.
You might be more familiar with the name Biscoff. They're quite the little prom queens of the blogging world right now, these Biscoff cookies, with bloggers using them every which way and elevating them way beyond a boring little biscuit served on airplanes.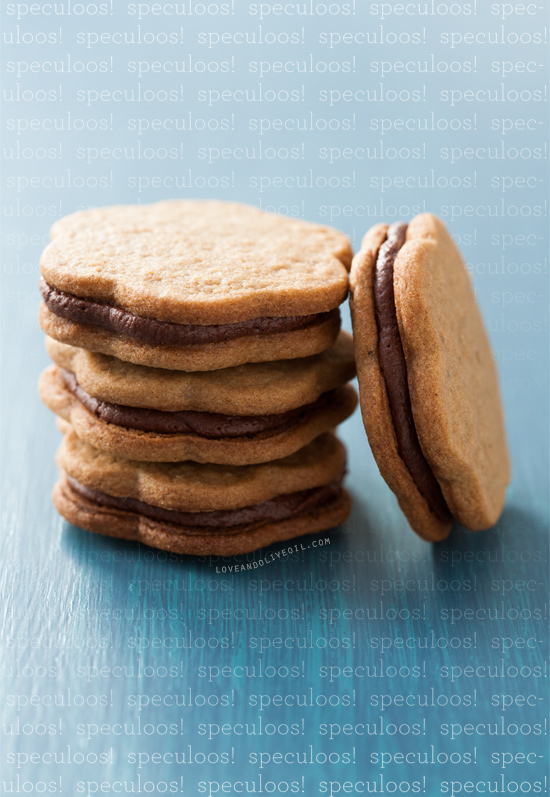 Speculoos (also called speculaas or Dutch windmill cookies) are crisp spiced cookies, originating from Belgium and the Netherlands. While they are often thought of as a holiday cookie (think a crunchy gingerbread with more spice and less molasses), I'd argue that any time of year is appropriate to enjoy them.
The inspiration behind the sandwiching-of-the-speculoos came to me during a late night craving. For when one has a late night sugar craving, one is bound to uncover forgotten things in the back of the fridge, such as a container of leftover chocolate buttercream (that, as it turns out, is quite excellent when sandwiched between two cookies).
The homemade version of the cookie is definitely more crisp than the commercial kind (note to self: figure out how to replicate that texture), with a peppery, spicy kick that lingers on the tongue. Some versions of this recipe contain only cinnamon, others have a combination of ginger, cinnamon, and cloves or nutmeg. This version includes a hearty dose of black pepper as well for just the perfect amount of spice.
Oh, and speculoos! Just say it. How could you not love a cookie with that name?
Speculoos Cookie Sandwiches
Ingredients:
For Cookies:
1/2 cup butter, cold, cut into 1/2-inch cubes
1/3 cup granulated sugar
3/4 cup light brown sugar
1 teaspoon molasses
1/2 teaspoon fine sea salt
1/4 teaspoon baking soda
2 1/2 teaspoons ground cinnamon
1/4 teaspoon ground nutmeg
1/2 teaspoon ground ginger
1/4 teaspoon ground cloves
1/4 teaspoon finely ground black pepper
1 teaspoon vanilla extract
1 large egg
1 3/4 cup all-purpose flour
For Filling:
1/2 cup (1 stick) unsalted butter, room temperature
1/3 cup cocoa powder, sifted (natural or dutch is fine, I used a mixture)
1 1/2 cups powdered sugar
1/4 cup heavy cream, more or less as needed
1/2 teaspoon vanilla extract
1/4 teaspoon ground cinnamon
pinch fine sea salt
Directions:
Place butter cubes in a large mixing bowl or the bowl of a standing mixer fitted with a paddle attachment. Add the sugar, brown sugar, baking soda, salt, and spices and beat on medium speed for 30 seconds or until evenly incorporated. Add vanilla and egg and beat on medium speed until combined, scraping down the sides of the bowl as needed. Add flour and beat on medium speed until all the dry flour has been incorporated.
Press the dough together into a ball and flatten slightly into a disk shape. Wrap tightly with plastic wrap and refrigerate for at least 30 minutes or overnight.
Preheat oven to 375 degrees F.
On a lightly floured surface, roll the dough out to 1/4-inch thick. Cut out cookies with desired shape cutter and arrange on parchment or silicone mat-lined baking sheets, leaving about an inch of space between cookies. (If using a traditional springerle rolling pin or speculaas cookie mold, roll the dough until 1/2 thick with a regular rolling pin and then shape).
Bake for 8 to 10 minutes or until the cookies just start to darken around the edges (the longer they cook, the crispier they will be). Let cool on the baking sheet for 10 minutes, then transfer to a wire rack to cool completely.
To prepare filling, in a large mixing bowl, beat butter on medium-high speed until smooth and fluffy, 2 to 3 minutes. Add cocoa powder and beat until incorporated. Alternate adding 1/2 cup powdered sugar, followed by 1 tablespoon cream, mixing well after each addition. Repeat with more powdered sugar, then cream, then remaining sugar. Add additional cream as needed; this will depend on the room temperature and consistency of your frosting (during hotter months you will need less cream than during the cooler winter months). Add vanilla, salt, and cinnamon and beat on medium high speed until frosting is light and fluffy.
Transfer frosting to a piping bag fitted with a large round tip. Holding the tip close to the surface of the cookie, pipe a thin, even layer of frosting over the entire cookie, leaving about 1/4 inch space around the edge. You can also spread frosting on cookies with an offset spatula. Top with a second cookie and press lightly to adhere. Refrigerate for about 30 minutes to allow the frosting to set.
Cookies will keep, refrigerated in an airtight container, for up to 5 days.
Did you make this recipe?
Let us know what you think!
Leave a Comment below or share a photo and tag me on Instagram with the hashtag #loveandoliveoil.