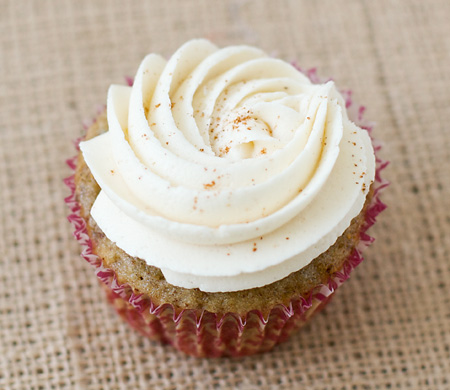 Considering only one of my last ten posts were desserts, I think I have some catching up to do. You know that we're cooking lots of really good things when dinner or other non-dessert recipes get posted BEFORE desserts. Usually desserts get priority in all situations. But that lovely hazelnut cake? I made that almost a month ago. Shame on me. Desserts should never be neglected like that.
I've got more, too. Along with these tasty (fig!) cupcakes, I've got multiple varieties of ice cream and my very first attempt at whoopie pies waiting in the queue. Yes, more deserts being put by the wayside. This kind of behavior on my part is extremely unusual, I promise you.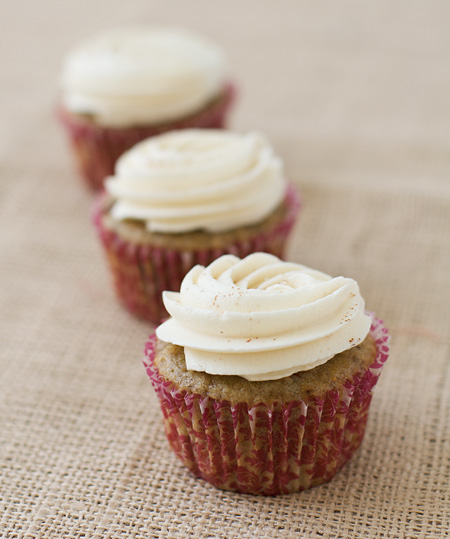 Now, back to the cupcakes. With all the fig festivities going on around here, you had to assume they'd find their way into cupcakes eventually. And sure enough, they did.
For these cupcakes, I actually used a jar of preserved figs in syrup that didn't seal properly (I will be posting the recipe eventually… I have a lot of sugary catching up to do first), but you could use fresh figs or even dried figs re-hydrated in one delicious elixir or another (brandy, maybe? or grand marnier if you're feeling fancy). The spice cake is dense and incredibly moist, imagine a tender banana bread, if you will, speckled with succulent bits of fig. Heck, skip the frosting and you'd have a darn good fig spice muffin. But then you might be missing the best part: a subtly sweet honey buttercream with just a hint of cinnamon.
Fig Spice Cupcakes with Honey Cinnamon Buttercream
Ingredients:
Cupcakes:
1 1/8 cup all-purpose flour
1/4 cup almond meal
1 teaspoon baking powder
1/4 teaspoon baking soda
1/4 teaspoon cinnamon
1/8 teaspoon ground cloves
1/2 teaspoon salt
1 cup coconut milk
3/4 cup granulated sugar
1/3 cup oil
1 teaspoon vanilla extract
1/4 teaspoon almond extract
1/2 cup finely diced fresh figs (about 2 whole figs), or 1/3 cup chopped dried figs
Frosting:
1/2 cup (1 stick) butter or margarine, room temperature
3-3 1/2 cups confectioners' sugar
2 tablespoons raw dark honey
pinch cinnamon
2-3 tablespoons milk or cream, as needed
Directions:
Preheat oven to 350 degrees F.
In a large bowl, sift together flour, almond meal, baking powder, baking soda, spices, and salt.
Whisk together coconut milk sugar, oil, and extracts. Make a well in the center of the dry ingredients and pour in the wet ingredients. Mix until relatively smooth. Fold in fig. Fill cupcake liners with about 3 tablespoons of batter (cups should be just under 2/3 of the way full). Bake for 22-25 minutes or until set, and toothpick inserted in the center comes out clean. Transfer to cooling rack and allow to cool completely.
For frosting, cream butter in electric mixer for 1-2 minutes until fluffy. Slowly add 1 cup sugar and beat until smooth. Add honey and cinnamon and mix until combined. Add remaining confectioners' sugar, 1/2 cup at a time, and beat until well incorporated. Add 1 tablespoon of cream at a time, and mix at medium-high speed until light and fluffy. Add more cream or sugar as necessary to achieve proper consistency. Pipe or spread onto cooled cupcakes.
Did you make this recipe?
Let us know what you think!
Leave a Comment below or share a photo and tag me on Instagram with the hashtag #loveandoliveoil.