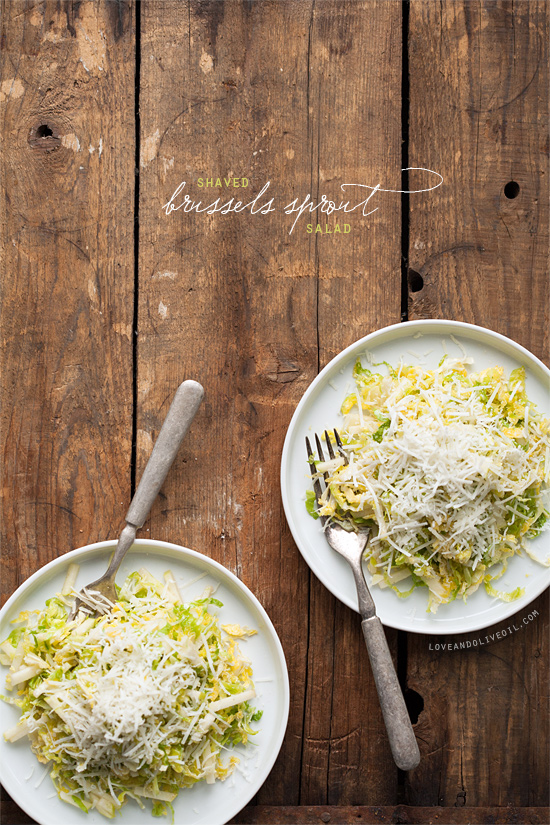 Brussels sprouts are the new kale. Pecorino is the new Parmesan.
And this is quickly going to become your new favorite salad.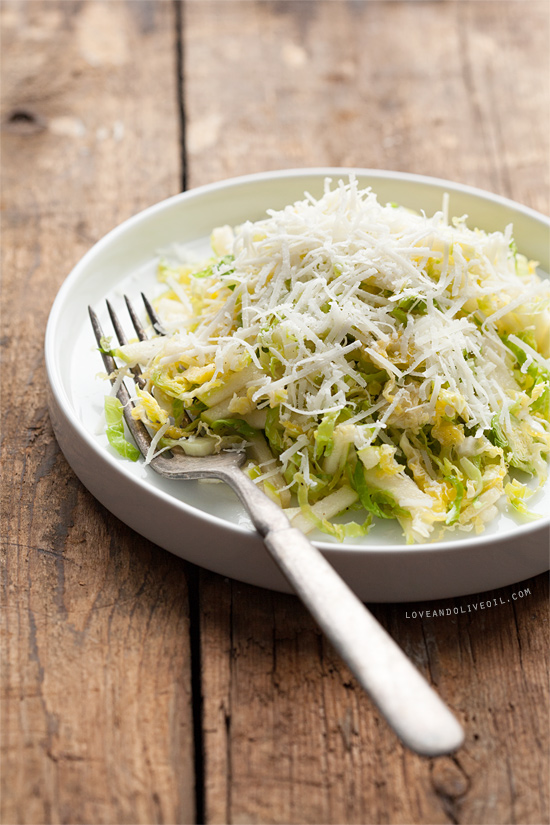 This salad was inspired by a similar dish at a new neighborhood restaurant called Rolf & Daughters. Their menu is filled with incredibly unique dishes, including one of the best plates of pasta I've had outside of Italy (don't worry, we're trying to recreate that, too!) Although, Taylor hesitates to make the same claim if only because of the portion size. They are indeed Lindsay-sized. Meaning, not enough for Taylor and his bottomless stomach. He's made a running joke out of it, exclaiming that he's been "Rolfed" whenever he feels gastronomically shortchanged.
Anyway, size notwithstanding, Rolf's Brussels arrive in a mountain of thin shreds, piled even higher with Pecorino cheese. The tart apple mingles with the salty cheese and the paper thin sprouts lightly dressed in a simple concoction of cider vinegar, honey, and oil. The original salad includes toasted hazelnuts too, although we opted to omit them in our version.
The key to avoiding the typical Brussels bitterness is to slice them as thinly as possible. You can use a mandolin, although I don't think they were designed for such odd shaped vegetables. A super sharp knife works best, just remember, you are shaving it, not slicing it. That's how thin I'm talking here. Also, let the sprouts marinate for a while in the dressing, at least 15 minutes but 30 minutes or an hour would be better, bitter better better not be bitter. Or something.
Shaved Brussels Sprout Salad with Apples and Pecorino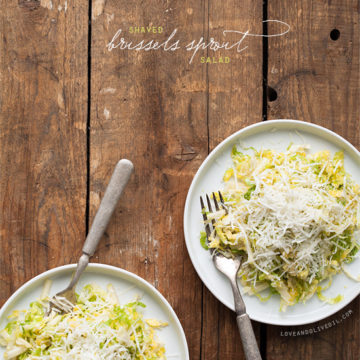 Ingredients:
For Dressing:
3 tablespoons cider vinegar
2 tablespoons honey
1/4 cup olive oil
salt and freshly ground black pepper, to taste
1 Granny Smith apple or other tart, green apple
16 ounces Brussels sprouts
3 ounces Pecorino Romano cheese, finely grated (about 1 cup)
Directions:
To prepare dressing, whisk together cider vinegar and honey. Drizzle in olive oil and whisk until combined. Season to taste with salt and pepper.
Core apple and cut into small cubes or matchsticks. Place in a small bowl and toss with 1 tablespoon of dressing to prevent the apples from browning.
Trim ends of Brussels sprouts and remove any outer damaged leaves and discard. Using a mandoline slicer or a very sharp knife, slice sprouts as thinly as possible (I'm talking like 1/16 of a inch). Discard ends and any large core pieces or chunks. Place shaved sprouts in a large bowl. Toss with apples and remaining dressing. Set aside and let sit for at least 15 minutes or more.
Divide salad among serving dishes, and top with a healthy sprinkling of grated Pecorino.
Did you make this recipe?
Let us know what you think!
Leave a Comment below or share a photo and tag me on Instagram with the hashtag #loveandoliveoil.