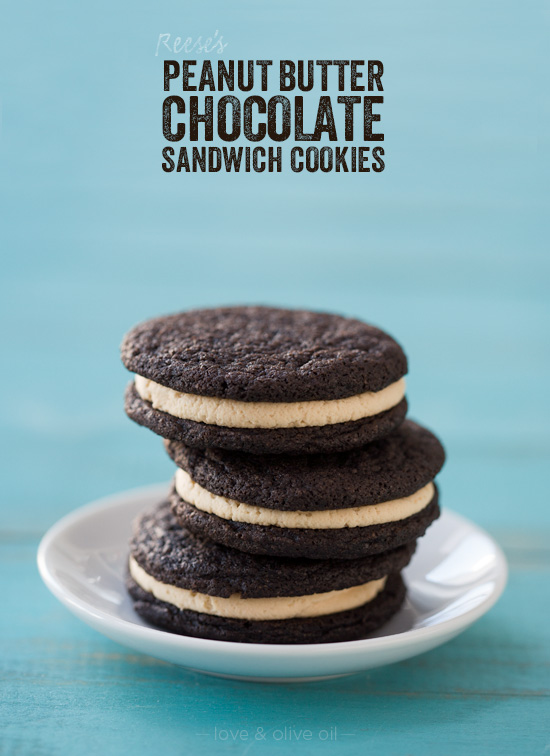 I never met a peanut butter cup I didn't like.
And I never met a sandwich cookie I didn't love.
Put the two together and, well, you've got yourself one heck of a combination.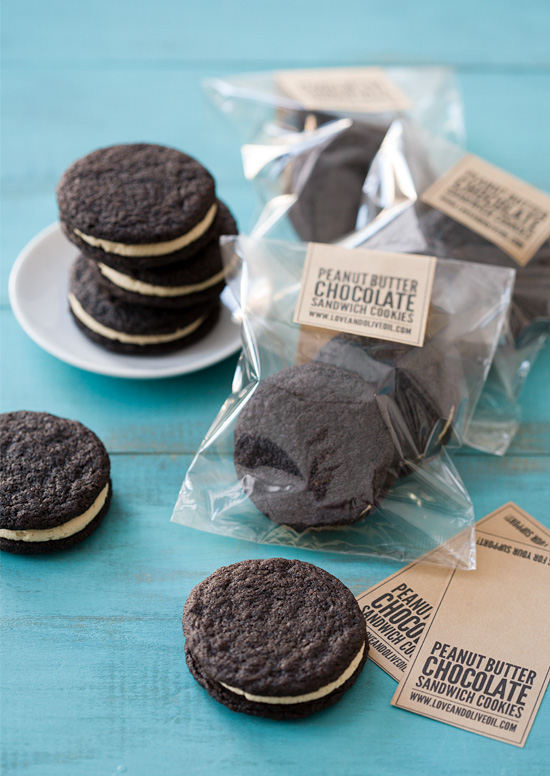 I whipped up a few dozen of these babies to sell at the Sweet Relief bake sale last earlier this month. They were gone before you could say Bob's your uncle (actually, Tom's my uncle. Bob was my grandfather. So much for that cliche).
The recipe is loosely based on my malted milk chocolate sandwich cookies from last year (I told you I had a thing for sandwich cookies), but with dark chocolate and a peanut butter filling. Slightly more butter and dark cocoa makes for a richer, softer chocolate cookie. Don't over-bake them because the softness is what makes them irresistible: the cookie gently giving way to the sweet and salty filling within.
This recipe is one of a few I'll be posting in the coming weeks that feature Hershey's products. You may have noticed from my twitter feed that Taylor and I went to Hershey, PA a few weeks back, as part of their Baker's Dozen holiday promotion.
I think you could say the chocolate lover in me was giddy at the opportunity.
We got to play around in their (gorgeous!) test kitchens, eating cookies and playing with all things chocolate, and filming a holiday how-to video that we hope to share with you in the coming weeks. Stay tuned!
Reese's Chocolate & Peanut Butter Sandwich Cookies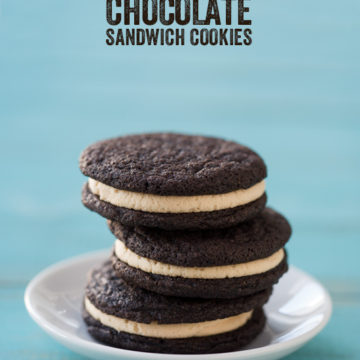 Ingredients:
For Cookies:
1 1/2 cups all-purpose flour
1/2 cup Hershey's Special Dark cocoa powder
3/4 teaspoon baking soda
1/2 teaspoon instant espresso powder
1/2 teaspoon salt
3/4 cup (1 1/2 sticks) unsalted butter, room temperature
1 1/4 cups granulated sugar
1 large egg
1 teaspoon vanilla extract
For Filling:
1/2 cup unsalted butter, room temperature
1/2 cup creamy peanut butter*, room temperature
2 cups powdered sugar, sifted
pinch salt
2 tablespoons heavy cream, or more as needed
1/2 teaspoon vanilla extract
*Use a homogenized creamy peanut butter like Reese's brand. Natural peanut butter tends to separate and won't work in this situation.
Directions:
Preheat oven to 375 degrees F. Line a baking sheet with parchment paper or a silicone mat.
In a bowl, sift together flour, cocoa, espresso, salt, and baking soda. Set aside.
In a large mixing bowl or the bowl of a stand mixer, beat together butter and sugar until light and fluffy, 2 to 3 minutes. Add egg and vanilla and beat until smooth. Add dry ingredients and mix until no traces of the dry ingredients remain, scraping the sides of the bowl to ensure that everything is fully incorporated.
Using a small cookie scoop, drop dough by the tablespoonful onto parchment-lined baking sheets. Place cookie sheets in the freezer for 10 minutes, then flatten balls slightly with the ball of your hand. Bake for about 8 minutes or until cookies are just set in the middle. Let cool for 5 minutes on the baking sheet (they will deflate slightly), then transfer to a wire rack to cool completely.
In a large mixing bowl, beat butter and peanut butter together until fluffy and smooth, 2 to 3 minutes. Add powdered sugar, 1/2 cup at a time, mixing well after each addition. Add salt, cream, and vanilla and beat until smooth. At this point you may need to add more cream or more powdered sugar as needed to achieve the desired consistency.
To assemble, spread or pipe about 1 tablespoon of filling onto half of the cookies, then top with remaining cookies. Press lightly until filling spreads to edges. Store cookies in an airtight container in the refrigerator for up to 5 days.
Did you make this recipe?
Let us know what you think!
Leave a Comment below or share a photo and tag me on Instagram with the hashtag #loveandoliveoil.
Disclosure: I am honored to working with Hershey as part of their Baker's Dozen, and our trip and this post have been sponsored by them. But always know that I only share and work with brands I love, and all opinions expressed are entirely my own.