Happy National Cookie Day! Did you know this was a thing, and just didn't tell me? If so, shame on you. But if you're pleasantly surprised, like I am, then let's do our best to make the most of this day, starting with baking and eating lots. And lots. Of cookies.
Cookie season is perhaps my favorite time of year. And something about this year seems more cookie-filled than most. So when OXO® asked if I'd like to help make a holiday cookie in support of Cookies for Kids' Cancer, how could I say no? If you haven't heard of Cookies for Kids' Cancer, it is a national non-profit organization committed to funding new therapies used in the fight against pediatric cancer, which claims the lives of more children in the US than any other disease. I'll bake to that.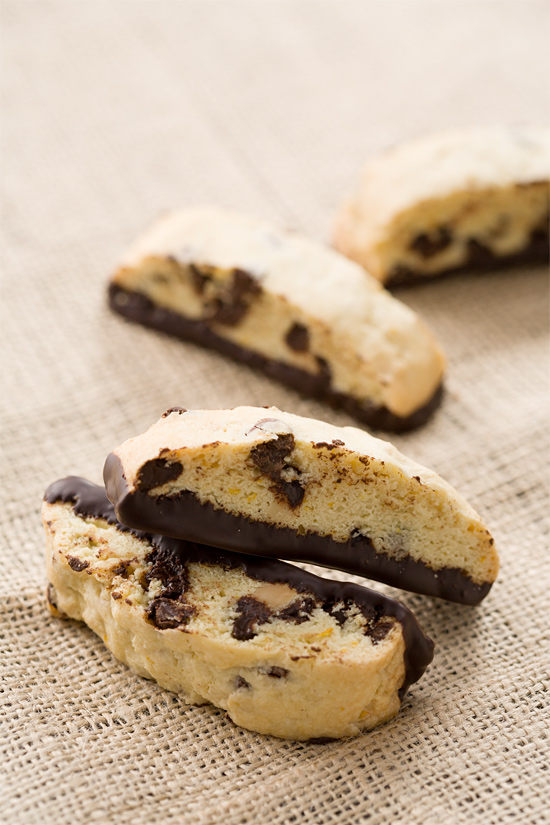 Considering this was the first time I'd actually ever made biscotti, it may surprise you that I really do love it. My favorite part is that there's no denying it is totally, 100% a cookie, but a cookie that's perfectly acceptable to eat for breakfast.
Personally I believe all cookies should carry such a characteristic.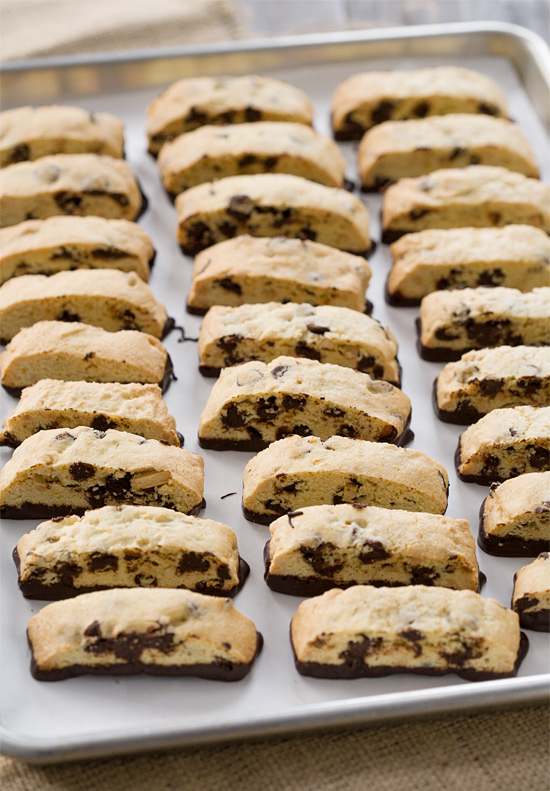 Biscotti are by nature very sturdy cookies (their crunchy texture comes from the fact they are baked twice; in fact, biscotti literally means twice-baked), and they are perfect for shipping or gifting. I think this orange and dark chocolate version is great when dipped in even more dark chocolate (isn't everything?), but if you're shipping to a warmer part of the country, you can easily skip that part.
Orange and Dark Chocolate Biscotti
Ingredients:
1/4 cup (1/2 stick) unsalted butter, room temperature
1 cup granulated sugar
2 large eggs
2 tablespoons finely grated orange zest (from 1 orange)
1 tablespoon freshly squeezed orange juice
3/4 teaspoon vanilla extract
1/4 teaspoon almond extract
2 1/2 cups all-purpose flour
1 teaspoon baking powder
1/4 teaspoon salt
1/3 cup slivered almonds
1 cup dark chocolate chips or chunks
6 ounces dark chocolate, melted (optional – for dipping)
Directions:
Preheat oven to 350 degrees F. Line a large cookie sheet with parchment paper or a silicone mat.
In a large mixing bowl, beat together butter and sugar until light and fluffy, about 2 to 3 minutes. Add eggs, one at a time, mixing well after each addition. Mix in orange zest, orange juice, and extracts. Slowly add flour, along with baking powder and salt, and mix until incorporated. Fold in almonds and chocolate chips.
Divide dough in half, and shape each half into a 2-inch-by-13-inch log. It may help to wet or grease your hands as the dough will be fairly sticky. Repeat with remaining dough, leaving about 3 inches of space between logs. Bake for 35 to 40 minutes or until bottoms are golden brown. Remove from oven and let cool slightly.
When cookies are cool enough to handle, cut them into slices using a sharp serrated or bread knife. Arrange slices, cut sides facing up, on the cookie sheet, and bake for another 15 minutes, flipping cookies half way through baking. Let cool, then transfer to an airtight container or zip-top bag for up to 1 week.
If you'd like to dip your biscotti, gently melt chocolate, adding a teaspoon or two of shortening if needed to thin it. Dip bottoms of biscotti in melted chocolate, and place on a parchment-lined baking sheet until chocolate has hardened.
Did you make this recipe?
Let us know what you think!
Leave a Comment below or share a photo and tag me on Instagram with the hashtag #loveandoliveoil.