10. I've been kind of obsessed with starting yoga, despite my record-breaking inflexibility. More as a physical way to handle stress than anything, and yet, we've been so damn busy (read: stressed) that we haven't had time to actually explore any classes. Funny how that always seems to happen…
9. Julie and I are at it again. You. Me. Lots and lots of cookies. Be there. Stay tuned…
8. We've been in full-on mad fall-cleaning mode, or should I say Taylor has been. Major organization accompanied by a mass exodus of useless stuff (Goodwill is our best friend).
7. That cleaning-spree could have been brought on by our latest project. A necessity of sorts, as the dishes (oops) were overflowing their current shelving situation. We replaced our old TV stand with a custom IKEA-hacked built in that extends the full length of the room. It took us a good 2 weeks longer to finish than we anticipated (weekend project my @$!), and of course we just HAD to get a shiny new TV to go with it… but overall we're thrilled with the results. Just look at all that beautiful storage!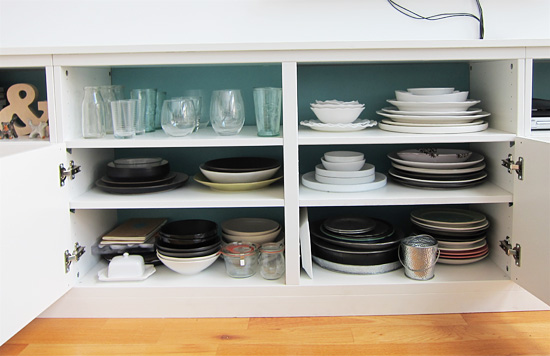 We've still got one, ok two, more pieces of the project to finish. One is hiding those gosh darn cords. But the other is an elaborate plan for white floating shelves at various levels above and around the TV. A kitty jungle gym of sorts. Yes, this is reason #130 that we are officially, without a shadow of a doubt, crazy cat people.
6. Reason #131 we are crazy cat people… homemade food. Indeed, Sgt. Pepper has been getting gourmet dinners of lamb and sweet potato for over a month now. It's our last-ditch effort to rule out a food allergy as the cause of his skin issues. We attempted this once before and he wouldn't have it (apparently shrimp and bison are not his favorites). But lamb? He devours it.
5. I'm not one to write or tweet about politics (like, EVER) but you have to admit this is hilarious. No matter which side you're on.
4. I'm currently reading Game of Thrones, and quite enjoying it despite the fact that knights and sword fights aren't usually my cup of tea (then again, I said the same thing about vampires). Or, should I say, WAS reading it. Darn book was due back at the library before I had a chance to finish it (and apparently, when someone else is waiting for a book you're not allowed to renew it). If I forget before I manage to get it back, remind me: page 431.
3. I read too fast, which is why I've decided to make the most of my library card. Otherwise we'd go broke buying new novels every week or two. Taylor always remarks that I'm not *really* reading, and I quip back that he doesn't need to read every "the" and "a" to get the gist of the story (he's a tortoise to my hare).
2. I thought I could get to 10 things but I'm struggling. Maybe next time I'll only do 8.
1. For what it's worth, paper straws make the best cat toys. Like, seriously awesome cat toys. I know you've got bunches of them sitting around from when you made those homemade pixie sticks… why not give one to your cat and be entertained for hours? Trust me. (Er, is this reason #132? I'm not helping my crazy cat lady status here, am I?)