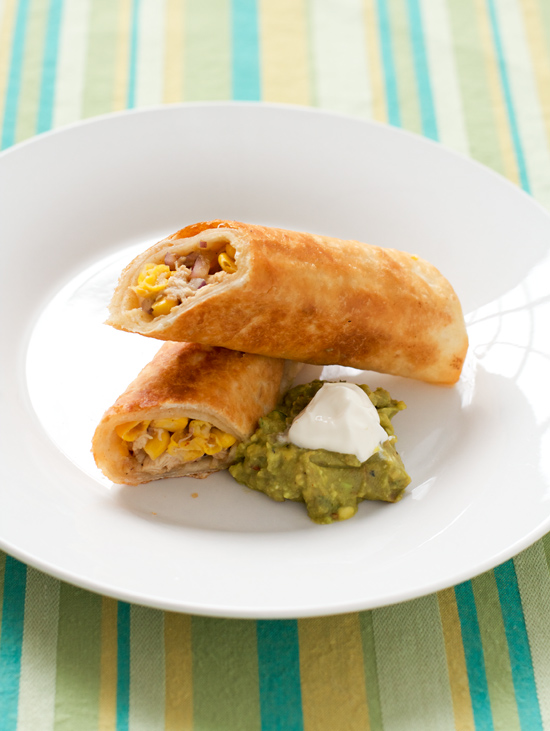 I know, I know. This weekend is the super bowl and all that jazz.
To be honest, we'll probably have the game on. Maybe watch a few commercials. But it's really not our thing.
But I know for many of you, the superbowl is a big deal. And so is the food. And I can support that. We made these flautas earlier this week, and I figured I'd post them right away. Since they'd make a pretty darn good super bowl snack (if you're in to that sort of thing).
We took quite a bit of liberty with the original recipe, which called for a rotisserie chicken and barbecue sauce. I know the recipe was written specifically to be easy, and maybe we're nuts for undoing those obvious shortcuts. That's just how we roll. Instead, we used a mix of chicken breasts and thighs, browned and braised, and then reduced the leftover juices and added that to the filling. The result was an incredibly flavorful, and delightfully crispy flauta (they were originally called taquitos, but in my mind taquitos are smaller and made with corn tortillas; flautas, on the other hand, are larger and utilize flour tortillas, a bit more practical in my mind).
So here it is. A super bowl appetizer idea. Or, for the football indifferent, a perfectly delightful meal for any other night of the year.
Crispy Pan-Fried Chicken Flautas
Recipe from Epicurious. Makes about 12 medium-sized rolls.
Ingredients:
1 lb chicken breasts or thighs, or a mix of both
1 cup water
1/2 teaspoon cumin
1/2 teaspoon garlic powder
1 teaspoon chile powder
1/2 teaspoon red chile flakes
1 (4 1/2-ounce) can chopped green chiles
1 cup frozen corn, thawed
1/2 small red onion, diced
1 clove garlic, minced
2 cups shredded cheese (such as gouda or monterey jack)
1/2 teaspoon cumin
1/2 teaspoon garlic powder
1 teaspoon chile powder
1 teaspoon freshly ground black pepper
12 medium sized flour tortillas
1/3 cup vegetable oil
Sour cream and guacamole, for serving
Directions:
Preheat the oven to 375 degrees F. Season chicken with salt and pepper.
Heat 1 tablespoon vegetable oil in heavy large pot over medium-high heat. Add chicken and cook until brown on all sides (about 3 minutes per side).
Add 1 cup water and spices. Cover and bake until chicken is cooked through, about 20-25 minutes.
Remove chicken from pot (reserving juices) and set aside until cool enough to handle. Remove bones and skin (if there are any), and finely shred.
Return pot to burner over medium-high heat. Cook until juices have reduced by 1/2. Transfer to a heat-proof dish or measuring cup, and set aside to cool. Skim off as much fat as you can (or use a gravy separator).
In a large bowl, combine shredded chicken, green chiles, corn, red onion, garlic, cheese, and spices. Add 1/2 cup to 2/3 cup of thickened pan sauce (to taste). Toss until well combined.
In a large pan over moderate heat, warm 1/4 cup of oil until it shimmers. Meanwhile, put 2 tablespoons of the chicken filling into each tortilla, roll, and secure with a toothpick. Working in 4 batches (wipe the pan clean and add 1/4 cup fresh oil between batches), pan-fry until the tortillas are golden brown and the mixture is warm, about 3 minutes per side. Drain on a paper towel, transfer to a platter (or serve 2 per plate), and serve with sour cream and guacamole.
Did you make this recipe?
Let us know what you think!
Leave a Comment below or share a photo and tag me on Instagram with the hashtag #loveandoliveoil.