Taco night is quickly become a tradition around these parts. Hosted by our lovely neighbor, these nights are basically an excuse to get together. Neighbors, friends, new friends… and tacos. The ultimate community food.
But what goes with tacos? For dessert, I mean. I considered flan (involves making caramel, I scrapped that real quick), tres leches cake (or tres leches cupcakes), margarita lime something or other, homemade churros…
Churros.
Except I didn't want to deal with deep frying anything.
So I did the next most logical thing.
I reinterpreted the churro.
As a cupcake.
The best churros are the ones served with warm dipping chocolate. And I wasn't about to serve cupcakes with dipping chocolate, so I filled them with a spiced chocolate pudding instead.
That's right, pudding. Delicious pudding. Pudding that would have been a treat on its own. But enveloped in a light and perfectly crumbly cinnamon cake? Help me now.
Not wanting to overpower the delicate cinnamon scented cake and rich creamy filling, I went a slightly different direction with the frosting. No thick and heavy buttercream here. Rather, an ethereal chocolate cinnamon whipped cream. Light, airy, and utterly divine.
The result was nothing short of sinful. No, I wouldn't use this frosting on a hot summer day, and no, I wouldn't trust it to hold up more than a day (not that I expect anything adorned with it to last that long, but still). Fresh out of the piping bag, this frosting is incredible. Heck, if there had been any left over I would have piped it right on to a steaming cup of hot chocolate and swooned in utter delight.
Cinnamon Chocolate Churro Cupcakes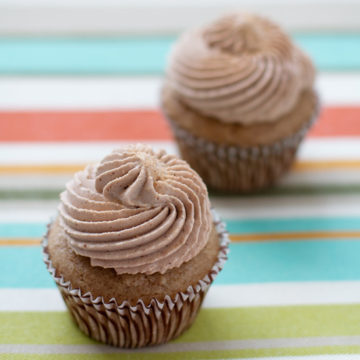 Ingredients:
Cinnamon Cupcakes:
1 1/4 cup all-purpose flour
2 tablespoons cornstarch
3/4 teaspoon baking powder
1/2 teaspoon baking soda
1/2 teaspoon salt
1 teaspoon cinnamon
1 cup almond milk
1 teaspoon cider vinegar
3/4 cup granulated sugar
1/3 cup oil
1 teaspoon vanilla extract
Mexican Chocolate Pudding Filling:
2 tablespoons cornstarch
1/4 cup sugar
1/8 teaspoon salt
1/2 teaspoon cinnamon
1 1/2 cups whole milk
3 ounces good quality semisweet or dark chocolate, coarsely chopped
1/2 teaspoon pure vanilla extract
Chocolate Whipped Cream Frosting:
1/2 cup powdered sugar
1/4 cup unsweetened cocoa powder
2 tablespoons whole milk
1 teaspoon meringue powder
Pinch of cream of tartar
Pinch of cinnamon
1 cup chilled whipping cream
Directions:
Preheat oven to 350 degrees F.
In a large bowl, sift together flour, cornstarch, baking powder, baking soda, cinnamon, and salt.
Combine almond milk and vinegar and stir to combine. Whisk in sugar, oil, and vanilla. Make a well in the center of the dry ingredients and pour in the wet ingredients. Mix until relatively smooth. Fill cupcake liners with a scant 3 Tablespoons of batter (cups should be just under 2/3 of the way full). Bake for 20-22 minutes or until set, and toothpick inserted in the center comes out clean. Transfer to cooling rack and allow to cool completely.
To prepare filling, combine the cornstarch, sugar, salt, and cinnamon in the top of a double boiler or a heatproof bowl set over a larger pot filled with 1 inch of water. Slowly whisk in the milk, scraping the bottom and sides with a heatproof spatula to incorporate the dry ingredients. Place over gently simmering water and stir occasionally, scraping the bottom and sides. Use a whisk as necessary should lumps begin to form. After 15 to 20 minutes, when the mixture begins to thicken and coats the back of the spoon, add the chocolate. Continue stirring for about 2 to 4 minutes, or until the pudding is smooth and thickened. Remove from the heat and stir in the vanilla. Transfer to a small bowl and cover, gently pressing a layer of plastic wrap against the surface before refrigerating (this will prevent a skin from forming). Refrigerate for at least 30 minutes and up to 3 days (ahem, good luck with that).
For frosting, whisk powdered sugar, cocoa powder, milk, meringue powder, cream of tartar, and cinnamon in large bowl until smooth. Cover and refrigerate until well chilled and ready to use, 30 minutes to 1 hour. Using electric mixer or a stand mixer with a whisk attachment, gradually beat chilled cream into chocolate mixture. Continue beating until stiff peaks form.
With a small pairing knife cut out cones from the tops of cupcakes approximately 1 inch in diameter. Set aside but do not discard. Spoon approximately 1 tablespoon of filling into each cupcake (you'll have extra pudding, so grab a spoon). Replace top and press into place (it helps to remove a bit off the base of the cone piece to help it sit more level on the filling – tasties for you). Pipe on whipped cream frosting, taking care to cover up all seams. If desired, sprinkle with a bit of cinnamon sugar prior to serving.
Did you make this recipe?
Let us know what you think!
Leave a Comment below or share a photo and tag me on Instagram with the hashtag #loveandoliveoil.